Doctors Ain't Accountants – or tinkering around the edges (again!)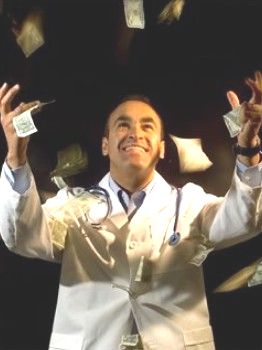 Sadly, I am getting old enough to have seen Andrew Lansley's 'reform' of the National Health Service before. Then it was the Tories introduction of the 'Internal Market'; it failed then and Lansley's plan is going to fail this time.
It is going to fail is for three reasons.
One – Doctors are not administrators they are medical practitioners (though they managed to blag a pretty good deal off the last Labour Government for more pay less work).
Two – The Tories are terrified of the Public Sector Unions, whose salaries and pensions they and we cannot afford any longer.
Three – We are in a National Emergency that the Tories think they can smooth over in a MacMillanesque 'don't frighten the horses' way.
Doctors, I would argue, cannot fix bones, diagnose illness and do all the other medical essentials whilst dealing with rafts of paperwork; the police were compelled to do this – net result more and more paperwork, less Cops running around with tasers, body armour and helicopters.
Equally Doctors are working in hospitals that were predicated on pre NHS sites, are generally in a poor state of repair and in a state of filth that would not shame Scutari. The incompetent Doctor is paid the same as the truly gifted.
The Public Service Unions are not interested in Public Service, they are interested in preserving their jobs and their bullet proof pensions. They are the Miners of the 2010's , ultra Conservative, cannot see why their soviet style structures cannot remain and guarantee them a job for life, whilst wandering around with a clipboard.
The National Emergency – for God's sake we learned yesterday that the 'true' level of public debt is over £2 Trillion. I thought my grandchildren would be paying this off in their dotage, I was wrong it will be my great grand children who most likely I will not be able to apologise to explain why.
The Welfare State has bled us dry for over sixty years, and is incapable of self- reform. There comes a point when you have to shoot the wheezy old nag and buy a new horse. Putting a new set of shoes on it is not going to make any difference to its performance. Lansley is inside the system trying to reform it from within. It ain't going to work. Turkeys don't vote for Christmas.
In a National Emergency you need decisive Leadership, not compromise with the enemy.
Each local hospital should be given a date when it will be withdrawn from the NHS. That hospital will then be given two years to get itself into a state where the National Insurance contributions of local people are directed at that hospital and its support services, not sucked into a vast bureaucracy. Then it truly becomes 'our' hospital, which will engender goodwill, charitable donations etc.
If the facilities are still decrepit, the bureaucracy inefficient, the medical staff a danger to themselves and their patients, notice to close be served and the local pool of National Insurance funds be directed at another service provider who can provide a medical service not a job creation scheme.
Big is not beautiful – it is usually incompetent, unresponsive and expensive.
Lansley needs to step outside the loop, and only direct our funds at the most efficient and clean medical service providers. He is currently the NHS' minister, he is their Minister, not our Minister looking after our money extorted at source.
Is this going to happen? Of course not, Cameron has promised the NHS is safe with him, along with the thousands of public sector jobs.