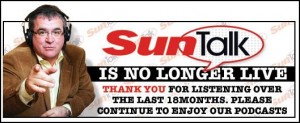 Draw your own conclusions.
No more 'Gaunt stranded in Tenerife', no more 'SunTalk live rescues stranded Brits' – how will the Costa Del Crime survive and remain informed without the foul mouthed Gaunt to keep them abreast of events?
Gaunt lost his case this week against Ofcom, and was censured for referring to a local councillor as a Nazi, as he famously did on 'TalkSport'.
The 'home of free speech' as they liked to refer to themselves, was no longer the home of free speech, and within forty eight hours was no longer…….
News International say there is no connection.
However, with some 80 jobs being cut in the rarefied world of the Sunday Times, it might have been questioned had the cost of keeping Gaunt on air been allowed when 'proper investigative journalism' was being pared to the bone.
'SunTalk' was regulated by the Press Complaints Commission rather than Ofcom, and Gaunt told Roy Greenslade last year:
Gaunt was bubbling when we met, extolling the virtues of being free to say what he thinks without the constrictions of the broadcasting regulators. Today's Sun promotion for SunTalk refers to him as a "motormouth" and refers to the fact that he has been called "the most rabid ranter on radio."
Not any longer.