Beware the bigots of Rochdale.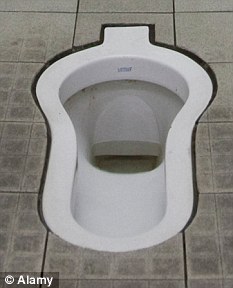 Subrosa has highlighted the decision of a small group of managers in the Rochdale shopping centre to install what are delicately known as the 'Nile Pan', or alternatively, the hole in the ground toilet, for the benefit of the supposed 10% of Rochdale's population that has been trained from childhood to defecate in this manner.
With respect to Subrosa, she has missed the part of the BBC news release that gave the real reason for their installation. It will not, I promise you, just be the hole in the ground toilet that has been installed.
When I first flew to India, I was loaned a large backpack. Naturally I filled it to capacity. You do don't you? Once on my back, I could carry it quite comfortably, but getting it on and off my back required balancing it on a table at waist height and heaving it into place.
Having collected said back pack from luggage control and heaved it into position and having been cooped up on flight for 25 hours or so, I was quite keen to avail myself of a toilet. There was one just in front of me, checking that it was for ladies – much easier at Delhi airport where they employ pictures, than at Birmingham airport where they translate the word into every language under the sun except English, I kid you not, I entered the cubicle.
It was a squat toilet. The cubicle was around three foot square. Just room to turn around and squat. With some difficulty, given the centre of gravity of the backpack. Looking to arise from my task, I grasped the chrome handle on the wall.
When in Rochdale, do not grab the chrome handle on the wall. It will introduce you to the finer details of the real reason why squat toilets have been introduced there.
The chrome handle will direct a high pressure jet of ice cold water at your nether regions. It will come as an unpleasant shock to you if you have never encountered this detail of Muslim religious observance before.
If you are already weighed down with a heavy back pack, it may be the last straw. The shock may cause you to stagger backwards and loose your balance. You may end up flat on your back like a stranded turtle. Take it from me; a three foot square enclosure with a slippery floor is no place to try to right yourself and your back pack.
Apparently the Rochdale Shopping Centre managers got fed up finding the floor of the toilets littered with empty water bottles as some the local inhabitants tried to recreate the jet of water necessary for them to feel 'refreshed' when they left the toilet.
There will be a chrome handle on the wall of those toilets in Rochdale, I promise you. Don't even think about grabbing it, it won't be just your feet that will get wet.
July 18, 2010 at 11:06







July 16, 2010 at 10:32




July 16, 2010 at 10:20







July 16, 2010 at 06:34




July 16, 2010 at 00:33










July 16, 2010 at 00:56







July 15, 2010 at 22:48







July 15, 2010 at 21:49







July 15, 2010 at 21:32







July 15, 2010 at 21:03












July 16, 2010 at 11:16




July 15, 2010 at 20:37










July 15, 2010 at 20:49




July 15, 2010 at 20:30




July 15, 2010 at 20:25







July
15, 2010 at 20:15








July 15, 2010 at 20:36







July 15, 2010 at 19:58




July 15, 2010 at 19:43