On-line Identity and Free Speech.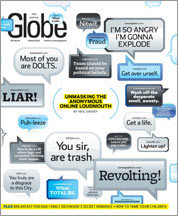 One of the patients I used to visit long ago was a lady of around 40 who had long retired from contact with the human race. She was diagnosed as Autistic, a highly intelligent woman. A previous visitor had arranged for her to have a computer in an effort to keep her in contact with the world outside her front door.
When I arrived the curtains were tightly shut. It was 3pm in the afternoon. I banged on the door in vain for some time. Eventually it opened to display a hugely overweight woman virtually naked. She beckoned me inside. She would offer me coffee she said, but I would have to make it myself, she was 'late for work'.
Slightly puzzled for I was unaware that she worked, I glanced at the kitchen as we passed and elected not to have coffee – it was beyond filthy. As was the bedroom, words cannot describe the pitch dark sitting room for that was where she spent most of her time.
She positioned her improbably large body on a minute stool in front of her new computer. Huge folds of flesh hung down either side of the stool. Hunched forward, peering at the screen, her belly completely covered her knees. As Windows fired into life she started to swear. '*uckers', '*astards' – it went on for some time. Impossible to hold a conversation with her. Now she was typing furiously, expletives flew around the room, she invoked curses, spells, and various untimely ends on whoever she was addressing. It took some time to establish what was going on.
It seems that some time ago, years ago in fact, she had been in the same building, although not actually met, a member of a famous rock band. She had appointed herself his protector in life, and when he acquired an on-line presence, had commenced her ceaseless vigilance and invective towards anyone who failed to understand that he was a human God. She had discovered life as a commentator on Web 2.0
Meanwhile he had become ever more famous, and there were now some 200 web sites around the world devoted to him. She had, she told me, more than 400 different identities, and she used them to 'put the *uckers right', otherwise known as post an abusive and invective filled comment whenever anybody made a suggestion that could in anyway be construed as his being a mere mortal. It was what she did, obsessively, from early afternoon until dawn broke.
I often think of her during my new life as Blogger. Especially when comments arrive in the middle of the night saying '*uck my *ick' with no further explanation. You do wonder who or what is sitting behind that particular computer. So I was interested to read Neil Swidey's article in the Boston Globe "Inside the mind of the anonymous online poster".
Swidey carried out a survey of the anonymous – and frequently vitriolic – posters who responded to a recent article regarding Obama's aunt:
"The raging commentary on Obama's aunt is a microcosm of the thorny problem many websites are grappling with right now over what to do with anonymous comments. At many of these sites, executives have begun to ask themselves: How did we get into this thicket, and is there a sensible way out? But a more basic question needs to be answered first: Who are these people who spend so much of their days posting anonymous comments, and what is motivating them?"
He found out who some of them were, but, surprise, surprise:
"But here are the people I didn't hear back from: the screamers, troublemakers, and trolls (Internet slang for people behind inflammatory posts). Not a single one. The loudest, most aggressive voices grew mum when asked to explain themselves, to engage in an actual discussion. The trolls appear to prize their anonymity more than anyone else."
It is an article worth reading in full.
There has been much discussion recently, notably in the Independent, when editor Martin King announced that the free speech free-for-all for anonymous posters was to end.
"Websites have been encouraging cowardice. They allow users to hide behind virtual anonymity to make hasty, ill-researched and often intemperate comments regardless of any consideration for personal hurt or corporate damage."
It used to be that you had to put your name address and daytime telephone number at the top of your carefully scribed in green ink 'letter to the editor' to have any chance of publication, now possession of a computer is all you need to access the debate.
Some people have a genuine need for anonymity, and journalists have been quick to point out that the 'cloak of anonymity' which is so embedded in Web culture, allows some of the most useful tips offs to appear in comments sections. Where would Guido be without his anonymous tip-off line?
"Others, like The (Cleveland) Plain Dealer, are probably wishing they'd taken that step earlier. In March, the paper outed a local judge for allegedly posting comments on Cleveland.com under the handle lawmiss that included critical commentary on cases and individuals appearing before her in court. The judge denied authorship and is now suing the paper and its affiliated companies for $50 million. Her denials might seem a smidge south of persuasive, and The Plain Dealer may well have been journalistically suspect had it not gone public with the information once it discovered it. But the judge has a valid point about her expectations of anonymity."
One of the problems with the embedded culture of anonymity is an equally well embedded tradition of 'outing'. 'Outing' is the on-line version of the punch on the nose at closing time from the pub regular who is losing an argument. 'Outing' is the weapon of the grudge holder, not the debater or the intelligent commentator. It is the petulant response from the petulant. (Though speaking personally, my own 'punch on the nose' from someone who could not refute my argument had such a happy outcome, and allowed me such freedom to write of things I did not feel I could write of before, that it is difficult to bear a grudge!)
On one side, anonymous comments give users the freedom to be completely candid in a public forum. On the other, that freedom can be abused and manipulated to spread lies or mask hidden agendas.
But what difference does it make if instead of 'anonymous' or 'sidefartingchink' the comment appears to come from 'John Smith' who has an e-mail address registered to a John Smith? You are still none the wiser as to whether he is really John Smith outside of his computer. Most of the usernames that the lady I visited had were male ones, and many implied an active lifestyle shifting the heavy equipment belonging to the rock band – which couldn't have been further from the truth of her identity. !
While news organizations debate scrapping anonymity, the ground may be shifting beneath them. With all of our identifying information getting sliced, diced, and sold, by everyone from credit card companies to Facebook, is there really such a thing as the anonymous Web anymore?
"Consider this demonstration from the late '90s by Carnegie Mellon University computer science professor Latanya Sweeney. She took three commonly available data points: sex (male), ZIP code (02138), and date of birth (July 31, 1945). Those seemingly anonymous attributes could have described lots of people, right? Actually, no. She proved they could belong to just one person: former governor William Weld. She tells me that 87 percent of Americans can now be identified with just these three data points."
This is the dilemma facing publishers: How do they stop the abuse of freedom of speech on their websites while protecting those readers who can expose abuses of power and generate content by being whistleblowers only if their identity is protected?
I would be sorry to lose 'usernames', the wit and sometimes sarcasm involved in thinking them up owes a lot to Private eye and is a grand tradition; personally I think that a row of comments headed 'anonymous' is just plain irritating, are they all the same person or are there five anonymii?
I should be even sadder to lose on-line comments. I had always wanted to write, but couldn't imagine addressing a vacuum of silence. Writing this blog everyday is more in line with a long e-mail to dozens, hundreds, actually, thousands these days, of old friends. As with all old friends, only the occasional one is churlish, just to keep my feet on the ground. I just imagine his/her flesh hanging over the side of that tiny stool, and I smile to myself and move onto the next comment.
July 2, 2010 at 13:46







July 2, 2010 at 14:02




July 2, 2010 at 10:33




July 2, 2010 at 09:55




July 2, 2010 at 00:31




July 2, 2010 at 00:09







July 2, 2010 at 08:31




July 1, 2010 at 21:49




July 1, 2010 at 21:41




July 1, 2010 at 20:06










July 1, 2010 at 19:50







July 1, 2010 at 20:28










July 1, 2010 at 18:34