Having Your Cake and Eating it.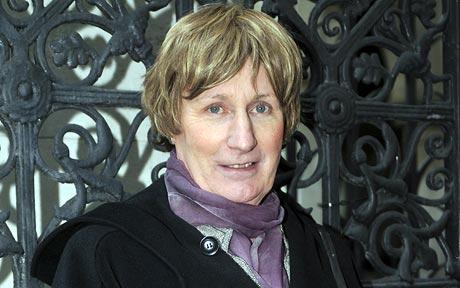 With the announcement today that State Retirement age is to be raised to 66, this 'snip it' (sic) may be of interest to the gentlemen amongst our readers.
Christopher Timbrell was 58 years old, and had been married to his wife Joy for 34 years when he took the momentous decision to undergo a sex change operation and re-emerge as Christine Timbrell – still married to Joy. Good luck to him, his body, his choice.
Now the law has been remarkably understanding of the plight of transsexuals (belatedly) over the past few years. The Gender Recognition Act of 2004 now allows those who have undergone corrective surgery to be legally recognised in their new gender. With one proviso – that if they are married to someone who presumably was of the opposite sex when they got married, then that marriage be dissolved before they gain full legal recognition of their new status – for the simple reason that marriage in the UK is only permissible between two people of the opposite sex. Follow the law and you can legally become 'her', as it is I am forced to describe Mr Timbrell as him/her.
Christopher and Joy are regular churchgoers who were married by a Bishop over 30 years ago, they take their religion seriously.
So far, so good. Christopher, now Christine has been able to do with his body as he wishes, and no-one is forcing him to divorce his wife.
However, you may have noticed that when he decided to undergo surgery, Christopher was only two years below the age at which he would have been able to draw his pension had he been a woman. Snip, snip, and there he was – a woman in all but birth certificate.
Pension please, said Christopher. No! said the Department of Works and Pension – in order to get an early pension you need to be legally a woman and that means divorcing your wife – but you can then conduct a 'civil partnership' with her if you want to. You can't be legally married to a woman and legally be a woman at the same time. One or the other please.
Christopher/Christine took them to court, citing the Human Rights Act saying that forcing him/her to divorce his/her wife was a violation of his/her right to respect for her home and family life.
Yesterday, our liberal Judiciary in the Appeal court ruled that he was quite right, the Department of Works and Pensions were discriminating against him/her and should pay the pension from age 60, and not force him/her to divorce his/her wife.
Now you know the solution to having to work until you are 66 – a snip in time saves six years; and you don't have to divorce your wife.
She may, of course, wish to divorce you.
Wait, wait, don't cut it off yet – this only applies if you were born before July 1948.
Sorry, was I too late to stop you?



June 25, 2010 at 16:49




June 25, 2010 at 14:20







June 25, 2010 at 14:07







June 25, 2010 at 19:02







June 25, 2010 at 13:36









June 25, 2010 at 13:17




June 25, 2010 at 11:45