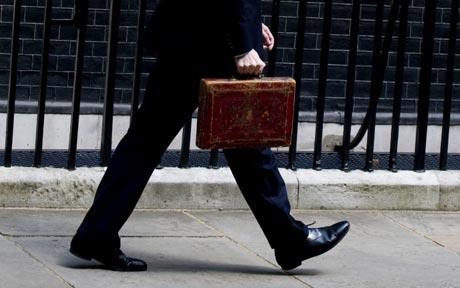 I have been otherwise engaged battling the forces of darkness in Court, the subject of a more considered post mid July.
So I have only just got round to George's efforts at sorting the insolvent Government we have. Can I underline this, the Country is not insolvent the Government is. We, the Country, have Billions and Billions of assets and cash. Out of a population of twenty million working adults how many are responsible for this unholy mess ?
Most families have to match income with expenditure with a bit of judicious borrowing; when it comes to other people's money there is no restraint, no sanction, no accountability.
Right! Lets treat HMG as an insolvent business in desperate need of rapid turn around.
The last thing you do is put your prices up (VAT) to your customers (you and me) and keep the wallowing wage bill in place, and at the same time reduce your service levels.
I agree with minimal taxation on consumption in place of direct taxation on salary, but this sends out all the wrong signals and will not endear the public to see this through. It is a collective punishment for something that most of us did not commit. Unrestrained spending. Do not drag the public into the appalling behaviour of Government, the problem is not us it is you the political elite !
Secondly you do not punish savers and investors with increases in CGT, you reward them for saving and investment.
Before dragging us into their insolvent mess a few pointers on how to achieve a turn round.
Start selling unused assets. The State has billions tied up in land and buildings it is not using. Get rid of them at heavily discounted prices to raise cash now to pay off debt. Grant planning permission on these pieces of land irrespective of the maw of the suffocating planning laws. This will encourage building houses and get construction workers earning a living instead of being on the dole.
Get rid of the Banks the State acquired, declare them insolvent, and break them up into myriad regional banks that lend instead of rob their clients. Sell them to the highest bidder. All Banks to be licenced and supervised by the Bank Of England. Any former Director of these banks to be refused work in the industry for the next fifteen years.
Start closing down unnecessary Departments of State and Quangos. Start with Business, Innovation and Skills, the public sector has very little knowledge of either three. Close every Quango irrespective of function. Prince Andrew will have to get another job to fund his international golfing fix – International Trade Consultant be damned!
All other departments to be made redundant and made to reapply for their jobs. Brown gave us an extra 1 million public servants, they need to go and Government savagely reduced. George Osborne is aiming for 25% reduction, it is not going to happen, even under Thatcher's Government spending kept increasing.
Stop all wasteful and unproductive activity – Start with Afghanistan we marched in march out. Stop all foreign adventures on behalf of the USA – The special relationship is bunkum. The BP saga has proved this.
There is nothing other than Defence and Foreign Affairs that cannot be done better and cheaper locally and privately.
George when you get serious about the National Debt, by making former Government Ministers accountable personally, like District Councillors, I will then start to believe your rhetoric, but so far I am not convinced you are going to reduce the State. If you cannot do this, your figures don't add up George.
Andrew Withers
Deputy Leader Libertarian Party