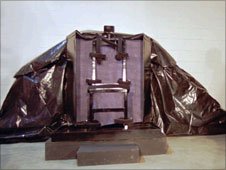 The State of Utah has a long association with the Mormon Church.
Thus, along with retaining the death penalty, they have also retained an affinity to the idea of 'blood atonement' – that the physical spilling of blood by the convicted was part of the process by which God could forgive him – which is alleged to be the reason why they were so attracted to the idea of death by firing squad. There is a lengthy scholarly article here explaining the religious connection for those who want more information.
Yesterday Ronnie Lee Gardner became the latest man to be executed by five marksmen – one of whom has a dummy bullet – whilst strapped into a floodlit chair.
Gardener was sentenced to death for killing a lawyer and wounding a court bailiff, whilst appearing in court on yet another murder charge.
Utah legislated to remove the right to die by firing squad in 2004, but Gardner was convicted before this date, thus still retain this dubious 'right'.
Gary Gilmore was the first person to be executed in the US after capital punishment was reinstated in 1976 – and he chose to be taken to Utah to die by firing squad.
Allegedly, the five man firing squad are all crack shots, aiming at a man who is strapped in place. However, so much for 'an eye for an eye' – both Mr Gilmore's cornea were considered suitable for transplant to a donor after his death.
The marksmen are all volunteers, and are given a medal to commemorate the occasion after they have finished their duties. I find it difficult to imagine why anyone would volunteer for such a duty – as a correspondent said to me this morning – surely the next stage is a reality TV show where the winning contestant gets to shoot the next death row prisoner on live television.
There can be few amongst us who have not harboured thoughts of 'death is too good for them' in respect to some particular agenda of our own, whether it is animal cruelty, or child abuse, or the murder of police officers. It is an easy thing to say, and easy thought to hold.
How many of us could actually shoot dead a man strapped to a chair? –not because he had raped your daughter, or beaten your dog to death – but because the state had sanctioned his death and you had chosen to volunteer as an "assignment, nothing more than getting an order to do something like kicking in a door to serve a warrant".
I wasn't aware that I had any strong feelings one way or another on the death penalty, beyond a vague feeling that law and order in the UK had gone to pot since it was abandoned for murder. Having read some of the material I have linked to, I feel very disturbed.
The US brought back the death penalty over 30 years ago, it doesn't seem to have lessened the murder rate, and I am more concerned with what is happening to the mentality of the people carrying out these sentences than I am with the possibility of a miscarriage of justice.
Your thoughts? It seems a pertinent debate in the light of recent calls for more police officers to be armed.



June 19, 2010 at 09:08







June 19, 2010 at 09:06




June 19, 2010 at 08:08




June 19, 2010 at 06:25




June 19, 2010 at 01:59




June 19, 2010 at 01:11




June 18, 2010 at 22:30










June 19, 2010 at 16:45







June 19, 2010 at 14:58







June 19, 2010 at 16:41







June 19, 2010 at 16:39




June 18, 2010 at 20:53










June 19, 2010 at 16:36




June 18, 2010 at 20:48







June 18, 2010 at 19:14







June 18, 2010 at 18:25




June 18, 2010 at 17:47




June 18, 2010 at 14:39







June 18, 2010 at 14:33




June 18, 2010 at 14:15




June 18, 2010 at 14:03




June 18, 2010 at 13:46







June 18, 2010 at 13:45










June 18, 2010 at 22:56







June 18, 2010 at 22:56




June 18, 2010 at 13:23







June 18, 2010 at 17:37




June 18, 2010 at 12:34




June 18, 2010 at 12:31




June 18, 2010 at 12:20







June 18, 2010 at 13:30







June 18, 2010 at 17:31




June 18, 2010 at 12:12







June 18, 2010 at 17:21







June 18, 2010 at 12:03




June 18, 2010 at 11:33