Necessity being the Mother of Invention?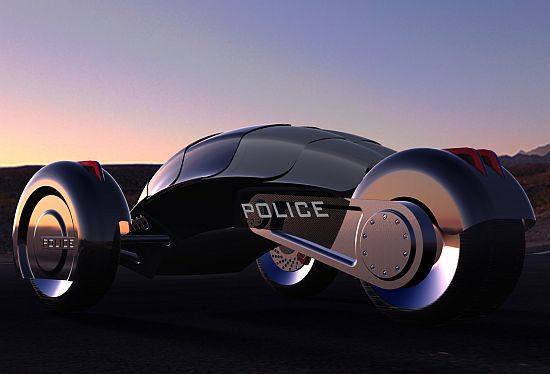 Coroner Michael Rose, speaking at an inquest in 2008, said that more than 200 people had been killed in the previous six years by high sped police chases. I cannot find more up to date figures than that.
Of those 200 people a mere one third were 'civilians'. I am presuming that by 'civilians' he meant people who were neither police officers, nor alleged miscreants being chased.
The premature death of any person is to be regretted, although I have less sympathy for the miscreants, since they had chosen to flee the scene at high speed.
The Police Officers have no choice other than to do their job – and incidentally, it is because they are doing their job, that they are not entitled to sue in tort for damages incurred as a result. That doesn't necessarily mean that they suffer financially, because the Police 'carry' their own internal insurance and compensation.
Innocent passers by are the real victims.
I am not quite sure who the intended beneficiary of the vehicle pictured above is. It is an unmanned police car, specifically designed for high speed car chases. 'The Scarab'.
I can see the potential benefit for Police Officers; they will no longer be physically involved in the carnage that results from a high speed chase.
Seeing this scary looking object speeding along the road behind you may well persuade the miscreants to drive ever more erratically and dangerously, so not likely to result in less carnage amongst the miscreants.
As for innocent passersby – how will the Scarab know? Will it sidestep the Mother stepping out with her pram in front of her, the toddler that runs across the road?
Will the police still be legally responsible for the damage caused by a machine with no human operator, which is triggered by a 'crime' – the speeding car passing?
If this electric (so very 'of the moment' and green!) semi-autonomous police car ever makes it to the UK, I can see some fascinating legal battles ahead apart from anything else.
Then again – it could have kept going in persuit of Derrick Bird..…
June 18, 2010 at 11:21




June 17, 2010 at 12:40




June 17, 2010 at 11:59




June 17, 2010 at 11:41




June 17, 2010 at 11:28




June 17, 2010 at 11:23




June 17, 2010 at 11:22




June 17, 2010 at 10:43







June 18, 2010 at 17:53










June 17, 2010 at 09:25







June 17, 2010 at 10:31







June 17, 2010 at 11:12