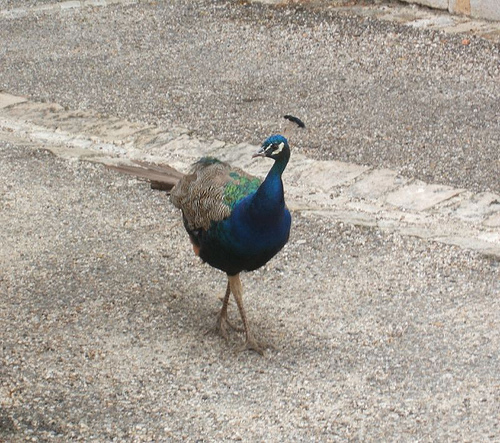 Some 20 years ago, a pair of peacocks arrived in this village – from whence we know not. They made their home in an old shed on the edge of the village, and raised a fine family.
Frederick, the handsome chap in my picture, and his wife Marie, were their direct descendants.
The route from the old shed to my neighbour's kitchen window was tortuous; involving five different changes of direction, and a distance of some half kilometre, but nonetheless, every night at precisely 7pm, as the church bells rang out Vespers, Frederick would come trotting down the road, always walking, not flying. He would set up camp outside Dominic's window. There he would plaintively let rip his insistent and piercing call until Dominic broke off some of his evening baguette and throw it out of the window in small pieces. We would marvel at how and why the bird was so punctual.
Last year Frederick was run over by a passing lorry driver, whilst Marie was at home hatching a new brood. With no one to forage for her, she only managed to keep one of her chicks. We called him Dominic after Frederick's 'friend'.
Dominic is almost one year old now, has just turned colour, and is starting to grow a distinctive tail.
One night last week, as Vespers rang out, we heard the familiar harsh cry outside our window. Both we and our neighbours looked out in amazement.
There stood Dominic, in the exact spot that his father – who he never met, remember? – stood in every night, at the precise time, looking up at the exact same window. Dominic threw him some bread.
Surely it must be coincidence? Except that he has been back every night since.
Surely he was just wandering around and 'happened' to be in the same spot? Perhaps now he has been rewarded accounts for his return?
Can anybody offer a logical explanation?
Any ornithologists out there?