Suffer the Little Children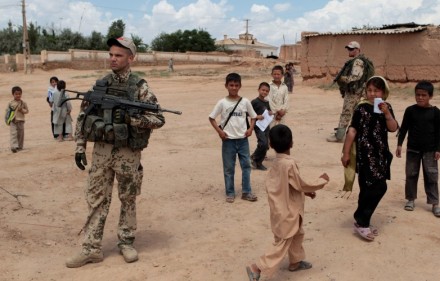 We are invited to let the Kharzi Kiddies tug at our heart strings again. The very use of the word children is designed to evoke a particular emotion. 'Young people' doesn't achieve the same end. 'Teenagers' definitely doesn't. Children. We promptly think of our own defenceless innocents at six or seven years of age and our hearts go out to them.
The photographs used to illustrate these stories are invariably of six or seven year olds playing amongst the land mines in Afghanistan.
Thus we have Samira Shackle in the New Statesman railing against the proposed legislation that will allow them to 'deport' 'children' to a 'reintegration centre' in Afghanistan. Even the word 'deport' – a nasty word, redolent of nasty people, multiple rapists, war criminals, being strong armed out of the country for our safety – is invoked to rile our emotions.
Was it only yesterday that we were invited to condemn government legislation that 'locked up' these 'children' in detention centres?
"We believe that locking up children, who have committed no crime, for months at a time is unacceptable in Britain in the 21st century. This commitment is a huge step in the right direction and we now await the details of how the new administration intends to implement the policy. We urge them to end this abhorrent practice as soon as possible."
Now we are threatening to send them home again, and that is wrong too? Will nothing short of giving them their own fully furnished house and substantial benefits satisfy the bleeding heart liberals?
There are currently 4,200 of these Afghani 'children', who have managed to make their way across Europe to the UK and are now apparently the responsibility of the British Tax Payer as any alternative solution is 'inhumane'.
The definition of 'children' under the asylum legislation is those under the age of 18.
Not 16, as in the UK, but 18.
Certainly amongst those 'children' there will be some of tender years, some vulnerable females too. However, there will also be some hulking 6'2" young men of admirable physique who were more than capable of getting themselves to the promised land without the aid of grim traffickers. At 17 years and 11 months of age, they are almost two years older than our own lads who have signed up to fight for 'democracy' in the Kharzi.
If we think that 16 is quite old enough to be considered sufficient of a man to join the army – and some 40% of our troops did join at that age, albeit that the government makes strenuous efforts to ensure that they do not fight on the front line – then why are we so sentimental about Afghani boys of 17 and near 18?
Why would Samira Shackle come out with phrases like:
'We know that Afghanistan is unsafe and war-torn, because it is a war that we are fighting. It is very difficult to see how it is in a child's best interests to be returned there.'
Personally I find it hard to believe that it is in the 'best interests' of a 16 year old 'child' to be signed up in the UK army to fight in that medieval world, but it is.
The Scottish government is considering a 'Guardianship Project' to provide additional support for 'children' like the 15 year old strapping figure of Preston Kalunga who was 'dumped' in Glasgow 6 years ago unable to speak English and with no passport. Hmmn. I doubt that his parents just happened to be passing through Glasgow and dropped him off at the Social Services crèche just before their flight left – either he was perfectly capable of getting himself here by fair means or foul, or someone was paid good money to bring him here.
Why is the question? Could it be the knowledge that once here, and categorised as an all important 'child' he would be hooked into a substantial benefit system that was quite capable of being stretched to accommodate essential support for the rest of the family in a country where the equivalent of one pound will stretch as far as £100 in the UK. Send home £2 a week out of your benefit every week and you have just raised the average family income in the Congo by 50%. The average wage in the Congo is a shade over £200 a year.
It is time for us to re-evaluate our definition of 'what is a child' when we apply that term to people arriving from other economies and other cultures. To retain our sympathy and our fiscal assistance purely for those who really are in need and not just those who meet an arbitrary age limit drawn up by well meaning folk.
Those 4,200 Afghani 'children' cost us around £2,500 per week each – £546 million a year according to my calculator – can we really afford to rail at the government plan to send a mere 12 of them – all boys – back to a £4 million pound purpose built resettlement centre in Kabul?
Less sentiment and a more realsitic appraisal of our financial situation is needed.
June 10, 2010 at 10:19




June 9, 2010 at 21:19







June 9, 2010 at 17:20




June 9, 2010 at 15:18




June 9, 2010 at 15:13




June 9, 2010 at 14:33




June 9, 2010 at 14:21




June 9, 2010 at 13:53




June 9, 2010 at 13:51