Circumlocuting Mandelson's Foreshite.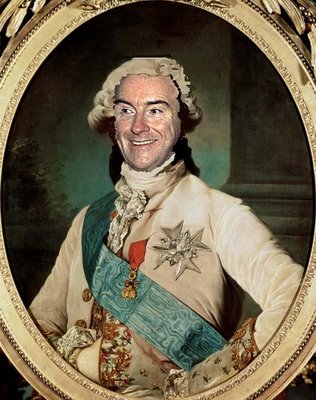 Profound illumination has a habit of arriving in mundane circumstances.
Archimedes was sitting in the bath when he discovered the relationship of weight to volume.
Newton was out scrumping apples.
Me, I was trying to sleep through the commotion occasioned by my new English neighbour attempting to squeeze his brand new 'look what I can afford' 4 x 4 through our tiny medieval streets to his front door in order to ensure that his grossly overweight wife didn't lose an ounce of blubber walking further than necessary. It is a known fact that you can only do this with the radio on full blast and said wife shouting instructions through the open window.
Padding half awake past the computer, I noticed a new arrival – an embargoed Government report. Instantly wide awake and alert to the possibilities of an informative post for you all, I settled down to read.
It was from one of Lord Mandelson's ever increasing portfolio of Ministerial Offices. The Department for Business, Innovation and Skills.
"The Government Office for Science today begins its latest Foresight project."
Given that foresight is possibly the last word you would expect to see in connection with this Government, I started researching. I soon came upon http://www.foresight.gov.uk.
Foresight's role is to help government think systematically about the future. We use the latest scientific and other evidence combined with futures analysis to tackle complex issues and help policymakers make decisions affecting our future.
Scientific 'and other evidence' – as in non-scientific evidence eh? Like reading the crop circles, casting the runes, dealing the tarot cards, digging up 12 year old PhD theses, consulting Madam Gypsy Rose Lee, or just making it up to suit your agenda?
Noting with a heavy heart that this project was overseen by Professor John Beddington, of 'Swine Flu Alarmist Projections' fame, I ploughed on.
Fresh from their summer holidays observing the migrating habits of Northern European nudist sunbathers as they moved from the roasting racks northwards into cool of a beach-side bar when the suns rays were at their peek, it seems they are now ready to pontificate on the possible effects on world population migration of that non-scientifically evidenced 'fact' – the infamous Global warming. Several million pounds worth of tax payers money is to be doled out to their chosen coterie of academic colleagues to churn out indigestible tracts peppered with 'global warming' buzzwords.
Surely if the Government has a department that specialises in helping the Government 'think systematically about the future' – they must have written something about the banking sector at some time? Foreseeing the effects of spending more than you are earning? No? But what is this? Cyber Trust and Crime Prevention? Another multi million pound research project. Could be interesting. I clicked.
Error 404 – this page will redirect you to the home page in a few seconds.
Lo! it did! My Cyber Trust suitably restored by this accurate prediction, I tried to find out what this bank of experts thought my 'Mental Capital and Wellbeing' would be in 20 years time. The answer is they won't tell me unless I cross their palm with silver, and give them my e-mail address and password on an unsecured site, in fact they won't even tell me how much silver I need to put in their sweaty little palm unless I agree to add my data to the notorious USB dongle lurking in a pub car park.
They will tell me – for free – that a 'growing population' will 'require more food' – no shit Sherlock!
They have also divined that many cities are built near water courses or with access to the sea! I wonder if that's something to do with man's historical need for water? They fret that 'if' water levels rise, those cities might flood! They have a soundbite ready for the press, do not fear.
'This threatens to create a 'perfect storm' of global events'.
They conclude with their own CV:
"Foresight has a critical contribution to make in helping to meet the challenges of the 21st century. It helps ensure that government decision making is informed by longer term evidence-based thinking. By taking a multidisciplinary approach combined with rigorous evaluation, Foresight assists policymakers to think strategically about future uncertainties and opportunities. "
There is no need to cut 'front line services' in order to repay the debt the government have saddled our children with – we can prune every one of these worthless, pontificating, stating the bleedin' obvious, departments and consultants right through Government.
40% of everything I have ever worked for, for every working day of 45 years – minus my contribution to young Wayne of 16 Corporation Avenue – I call him young, he was when I started feeding him, from the moment that a Somalian agency nurse hauled him out with a pair of forceps, bawling for his rights; he's a grandfather now, and I have stood by him steadfastly; I've paid his fines for shoplifting, I've stumped up for his 'disability' car, I've clothed him, schooled him, even paid for his Sky Sports package – but apart from him, 24 minutes out of every hour that I have grafted, has gone to these parasites.
When I think of the good I could have done with that money, I could weep.
I move that we tie this weighty tome round Lord Mandelson's neck and chuck him in the watercourse that flows past the Houses of Parliament. If he sinks, well and good. If he doesn't, tie a few more copies round his neck – and chuck him back in.
I confidently predict the future will improve. Unscientifically. For Free.