Get it all Down – the Money's Right!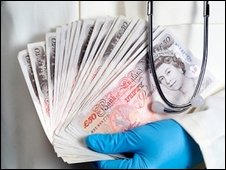 UK Doctors, hobbled by the law which says that they cannot treat a patient without consent, have resorted to the age old lure of money.
From next month, a team based at University of London will be offering those patients with bi-polar disorder or schizophrenia £15 each time they succumb to 'grab a jab' week. They could have made it £20 – but that apparently would have affected their Disability benefit, otherwise known as 'saving the tax payer money ' and that would never do.
This pilot scheme is only for 136 patients initially, but as news spreads of a potential £780 a year extra money to be earned out of the Doctor who signs your sick note, we can expect a clamour of patients demanding their 'uman rites' under EU anti-discrimination laws and paid to accept treatment for their 'bad back'.
For the truly entrepreneurial unhinged person, there is another money making scheme on offer today.
The web site Internet eyes is offering a 'not to be sneezed at' £1,000 a month, for those long lonely hours slumped on the couch after you've been paid to take your medication like a good little person. You can earn this money stalking your friends and neighbours.
Internet Eyes will give you free software to enable you to monitor CCTV cameras worldwide – although naturally those in the UK, with an estimated one camera for every 14 citizens, 4.2 million of them,  are likely to predominate. If you are 'quick on the button' – and there are likely to be thousands of others equally glued to their laptops – and yours is the first report of anti social behaviour, burglary or vandalism, then you will be entered into the 'league reward table' and have a chance of winning the £1,000 jackpot.
You couldn't make it up.