Laying off the Layabouts.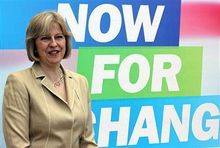 The Tories will have to be careful when positioning their key speakers on the question of what to do with the 2.7 million currently claiming Incapacity Benefit – when I first saw this photograph I thought Theresa May was advocating bringing back capital punishment for the legion of South Wales ex-Miners suffering from 'bad backs'.
Were they to be successful in reclassifying the 2.7 million as fit for some form of work within three years, they would first stand accused by Labour of having 'doubled the unemployment rate' in their first three years. It is true, they would have done, but they would also have lopped a third off the cost of supporting those people as they languish in front of Jeremy Klye – assuming they are up early enough to catch the programme.
Predictably, the BBC chose to illustrate the 'nasty Tory' angle of this proposal by heading straight to Remploy in Birmingham, an organisation which specialises in finding employment for the truly disabled. Nobody doubts that the unfortunate gentleman with one leg will find it difficult to get full time employment, but the idea of revitalising and pushing forward Chris Grayling's proposal to diagnose all 2.7 million people in terms of what they can do, rather than accepting that because their Doctor is unable to say definitively whether or not they have a bad back, that they are excused any work whatsoever, is sound.
One outcome of the proposals is that if they are going to find enough Doctors to do the estimated 2,500 'capability assessments' every day, they are likely to find themselves employing agency Doctors sourced from far and wide across the globe – that will inevitably mean Doctors coming from countries where even those with profound disabilities are forced to do something towards helping to feed themselves, and the Doctors themselves will be mindful that they have travelled many miles from their home and families in order to take up their position as assessor – both factors likely to make them less susceptible to the pressures felt by the family Doctors in areas of high unemployment when asked to sign yet another sick note.
The Tories will inherit a poverty more profound than that frequently highlighted in third world countries, for it is a 'supported' poverty, supported by the dwindling numbers of honest tax payers. The cost of those 5 million on one form of benefits or another is now in excess of the tax receipts from those who do manage to find a way to add value to society.
Beveridge said that 'idleness is not the same as want, but a separate evil which men do not escape by having an income. Idleness, even on an income, corrupts. The feeling of not being wanted demoralises.'
Incredibly, until Iain Duncan-Smith spent two years compiling his report even the Department of Works and Pensions did not have an overview of the cost of the 51 separate benefits available to those who tick the right boxes. The idea that for some people, work simply didn't 'pay', was gossip confined to the snug of the public house – the Government did not have the figures that would confirm or deny this.
The young girls seen pushing prams around desolate shopping centres in mining towns are a case in point. If you have been let down by the ideological trend not to 'push' you in school, if you have been encouraged by the 'uman rites' brigade not to respect your parents, how then do you as an uneducated untrained young girl manage to leave home and support yourself.
Do you take the £200 a week plus free flat provided by the Government for a few hours hard 'labour' (sic) and the next 16 years taking the occasional stab at baby sitting one of the next generation, or do you spend long hours frying chips in Macdonalds for the minimum wage and no free flat? Even the brain-dead can work out a no-brainer.
The Tory scheme is remarkably similar to that proposed by Frank Field, and cynically undermined by Harriet Harman, at Brown's bequest. The 'nice' Labour party preferred to brag of 'new jobs' created – for immigrants on minimum wages – and to hide the lack of meaningful jobs for their core supporters behind a smoke screen of faux incapacity. An embittered Frank Field was airbrushed from history.
The 'nasty' Tory party will hopefully be kinder to those decent men and women who put their faith in Labour, and give them a meaningful route out of their 'corrupt idleness' by revealing them for what they are – unemployed as a result of the disastrous decade of Broon economics.