The Balance of Pensionability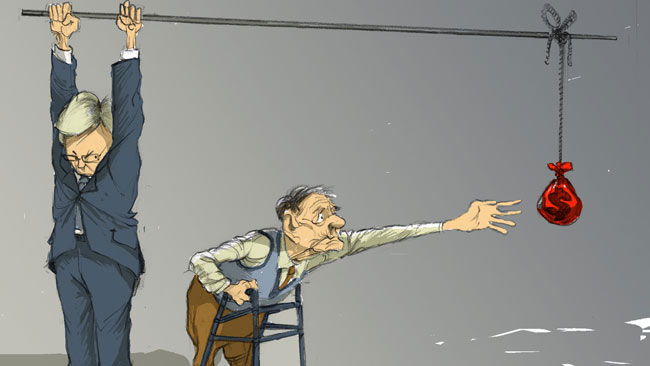 Less than one week ago, Age Concern and Help the Aged retired beaten from the High Court after a ruling by Mr Justice Blake that the vicious Default Retirement Age brought in by the Government in 2006 did in fact comply with EU anti-discrimination laws.
The mandatory retirement age was brought in under the Employment Equality (Age) Regulation, meaning an employer could force an employee to retire or refuse to employ them beyond that age without giving a reason. Employers can also refuse to take on anyone above the age of 65.
All those private sector workers who had reluctantly planned to go on working until 70 or even 75 in an effort to repair their ravaged savings and pension pots are to be legally prevented from doing so.
Enforced starvation courtesy of this caring Labour Government.
Less than a week ago….
This morning, under a news release embargoed until 00:01 today, it emerges that simultaneously – could it possibly be otherwise given the snails pace that these things move through the Civil Service – Sir Gus O' Donnell, as Cabinet Secretary, has announced on 'National Older People's Day', just to rub salt in the wound, that from April 2010 all Civil Service staff:
"who wish to carry on working after 65 will be able to do so, with government departments benefiting from their continuing experience"
He said:
"We should not put an artificial and unnecessary cap on the contribution of long serving, dedicated staff – at any grade. I am delighted that we will be freeing up the potential of our older, senior civil servants to continue to serve.

"Today's move also shows the Civil Service is committed to using the knowledge and experience of its increasingly diverse workforce to improve the delivery of public services for everyone.

"Like any successful organisation we need people who have experience in key areas, as well as those with fresh ideas to challenge traditional methods.  This announcement demonstrates our commitment to providing greater working flexibility for all civil servants."
Those in the Private Sector with their derisory pensions are prevented from continuing to work by order of this divisive Government, whilst those in the Public Sector with their cushioned pensions are to be allowed to work longer and further inflate their pension.
I am too unspeakably angry to write any more.