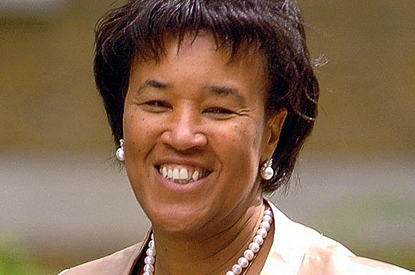 Baroness Scotland, grinning happily.
The main stream media have encircled arms and are forming a long salivating line winding its way through Tongan cleaner Loloahi Tapui's personal life, as they put their right foot firmly in, out, and shake the smallest, and most humiliating, detail out.
My sympathies lie completely with Ms Tapui. She is a foreigner living in a foreign country. She is legally married to a solicitor, she has the legal right to live in the UK, she worked for the ultimate legal guardian of our laws; whilst ignorance of the law is no defence, she had more reason than anyone to assume that she was doing nothing wrong in applying for a job as a cleaner. The fault, under a statutory liability that she devised herself, lays entirely with Baroness Scotland who failed to scrutinise and retain copies of, the correct papers – for if there had been copies of correct papers, there would be no problem – and thus failed to give her the friendly advice she might have expected from such a quarter, that she was not entitled to work and should not continue to seek employment.
Baroness Scotland has 'received the full support' of 10 Downing Street. Ms Tapui's privacy and physical integrity has been invaded in a most humiliating fashion.
The Sunday papers today contain a multitude of photographs of her smashed front door courtesy of the UK Border Agency, who proceeded to pick their way through the detritus of her personal life and papers.
'Chief Reporters' have been dispatched to pick through those indelible details of personal life left on the Internet by those who frequent salacious and explicit sexual chat rooms and forums.
Thus Ms Tapui's husband now has the humiliation of the world being under the impression that his wife is an illegal immigrant – for few people would understand the layers of refinement in the immigration laws – and worse, much worse, that new tool of the 'news' reporter has been used  – the ability to delve into the origins of an on-line identity. It is a tool that is increasingly used whenever anybody 'hits the news' for whatever reason.
IP addresses are now logged at every visit to a web site, and can be traced back to a computer – not to the individual user. 'Someone' using Ms Tapui, and her husband Alexander Zivancevic's computer, logged into a sexually explicit web site and advertised for a homosexual partner. The proof lies in the computer used, thus they will never be able to prove that it was not either of them, and the mud that accompanies that information – that this was just a marriage of convenience, is now available for all to sling. Professional and personal reputations will be forever impugned.
Instead of doing the 'Tonga' – why is the main stream press not concentrating on that stalwart of the Scottish dance repertoire, the Highland fling?
Baroness Scotland is where the legal fault lies, and the moral fault. Let's concentrate on flinging her from her current position as far as possible, and show a little sympathy for Ms Tapui and her husband who are undeserving of this mucky publicity.