All mouth and no knickers, the new 'Kilt' notes.
Yesterday we spoke of David Mundell's plan to force English shops to accept Scottish Banknotes. An earlier post by Gloria on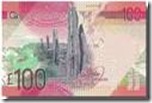 the subject of quantitative easing asked whether the notes could be easily identified:
So, go on Gordon, print the stuff, print at least £100 billion of it, but print every note of it in vivid scarlet with a lovely funereal black border, decorated with illustrations of the Monopoly flat-iron, the Scottie dog, the top hat, the old boot and (in a nod to current feeling towards politicians, banks and bankers) perhaps a nice roll of piano-wire.

That way, we'd all know which notes to stash into our mattresses and which red and black notes to use for our loan repayments; which notes to keep for our children's future and which red and black notes to put by for them to pay their crippling tax bills; the bankers would also know which green, brown, purple or orange notes to issue themselves in loans or bonuses, wouldn't they?
We know the great and the good (and Guido) read this blog, so perhaps they have taken heed of Gloria's excellent suggestion. Are we to have a new banknote, the knickerless 'Kilt' to alert us to the fact that the printing presses are running?
Hansard reports an interesting exchange during the second reading of this bill.
Mr. Tim Boswell (Daventry) (Con): […]will he comment on the likely implications of his measure for quantitative easing? Would it ease it or make it more difficult?

Mr. Deputy Speaker (Sir Michael Lord): Order. Before the hon. Member for Dumfriesshire, Clydesdale and Tweeddale (David Mundell) answers that intervention, it might be helpful to the House if I read out that the purpose of the Bill is to "Make provision about the acceptability of Scottish banknotes throughout the United Kingdom; and for connected purposes." (my emphasis)

David Mundell: […]I am sure the Scottish banks will be happy to play their part in quantitative easing.[…]
Mr. Christopher Chope (Christchurch) (Con): My hon. Friend's Bill discusses the acceptability of Scottish banknotes throughout the United Kingdom. Does he think that that acceptability would be enhanced if the £150 billion of banknotes being issued by the Government as part of quantitative easing were issued in Scottish banknote form?

David Mundell: That is an interesting proposition, but I am conscious of your earlier comments, Mr. Deputy Speaker.



March 8, 2009 at 00:58







March 8, 2009 at 00:47




March 8, 2009 at 00:45







March 8, 2009 at 00:42







March 8, 2009 at 00:38




March 8, 2009 at 00:33







March 8, 2009 at 00:33




March 8, 2009 at 00:32




March 8, 2009 at 00:30







March 8, 2009 at 00:30







March 8, 2009 at 00:28







March 8, 2009 at 00:26




March 8, 2009 at 00:22







March 8, 2009 at 00:17




March 8, 2009 at 00:13







March 8, 2009 at 00:11




March 8, 2009 at 00:08







March 8, 2009 at 00:05







March 8, 2009 at 00:02




March 8, 2009 at 00:01




March 7, 2009 at 23:58




March 7, 2009 at 23:58




March 7, 2009 at 23:56







March 7, 2009 at 23:56




March 7, 2009 at 23:55




March 7, 2009 at 23:54







March 7, 2009 at 23:54







March 7, 2009 at 23:52




March 7, 2009 at 23:51




March 7, 2009 at 23:49




March 7, 2009 at 23:46




March 7, 2009 at 23:43







March 7, 2009 at 23:43







March 7, 2009 at 23:41




March 7, 2009 at 23:41







March 7, 2009 at 23:41




March 7, 2009 at 23:40







March 7, 2009 at 23:40




March 7, 2009 at 23:39




March 7, 2009 at 23:39







March 7, 2009 at 23:38




March 7, 2009 at 23:34







March 7, 2009 at 23:28




March 7, 2009 at 23:27




March 7, 2009 at 23:25




March 7, 2009 at 23:25




March 7, 2009 at 23:23







March 7, 2009 at 23:23




March 7, 2009 at 23:18




March 7, 2009 at 23:15







March 7, 2009 at 23:14




March 7, 2009 at 23:13







March 7, 2009 at 23:12




March 7, 2009 at 23:12







March 7, 2009 at 23:03




March 7, 2009 at 22:59







March 7, 2009 at 22:56




March 7, 2009 at 22:55







March 7, 2009 at 22:54







March 7, 2009 at 22:53




March 7, 2009 at 22:49







March 7, 2009 at 22:47







March 7, 2009 at 22:47




March 7, 2009 at 22:40




March 7, 2009 at 22:39







March 7, 2009 at 22:32







March 7, 2009 at 22:31




March 7, 2009 at 22:30




March 7, 2009 at 22:29







March 7, 2009 at 22:29







March 7, 2009 at 22:27




March 7, 2009 at 22:26




March 7, 2009 at 22:25







March 7, 2009 at 22:20







March 7, 2009 at 22:17




March 7, 2009 at 22:15




March 7, 2009 at 22:13







March 7, 2009 at 22:12




March 7, 2009 at 22:11




March 7, 2009 at 22:08




March 7, 2009 at 22:04







March 7, 2009 at 22:02




March 7, 2009 at 21:55







March 7, 2009 at 21:54




March 7, 2009 at 21:20




March 7, 2009 at 21:15










March 7, 2009 at 21:04