10,000 Muslims and the Solicitor-General……..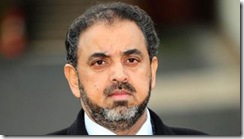 Lord Ahmed certainly has an army of supporters. Following my piece this morning on my blog that this mendacious government couldn't possibly be thinking of reviewing his sentence, the Solicitor-General has kindly found time in her busy work load of asking the Court of Appeal to review the sentence of Phillipa Curtis, jailed for 21 months after being found guilty of causing death by dangerous driving whilst texting, to drop into my humble blog and jump to Lord Ahmed's defence.
Vera Baird 03.04.09 at 8:03 pm

the judge made clear, contrary to what you say, the texting had stopped several miles before the crash and played no part in the death. Hence he was not charged with causing death while dangerous driving like ms Curtis but with dangerous driving only. Nobody should text while driving.

Is she trying to say that he wasn't distracted by his texting and was paying full attention when he killed young Mr Gombar. I had charitably assumed that he was distracted by his texting.
Perhaps the Solicitor-General dropping into blogs to reiterate past defences for ordinary folk is a common occurrence, I'm too new at this blogging lark to know; or perhaps Lord Ahmed has powerful supporters in high places. I'm sure that other bloggers will let me know.
Naturally I have checked out the IP address and e-mail address as being genuine.
March 9, 2009 at 18:50




March 7, 2009 at 15:47




March 5, 2009 at 12:09




March 5, 2009 at 12:01




March 5, 2009 at 11:58




March 5, 2009 at 11:54




March 5, 2009 at 11:08




March 5, 2009 at 10:59




March 5, 2009 at 10:32




March 5, 2009 at 10:00




March 5, 2009 at 08:22




March 5, 2009 at 06:57




March 5, 2009 at 04:49










March 5, 2009 at 04:58




March 5, 2009 at 00:59




March 5, 2009 at 00:51




March 5, 2009 at 00:36




March 5, 2009 at 00:28




March 5, 2009 at 00:05




March 5, 2009 at 00:01




March 4, 2009 at 23:59







March 4, 2009 at 23:35




March 4, 2009 at 23:31




March 4, 2009 at 23:17










March 4, 2009 at 23:30




March 4, 2009 at 23:15







March 4, 2009 at 23:10




March 4, 2009 at 22:41




March 4, 2009 at 22:28










March 4, 2009 at 22:32




March 4, 2009 at 22:00







March 4, 2009 at 21:57




March 4, 2009 at 21:44