And how many brothers and sisters do you have?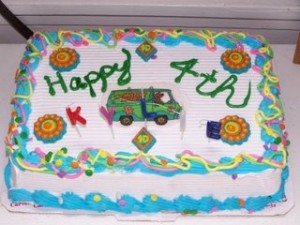 A standard question posed by many adults to a small child. Easily within a four year old child's capacity to answer in words of one syllable.
What a minefield that question will present for young Sean and Amelie McCann.
How to answer? One, but I did have two? Two, but one is missing? There are three of us, but our parents lost one? These are complicated answers, confusing to both the twins and the adult enquirer.
Will special instructions be given to all the teachers at their school, when they are old enough to attend next year. 'Do not refer to other siblings in class'.
What to make of the article in yesterday's Sun saying that Madeleine has 'left a Birthday present for them' – how are they to digest that information.? Did Madeleine arrive in the night like some fairy princess version of Father Christmas and leave the present? Why didn't they see her? Worse, following the news last year from now-deceased expert Ray Wye, who told us that the twins were being encouraged to play 'hunt the monster who took Madeleine' – was the scary monster with her'? We are told that "Sometimes Sean and Amelie make phone calls to her on their toy phones, then go off to find her." Four months after her disappearance, the brother and sister of Madeleine McCann were still insisting on leaving a plate of food out for her. Little doubt then, that Sean and Amelie are painfully aware of both the existence and disappearance of their old sister.
Twin experts tell us that twins share a deeper less conditional relationship than mere siblings, but as a result of this, also suffer more anxiety that they may lose their twin than do mere siblings. How much deeper must that anxiety be when they have witnessed the loss of a sibling.
One night Sean and Madeleine cried out in unison – the next she was gone. Does Sean still cry? Does Amelie risk crying with him?
As the twins grow older, will they wonder why every stage in their development provided yet another excuse for a press release, including helpful quotes from 'friends' close to the family who know all the details of presents and cakes. Do you suppose they will buy themselves a copy of The Sun on the day before their 18th birthday in order to find out what treats lie in store for them?
We will all be thinking of them today, and wishing them as easy a passage toward adulthood as is possible under the circumstances. Poor little mites.
Nature versus Nurture, the age old debate, is the bosom of your family the safest place to be?
Philip Larkin didn't think so.
They fuck you up, your mum and dad.

They may not mean to but they do.

They fill you with the faults they had,

And add some extra, just for you.

But they were fucked up in their turn,

By fools in old-style hats and coats,

Who half the time were soppy-stern,

And half at one another's throats.

Man hands on misery to man.

It deepens like a coastal shelf.

Get out as early as you can,

And don't have any kids yourself.
February 2, 2009 at 00:03







February 1, 2009 at 23:55




February 1, 2009 at 19:09







February 1, 2009 at 18:59




February 1, 2009 at 18:10







February 1, 2009 at 15:52




February 1, 2009 at 15:43







February 1, 2009 at 15:40




February 1, 2009 at 15:38







February 1, 2009 at 15:33







February 1, 2009 at 15:32




February 1, 2009 at 15:23




February 1, 2009 at 15:20







February 1, 2009 at 12:52




February 1, 2009 at 12:47







February 1, 2009 at 12:46







February 1, 2009 at 12:39







February 1, 2009 at 12:36







February 1, 2009 at 11:41







February 1, 2009 at 11:04










February 1, 2009 at 11:08




February 1, 2009 at 00:06