From closet to cabinet and back to closet again…..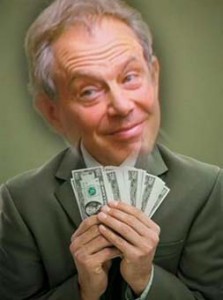 No longer centre stage, the man who should more properly be blamed for the present bout of fiscal diarrhoea in the UK banking system, skulked on the outer perimeter of the Davos conference this week, uncharacteristically silent.
The last time he was at Davos in 2008 he said,
"Being prime minister of Britain means having to go around the world apologising to everybody."
Where is the apology to the people of Britain now?
We should not forget that it was Tony Blair who hired, and failed to fire, nor even supervise, the High Priest of our national dysentery, Gordon Brown. It was Tony Blair who set the Chancellor free of interference by 10, Downing Street. Thus it was Tony Blair who gave away the ability previously incumbent in his post, to direct the Bank of England interest rate.
The man who plotted and schemed his way to high office appears to have lost interest in the country of his birth. He is reckoned to be the most expensive after-dinner speaker in the world and can command a fee above £170,000 for a 90-minute speech. He is paid a reputed £2m a year for his part-time role as adviser to the Wall Street bank, JPMorgan Chase, plus £500,000 a year from the Swiss firm, Zurich Financial Services. He is expected to make £5m from a publishing deal on both sides of the Atlantic for his memoirs. With such credentials we might have expected some comment from him on the viral toxins making their way through the global banking entrails, even if expediency prevents him from appearing to comment directly on his successors incompetence.
The man who said he would reform the House of Lords, is now, in the wake of new allegations concerning corruption in the House of Lords, advising the Presidents of Rwanda and Sierra Leone on the art of running a corruption free democracy! What are his credentials for doing this? Escaping from the clutches of Inspector Yates by the skin of his teeth? We shouldn't be surprised – his wife tours the lecture circuit speaking on travel and tourism on the basis that her mother once worked in a travel kiosk in a Liverpool department store.
Shams and Charlatans, the pair of them. They have escaped the current attention of the media by manoeuvring into place a man so hopelessly incompetent and unsuited for the role of Prime Minister that even his own back benchers worry about his 'emotional intelligence'. Distraction politics – bequeath the country a man so laughably, insanely, embarrassingly unfit for the job, that we will forget about the man who gave him the financial levers in the first place.
Come back Tony Blair, back in the lamp light where we can see you; the howling mob deserve your carcass, not just the over fed decoy you have cunningly placed in their path.



February 1, 2009 at 15:19







February 1, 2009 at 15:06




February 1, 2009 at 15:04







February 1, 2009 at 14:55




February 1, 2009 at 14:45




February 1, 2009 at 12:16







February 1, 2009 at 12:12




February 1, 2009 at 12:11







February 1, 2009 at 12:04




February 1, 2009 at 12:00




February 1, 2009 at 11:51




February 1, 2009 at 10:05




February 1, 2009 at 00:50




February 1, 2009 at 00:50




February 1, 2009 at 00:47




February 1, 2009 at 00:42




February 1, 2009 at 00:39




February 1, 2009 at 00:39




February 1, 2009 at 00:35










February 1, 2009 at 00:36




February 1, 2009 at 00:33




February 1, 2009 at 00:12










February 1, 2009 at 00:14




February 1, 2009 at 00:09




February 1, 2009 at 00:08




February 1, 2009 at 00:07




January 31, 2009 at 23:58




January 31, 2009 at 23:56










January 31, 2009 at 23:57







February 1, 2009 at 00:02




January 31, 2009 at 23:47










January 31, 2009 at 23:49




January 31, 2009 at 23:46




January 31, 2009 at 23:44










January 31, 2009 at 23:46




January 31, 2009 at 23:42










January 31, 2009 at 23:45




January 31, 2009 at 23:42










January 31, 2009 at 23:45




January 31, 2009 at 23:40




January 31, 2009 at 23:23







January 31, 2009 at 23:20




January 31, 2009 at 23:15







January 31, 2009 at 23:06




January 31, 2009 at 22:57







January 31, 2009 at 22:43




January 31, 2009 at 22:25




January 31, 2009 at 22:11




January 31, 2009 at 21:53







January 31, 2009 at 20:41










January 31, 2009 at 21:14










January 31, 2009 at 19:53










January 31, 2009 at 19:51







January 31, 2009 at 19:32










January 31, 2009 at 19:48







January 31, 2009 at 19:28










January 31, 2009 at 19:49










January 31, 2009 at 19:52




January 31, 2009 at 19:26










January 31, 2009 at 19:46




January 31, 2009 at 19:24










January 31, 2009 at 19:55







January 31, 2009 at 19:21




January 31, 2009 at 19:19




January 31, 2009 at 19:18




January 31, 2009 at 18:48







January 31, 2009 at 18:16




January 31, 2009 at 16:08




January 31, 2009 at 14:01







January 31, 2009 at 13:33