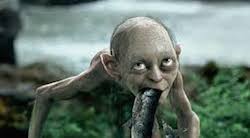 Gojam, the ever present, malodorous, spiteful, demanding, unreasonable, illogical, presence in my life, who had no other function in life than to spout bile, has been given his marching orders. From Tuesday afternoon he will be consigned to the dustbin.
He has been by my side for six months; demanding that my every waking moment – and his chief pleasure has been waking me at 3am and then again at 6am – is devoted to attending to his needs. I couldn't walk out the door without thinking of him first – what might he need during my absence from home base? Food? Nappy change? I carried a bag of tricks to amuse him, cajole him, coax him into allowing me a few hours of freedom.
He left me dependant on others, but fearful of the germs they might harbour. Tired, dispirited – and permanently hungry, for Gojam resolutely refused all food except fish and rice – with a glass of water to go with it. I can count the days on which he grumpily agreed that I might eat an egg. I dreamt at night of asparagus, lettuce, onions, garlic, a steak, perhaps a leg of lamb – and I have never been that interested in food, but my dreams became techni-coloured visions of gloriously elaborate recipes.
When I brought him home from the hospital, they said that he was to be my companion for a month, maybe six weeks; the six weeks became six months. He's been poked and prodded and admired by strangers on a weekly basis – they love nothing more than telling me to get my clothes off so that they can have a 'proper look' at the foul Gojam. They love him, he is everything they could ask of a bag of sh*t.
I loathed every inch of him, despised everything about him. He was a walking reminder that I had become a 'victim'. A 'victim' of cancer. Something out of my control, that sheer bloody mindedness and determination could do nothing about. It's a terrible place to be for someone with my personality!
But he's going. He's going because Madame Raccoon, after a week of tests and indignities, has been pronounced en rémission! I have never heard those words before. In two and a half years, all I have ever heard is 'perhaps', 'maybe', 'too soon to tell', 'we'll see', but late last night, after my final appointment, they said the magical words. En rémission, Madame! – and asked me when I would care to see the back of Gojam. I said 'tonight'.
The surgeon flicked through his diary (this is France, none of that nonsense about you'll get an appointment in the post!) and apologised that he couldn't fit me in until Tuesday…would that be acceptable?
So it is with great joy that I write this post today. I am so happy I could burst. Finally, finally, en rémission. Keep this up for five years and they will declare that the bloody Scanner is no longer part and parcel of my life. I can practise going out somewhere and not taking my clothes off as soon as I get there….
I want to thank you all, particularly, and specifically, those of you who take the time and the trouble to comment on my ramblings. You have no idea how important you have been to my struggle to get through this. I have never been interested in the 'stats', that record of how many have read a post, it is immaterial. It is those of you who comment who have made this blog into a virtual pub.
You have given me the opportunity to be more than a 'patient'. You gave me the motivation to climb outside of real life, go in search of interesting things every day, learn more of the world. You have argued with me, corrected me, disagreed with me, encouraged me, supported me – which is more like real life than life as an indulged, pitied, vulnerable, cosseted 'patient' ever could be. I could never put into words how grateful I am. Neither could Mr G, as it happens, his life would have been even more of a waking Hell over the past two years had you not been there to distract me.
Before you take this opportunity to correct me one more time – I know! I've just gone in search of an image of the bald headed, fish eating, bile belching Gojam – and discovered that he was called Gollum actually, not Gojam.
Makes no difference now, whatever the eejit is called – he's go-go-going.
Ms Raccoon is happy to announce that she will be off-line for the next ten days, whilst the Bergonie restore me to God's original design, and fashion some of the missing bits out of God knows what – I'm not going to ask!
I have to stay there until I have learnt to do more than just talk out of my backside…
Be seeing you – Bionic Raccoon will return. It has all cost about six million as it happens – old Francs.