Savile to lose his title?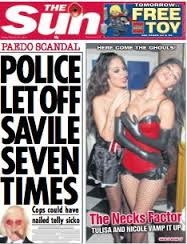 How curious. Surrey police let off Savile seven times – seven times when they had evidence that could have convicted him. Whatever were they doing all that time? – certainly not investigating Levi Bellfield! They had failed to investigate 24 sex attacks that could have been linked to him!  They spent millions and millions chasing Savile from one end of the country to the other, hired hundreds of ex-detectives to interview middle aged women and middle aged men who claimed to have been attacked by Savile in the most unlike places – and yet Surrey Police couldn't spend a penny investigating or following up genuine leads to serious sex attacks right across the country that were linked to Levi Bellfield – was it because they were too fixated on Savile?
I am so angry with myself that I am now too sick to follow this up – I do hope that Moor takes up the challenge and digs into this Sunday Times story. It looks as though Savile is in danger of losing his crown as 'Britain's' most prolific sex offender' and it might be handed to Levi Bellfield. After five years hard work on the Savile case, it is galling that I can't see it through to the bitter end, but there you are.
I hope to be going home from the hospice tomorrow, back to the Tender's Nest that Mr G has constructed for me; every Ship has it's Tender moored alongside, and so does his Ship.
Sorry, that is as much as I am capable of writing today, it takes the morning of medication to straighten me out after a night's heavy sleep and leave me pain free for the afternoon and by that time I am ready for another sleep! Tomorrow I go home to Mr G who knows exactly how to care for me – they don't mean to be unkind, but they are always so busy in here and they have so many rules and regulations that have to be followed – that they only have to have one man who was seriously ill (which they had) and one lady who fell out of bed (which they did) and there is no nurse available left to deal with me consequently I was left from 4.30am screwed up in a corner of my bed, unable to straighten myself out, with the pain of lying like that increasing by the hour. It was 9am before they got round to me and I had to chose between having pain relief and breakfast or having a wash. I decline the wash….so I stink, but by the time Mr G arrived at 10,30 (he's not allowed in any earlier – another rule!) at least the pain was easing and he was able to slip me my vape e-cigarette, which naturally I'm not allowed either…'no evidence that it's 'safe' – so after 10 days I am suffering from severe nicotine withdrawal symptoms.
What would you do? Go home with some pain not yet controlled from the 'EastAnglian Centre of Excellence for Pain Control' with some pain not yet controlled – although it would be by Mr G applying the pain control at 4.30am and keeping it up every two hours on the dot, plus copious Yorkshire Tea and frequent puffs on the e-cigarette and just his warm comforting hands and presence – or stay here?
I'm choosing the 'Go Home' option! I can put up with a bit of pain, I loathe this place.
Apologies; I've veered off the subject of Levi Bellfield. Please do use the comments to discuss your views on whether they should have been following up the Bellfield leads, or chasing the imaginary 'Britain's Greatest Living Paedophile' – Savile – across the country.
Here's a copy and paste of the Surrey Police article from The Sunday Times for those of you who don't have a subscription to The Sunday Times.
New evidence seen by The Sunday Times links the murderer of the schoolgirl Milly Dowler with a spree of unprovoked bludgeon attacks on women across Britain that the police never fully investigated.

Levi Bellfield, a former wheel-clamper from west London, is now linked to 24 violent attacks and rapes in the two decades before he was caught in 2004. This would make him one of the most prolific serial attackers of women in British criminal history.

Two newly identified suspected victims of Bellfield last night called on the Metropolitan police to investigate their cases. In separate incidents they were both clubbed over the head while walking alone.

Police intelligence on Bellfield seen by The Sunday Times shows detectives suspect him of nine attacks, in addition to a series of rapes and assaults previously investigated but never prosecuted.

Bellfield, who is serving two whole-life tariffs, is challenging his conviction for murdering Milly Dowler in 2002. He was also convicted of killing Amelie Delagrange and Marsha McDonnell and the attempted murder of Kate Sheedy.

Officers from the national police serious crime analysis section (SCAS) uncovered a series of unsolved attacks that took place in London, Surrey, Middlesex, Sussex and Lancashire.

The intelligence was collated before Bellfield's first conviction in 2008 but has not been revealed until now. The attacks match his movements around the country at the relevant times.

One of the victims identified by police was Sarah Spurrell, who received three blows to the head as she was walking to a friend's house in Hastings, East Sussex, on a January evening in 2004.

Although the police SCAS unit identified Bellfield as a suspect, it did not inform Spurrell and dropped the investigation after he was convicted of murder.

Spurrell, a 38-year-old mother of two, said yesterday she was "100% sure" her assailant was Bellfield after being shown his picture and called for her case to be reopened. She confirmed that the size, build and eyes all match Bellfield's appearance and believes she could have been the "next Milly".

Officers found the new cases by searching the national crime database for specific factors including: a female victim, aged between 15-40, no evidence of sexual activity and the use of a heavy weapon around the head.

Two of Bellfield's murder victims — 19-year-old gap-year student Marsha McDonnell and 22-year-old French student Amelie Delagrange — were bludgeoned to death with head wounds.

Former detective chief inspector Colin Sutton, who led the murder investigations, confirmed the research and said it suggested Bellfield was a serial offender.

"We were looking for blitz attacks on lone females, especially where there was no robbery or sexual assault, because that is something we know he did which is extremely unusual. Attacks of that ferocity for no apparent reason are rare," Sutton said.

The new cases date back to July 1994 when a 29-year-old woman was hit from behind on the head by a blunt object at a deserted petrol station in Hinchley Wood, Surrey. The assailant — wearing a balaclava — struck her twice more after she fell to the ground but she still managed to fight him off.

A woman, now 49, who was attacked in Croydon, south London, in 1995 said last night: "The force of the blow wiped my memory . . . It fractured my skull and I was in hospital for several days.

"I didn't know Bellfield might have been a suspect. I'd like the police to investigate. It's not enough that he's in jail. I want to be sure it was him."

She said the incident "broke" her confidence and it had worried her for years because her attacker remained unknown.

Two similar assaults on women took place in Blackpool, Lancashire, in 2003 and 2004 when Bellfield was visiting the town for nights out. Several other cases occurred around Twickenham, west ­London, near his home.

Sutton described the evidence linking Bellfield to the attacks as compelling: "We couldn't find any similar offences that we couldn't link to Bellfield."

The cases were not investigated further. Senior officers at the Met decided to use resources on other priorities as Bellfield was in prison for life. "I didn't dis­agree with the decision, although I would have been happy to continue investigating the crimes," said Sutton.

The crimes Bellfield has been linked to include: six rapes of teenage girls, three rapes of older women, an attempted murder, one kidnap, an indecent assault and three further hammer attacks.

He was tried for two of those cases: the attempted murder of Irma Dragoshi, then 33, from Hounslow, west London, who was hit over the head with a blunt instrument; and the kidnap of Anna-Maria Rennie, 17. The jury failed to reach a verdict.

Bellfield, 49, who has converted to Islam, is in Durham's high security HMP Frankland. He claims he was wrongly convicted for the murder of Milly Dowler, 13, and says he now has CCTV footage and a new witness to back up his case.

Last year the Met held another investigation into Bellfield which proved inconclusive. It did not comment on the nine new cases in the intelligence research.