A View Definitely Not to Die For!
Mr G has been beavering away since March 19th when it became obvious that I would never walk upstairs again.
There had been an old boiler room attached to the side of the house when we bought it – a haven for spiders, a toilet for the resident scruffy lap dog belonging to the previous owner on rainy days, a defunct boiler, the remains of an old oil burning stove, and several coats that would have been out of date 25 years ago. He hired a skip and filled it to the brim in hours.
Then came the task of digging out new footings – apparently the previous owners thought that the entire house might slide into the river under the weight of their new boiler if they didn't give it at least three-foot of solid concrete underneath. Sheesh! Mr G swung a sledge-hammer against that concrete for days, finally enlisting the help of Trev the Trannie. Trev might be midway through his two years of dressing and living as a woman, but he knows how to put a jack hammer to good use. The village was monumentally impressed. (When you live on the main road, you acquire Assistant Site Foremen by the dozen as everyone drags their dog down to the post office for their morning paper).
Eventually four tonne of hardcore was dug out and put into bags – and the task of refilling the trench with er, another four tonne of concrete, began. I think this is like the offside rule, something that women will never understand. What was wrong with the four tonne of concrete you started off with? Eh? *Sighs* Best not to ask.
Eventually the building started leaping upwards as through possessed. A foot high, two foot high. Windows appeared on a lorry and were fitted to the walls. The ribbed framework of a roof appeared looking like the upside down remains of a beached whale – and surprise, surprise, the thatchers who are booked up for two years ahead, turned up one day and announced they had five days free before they started their annual holiday and thought they might just spend it thatching this little bubble on the side of our house…
The plasterers appeared, a rarer sight than traffic wardens in this neck of the woods, and amazingly, they also had some free time before they went on holiday, sufficient to plaster the ceiling – I was beginning to recognise the unseen hand of our friendly but very elderly local builder at work. Favours were being called in, in the rush to get this finished for me.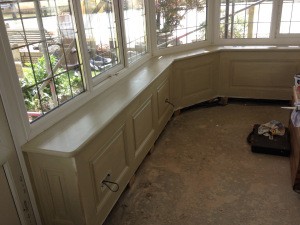 Mr G was permanently locked in his workshop, machines whirring the only sign that he was still alive. He rushed hither and thither with tape measure, but refused to discuss what he was doing. Since my bed in the kitchen was placed facing the front of the house, I could see nothing of what was going on behind me, occasionally a nurse would exclaim 'Ooh, it's going to be beautiful' and be told to 'Shush!' Until finally I was wheeled out to see the semi-finished version. Still the floor to be done…..the oak was ready but the man with the machine needed to turn it into floor boards was due to go to the Isle of Man for the races…would he do it in time?
He did.
And finally I was wheeled out in state into my new abode. It is fantastic. My favourite jugs laid out on the widow cill. All the power points connected up to plug my bed into; a new table (a lash up according to Mr G!) made out of an old desk top to sit beside my bed and hold my computer and all the things I need within reach – tissues, notepad and pen, radio, mouthwash (this medication gives me the most disgusting taste in my mouth) telephone, buzzer to call my carer, everything I need to exist. Even double doors that make it feel as though I am out in the open world.  What more could I want? Mr G is an incredible man.