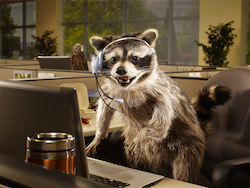 The suppurating boil on the face of journalism, oozing vituperative stories, usually with a left-wing sting in the tail, that has been the internet agency Exaro, has, if one can believe a word that Mark Watts, David Hencke and Mark Conrad ever say, finally been silenced.
Six weeks ago, Mark Watts was telling the Press Gazette of an e-mail he had sent to staff, subsequently leaked to the Press Gazette:
"You have the right to know that further cuts to the editorial team are, indeed, planned, and, as you know, no proper announcement of this was made at the outset internally."
Those 'cuts' proved to include Mark Watts. Exaro was 'editorless'. We were told that Exaro was returning to its roots and writing investigative financial stories, with its usual attention to detail and truth…
The problem with hacks working in a fevered atmosphere of conspiracies as had reigned at Exaro for some time, is that they cease to look at innocent motives for any obscure threads of a story. They become over excited by leaks of 'secret papers' à la Wikileaks or the Panama Papers. 'We nose fings' they cry, and promptly work out the most duplicitous reason for every action.
Thus it was that an experienced financial journalist, Nick Kochan, set to work on some rumours coming out of Malaysia.  Nick had only recently finalised a book, written in conjunction with David Hencke and Francis Bennett. The book, about Tony Blair's life since leaving office, was described as 'hostile and damaging'. It was published by the downmarket mass-publishers 'John Blake'. Other books written by the pair have attracted rare praise from Seumas Milne. Fairly safe to say we are speaking of journalists welcome in the court of Corbyn. And Tom Watson. Exaro is an incestuous place, only like minds permitted to hold opinions.
The rumours that had attracted Kochen first surfaced in the 'Sarawak Report' an online investigative journal run by Clare Rewcastle-Brown, formerly of the BBC World Service. 'Sarawak Report' has a somewhat chequered history. Whilst it has been rightly praised for its work exposing the deforestation of Malaysia, some of its work, particular its coverage of 1MDB, a strategic development company operated by the government of Malaysia, has been criticised as  'inconsistent' and 'unreliable'. Certainly there are billions of pounds in circulation in and out of 1MDB's bank accounts that require better explanation than so far offered, but these are murky waters. Journalists would be advised to tread carefully. 
Into these waters, Kochen piloted Exaro; bolstered by a passport photograph of a British financier, Patrick Mahony, and some e-mails purloined from a firm of accountants in Switzerland 'by a third party' (naturally). The e-mails, if even genuine, purported to show that Patrick had received into his swiss bank account, some $33 million pounds. From the Boss of a Saudi oil exploration company.
So what you may say? Having a Swiss bank account is not illegal, nor is receiving money from a Saudi oil company – and what has this got to do with the price of eggs, never mind a development company in Malaysia? But, you see, stitch all that together with other allegations that the IMDB organisation had a partnership deal with Petro-Saudi the Saudi oil company, and er, you really don't have very much going for the story except nudge, nudge, these people have more money than you and I and are obviously up to no good….
Add in the current top of the pops for rumour mongering, the Land Registry, and you can reveal that, nudge, nudge, Patrick Mahoney has also just bought a house. In London, as any sensible British financier would do. £6 million quid which is about right for someone operating at that level of high finance.
'Sarawak Report' is quite explicit in its efforts to paint Mr Mahoney in a bad light:
Patrick Mahony is a UK citizen and yet he poses as an off-shore, non-domicile concern when it comes to declaring the house he owns.
Hmm – he works for a Saudi Arabian company, he is scarcely 'posing', he is doing just what a legion of Bolton steel erectors on one year contracts in Saudi do – taking advantage of the tax law.
This is how ordinary home-owners get tax clobbered, whilst those who have got rich by stealing the money of poor countries are able to lord it up in London and pretend they don't officially own the properties they do.
I am deliberately not linking to the BBC trained journalist behind Sarawak Report's efforts to tarnish Mr Mahoney's reputation – it continues in much the same tone, and worse. It also (written some six months before the Exaro piece) contains the riveting information that the man who had taken 'company document' and e-mails was now in prison for attempting to blackmail Mr Mahoney. What does that matter when you are knocking up a quick piece for Exaro, eh?
The Exaro article, which is still available on the wayback machine, has now been removed from Exaro's site, to be replaced by a grovelling apology. Quite right too, contrary to the impression given by the piece, with the add of much smoke and mirrors, Patrick Mahoney has never been accused of any wrongdoing, nor has Petro-Saudi, and whatever their business together, it is none of our business. Publishing photographs of his house and his passport photograph was an unwarranted invasion of his business. 
It was particularly unfortunate, for Patrick Mahoney is not the only financier with interests in Malaysia, as Petro-Saudi, for whom he works, undoubtedly has. There is another. His name is Jerome Booth. It may be familiar to you.
There will be many this morning who will attribute Exaro's demise solely to its predilection for fantastical stories of sexual abuse by Tory politicians. Certainly I have been told many times over the past few weeks of people interviewed by Metropolitan Police officers with a particular interest in Exaro and their business methods, in the wake of Hogan-Howe's inquiry led by Richard Henriques.
I don't believe that is the whole story. There is a danger in owning a company which writes investigative stories – especially if you have substantial funds and are worth suing. It is a danger that newspapers have long been aware of, and guard themselves by having a phalanx of lawyers who ruthlessly spike anything which can't be double sourced. Owning a company which takes its material from online blogs and anonymous individuals liable to make outrageous and incredible allegations is a hiding to nothing that no newspaper proprietor would dream of engaging in.
Sadly, Exaro's latest output:
Changes at @ExaroNews . @davidhencke is now Head of Exaro. As Head of News, I'll be running site jointly with David. Contact details on web.

— Mark Conrad (@markconradhack) July 15, 2016
had a shorter shelf life as 'reliable news' than a double cone whip with chocolate flake in the current heatwave. Not for long David, not for long.
BREAKING: V sad news. Exaro closed today. Two days after announcing that is was "open for business", with new "head". An act of vandalism.

— Mark Watts (@MarkWatts_1) July 20, 2016

Ms Raccoon is still here. Annoying isn't it?
Anna Raccoon


July 21, 2016 at 2:10 pm

The Blocked Dwarf


July 21, 2016 at 4:35 pm

The Blocked Dwarf


July 21, 2016 at 7:55 pm

Anna Raccoon


July 21, 2016 at 8:02 pm

Bandini


July 21, 2016 at 10:22 pm

The Blocked Dwarf


July 21, 2016 at 11:17 pm

Ho Hum


July 21, 2016 at 11:52 pm

Anna Raccoon


July 21, 2016 at 5:44 pm

A Potted Plant


July 21, 2016 at 10:48 pm

Bandini


July 22, 2016 at 11:30 am

windsock


July 22, 2016 at 11:44 am

Bandini


July 26, 2016 at 12:51 pm

Bandini


July 27, 2016 at 10:56 am

Bandini


August 10, 2016 at 10:28 am

Bandini


August 10, 2016 at 10:34 am

Bandini


August 10, 2016 at 11:14 am

Bandini


August 10, 2016 at 12:56 pm