Their Satanic Travesties.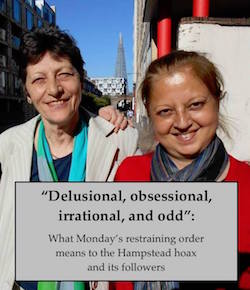 Yesterday, the long running saga of 'delusional, obsessional, irrational and odd' individuals who have littered the internet with requests for funds to help them bring to justice a supposed band of Satanic baby eaters and paedophiles based around a Hampstead church finally drew to a welcome conclusion.
Two innocent children were beaten, bullied, and intimidated into making outrageous claims concerning the Satanic sexual abuse that they said was occurring to 22 'special children' at a small school in North London. They were videoed by the step-father and mother whilst making these claims, and the results liberally spread across the internet – attracting the attention of the 'delusional, obsessional, irrational and odd' sort of people who make an on-line living out of these sort of claims.
Needless to say, no sooner were the children in the safe company of specialised police and out of arms, if not harms, reach of their abusive step-parent and Mother, than they admitted they had been forced to make up the stories to help their mother wrest control of them from their natural Father.
"The children's false stories came about as the result of relentless emotional and psychological pressure as well as significant physical abuse. Torture is the most accurate way to describe what was done by Mr Christie in collaboration with Ms Draper."
Mrs Justice Pauffley's judgment was unequivocal in its condemnation of the damage wrought by the 'campaigners' who had latched onto the story. Those who are new to this story may not be aware that these campaigners have kept up their threats to the parents, children, and teachers of this small school for nigh on 2 years now. Each child has an adult accompanying them 24 hours a day, at home, at school, so seriously are the threats to 'kidnap them and rescue them from this paedophile ring' taken. The parents and teachers all have CCTV and panic alarms fitted to their homes. It has, in short, been an utterly terrifying experience to be at the mercy of uncontrolled social media comment and identification from 'delusional, obsessional, irrational and odd' creatures hiding behind a keyboard. More information on some of these campaigners can be found here.
Yesterday, 'everlasting' restraining orders were made against Sabine McNeil and Neelu Berry forbidding them from setting foot inside a geographical area of Hampstead and promulgating any further their extraordinary satanic abuse theories regarding these children. Importantly, the order also expressly includes any of their 'agents' – that legion of backroom internet cowboys who post and crosspost in the wilder regions of the internet. Under penalty of a potential five year prison sentence.
I say importantly, because these deluded and obsessional souls will not stop. That is the very meaning of obsessional. Only last night I was sent a copy of the English Churchman, which describes itself as a 'longstanding protestant family newspaper'. Unfortunately, it doesn't believe in bringing you the word of God free of charge, unlike Ms Raccoon, so you will have to settle for a copy of their front page article. There you will find William Wong, chairman of the 'Coalition Against Satanic Ritual Abuse' on the front page, still banging on about Hollie Greig – described as 'Scotland's largest current Satanic Ritual Abuse case' – a case which was debunked here and elsewhere all of five years ago. He throws in a few claims that Jimmy Savile was a satanic abuser, whether to catch the eye of the search bots, or because he really does think the Daily Express tells the truth, I know not. I have tried in vain to follow the link that he gives at the bottom of the page 'where you will find a list of SRA cases successfully prosecuted in Britain'…
I'll grant you that the 'English Churchman' is not exactly mainstream media despite its long pedigree, but it is an illustration of just how embedded the delusional are – another fine example was perfectly illustrated by the solicitor for the defendants in the Hampstead case, an Aseem Taj, who also defended the Mother of the two children before she fled the country (and incidentally Abu Hamza's son – remarkably a year before he qualified as a solicitor?) who exploded with rage in the court:
"Research the Hampstead coverup! This judge is trying to to shut my client up so she doesn't expose the satanic cult paedophiles!"

Judge Worsley shouted at him to shut up, to which Mr Taj responded, "No, you shut up!

"They're all killing babies!" he shouted at one point, adding that the court was responsible for allowing cult members to rape, murder, and eat babies and children.

Judge Worsley ordered him to sit down, and mention was made of referring Mr Taj to the Solicitors' Regulation Authority. Mr Taj stormed out of the courtroom, shouting as he left.
We should all be indebted to the blogsite Hoaxstead Research. It is, as opposed to the likes of Sabine McNeil and Belinda McKenzie, social media at its finest. A force for good. I have met the people behind the Hampstead Research site – not a backward facing baseball cap, nor acne in sight – they are entirely normal professional people who have given a huge amount of time and money for no reward whatsoever in order to unmask the people spreading so much unhappiness and bring them to justice. They have gathered round them a group of lawyers, internet experts, and psychologists who have done more in two years than the combined forces of Her Majesty's constabulary and CEOPS. I salute them.
Jean La Fontaine, emerita Professor of Social Anthropology at the London School of Economics, and a past President of the Royal Anthropological Institute, the country's foremost expert on the extent of so called 'satanic abuse', spoke at the British False Memory Society last year. She particularly referenced the Hampstead cases and drew a link with the recent rash of 'Historic Abuse' claims:
A particularly unpleasant case that occurred in Hampstead in 2014 has recently been widely reported in the press. The persistence of these allegations into the twenty-first century repeats the questions that I thought I had answered at the end of the twentieth! This is, first: how is it that 'victims' can tell stories of gruesome experiences that they never had? Secondly: how is it that adults, many of them sensible, educated people, believe these stories? These two questions are also raised by the cases of so-called 'historic abuse'. The answers are interrelated though I shall try and deal with them separately.
She concludes by saying:
It is the presence of crusaders advocating belief rather than argument that finally underlies this comparison between satanic abuse and false memories. Listeners were asked to believe what they were told, not to accept conclusions based on evidence. The cases, whether of recent satanic abuse or recovered memories of it, figure vulnerable victims under pressure to construct stories that will both authenticate their status as victims and heal them in the telling.
I find it appalling that it has taken a couple of brave bloggers to give the parents, teachers, and clergy of Hampstead some respite from the strain they have been put under, the intolerable exposure to on-line maniacs that their children have faced,  and the dangers to life and limb.
All credit to Hoaxstead Research; but they shouldn't have had to devote their lives to this. We have a police force and CEOPS. Both highly paid to protect children and identify on-line miscreants.
Bandini


July 20, 2016 at 2:46 pm

Anna Raccoon


July 20, 2016 at 2:48 pm

The Blocked Dwarf


July 20, 2016 at 3:14 pm

Anna Raccoon


July 20, 2016 at 3:59 pm

The Blocked Dwarf


July 20, 2016 at 4:21 pm

windsock


July 20, 2016 at 4:39 pm

Bandini


July 20, 2016 at 6:46 pm

Ho Hum


July 20, 2016 at 11:08 pm

Don Cox


July 20, 2016 at 7:50 pm

Ho Hum


July 21, 2016 at 12:40 am

Ho Hum


July 20, 2016 at 11:40 pm

The Blocked Dwarf


July 20, 2016 at 11:50 pm

Ho Hum


July 21, 2016 at 12:21 am

Mr Ecks


July 21, 2016 at 8:52 am

The Blocked Dwarf


July 21, 2016 at 12:25 am

A Potted Plant


July 21, 2016 at 6:10 am

A Potted Plant


July 21, 2016 at 9:05 am