On the multitude of 'ex'-Met Police Officers.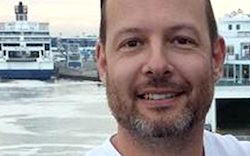 ex-Met Officer Adam Whittington.
Whilst the reputation of the Metropolitan Police may stink on home ground, it is still thought of highly in foreign parts. That may explain why there are so many 'ex'-Met officers plying their trade in security and private investigation in flyblown states.
Curiously none of them ever seem keen to explain how or why they became 'ex'-Met Officers. I suspect the Met might have fallen even lower in our esteem if it still employed some of them. Even curiouser – none of them ever turn out to be lowly 'grunts' – they have always 'headed up high profile investigations'…this phenomenon is not exclusive to the Met, of course – it afflicts ex-Surrey police constables too.
It is an ex-Met police officer that I am concerned with today. One Adam Whittington, founder and Director of 'Busted Investigations'. Adam claims to have been working on the Madeleine McCann hunt with a top investigator:
Our Director has worked with some of the most respected and high profile investigators in the business including, one of the investigatiors in the high profile disapperance of young British girl, Madeleine McCann in Portugal. (sic) (Adam suffers from dyslexia, a damnable affliction which also affect ex-Surrey cops). 
I do hope the top investigator wasn't Metodo 3, who were happily taking £50,000 a month from the McCann's, until one of their Directors was involved with a load of frozen prawns which turned out to have hallucinatory qualities…
The cocaine was smuggled into Spain in 974 packets on the ship Hispanota, which was transporting frozen prawns from Venezuela. It docked in Barcelona in November 2004 and the drugs were taken on January 24, 2005.
He also claims to have worked with the Head of the royal protection squad, and "team leader of the anti-terrorism unit that helped identify and bring to justice the 2005 London suicide bombers, working closely with the FBI, CIA and MI5.'' Gosh!
None of that stood him in good stead when he was involved in an unseemly scuffle in Singapore in 2014. By that time his company was called 'Child Abduction Recovery International'. A child, 'M', of a Singaporean Father and a Mongolian Mother, was snatched from the streets of Singapore by Mr Whittington. Not only did Adam Whittington end up in a far from salubrious Singaporean jail – but so did the child's mother and the captain of the boat he had chartered.
He chartered a catamaran, captained by Australian national Todd Wilson, and devised a 440-mile sea route from Langkawi in Malaysia to Singapore's exclusive Raffles Marina Club.

Once ashore, Whittington and the child's mother took a taxi to the grandparents' house where they scuffled with the grandparents as they tried to lead the child away.
By now Mr Whittington was charging upwards of £100,000 for snatching screaming toddlers from the street. Whatever the rights and wrongs of parental disagreements, subjecting young children to masked men, screaming tyres, grandparents sprayed with pepper spray and all the high drama of 'derring do' cannot be right.
In 2015, Mr Whittington snatched 5 year old Crystal from a Polish street:
"We hid behind some bushes for 40 minutes," Craig recalls. "It was minus 6 and absolutely freezing cold. We could see they were getting closer. I was so nervous. I had butterflies."

Accompanying him to help snatch back Crystal was a former soldier. [Adam Whittington] Craig says: "He sprayed pepper spray on to the grandfather's chest and I ran to a waiting car."

But when they were finally reunited, Crystal didn't recognise her father. "She didn't know who I was and she was crying," he says. "She couldn't speak English but I'd learnt the Polish word for 'daddy' and I just kept repeating it.
The price kept going up and up – £150,000 quoted for the botched kidnapping of 5-year-old Adrianna in Peru which saw both the Father and Kevin Critchley, described as a 'close protection operative and freelance surveillance operator' – or alternatively as 'working for an international criminal Mafia dedicated to finding and kidnapping children' – according to your choice of newspaper – in jail.
Two men rushed upon the mother and violently forced Adrianna out of her arms. The attackers then fled with the five-year-old into the distance and on to an unknown destination.
By now, Mr Whittington had a thriving media section to his new website. There be gold in them thar empty columns. TV companies and newspapers thrilled to the sound of screaming toddlers. 
So it was that he became involved with the disreputable Australian Channel 9 programme '60 minutes'.  They were filming his progress as he attempted to snatch a pair of toddlers in Beirut. Beirut is not the best place in the world for a ham fisted vigilante to be operating.
"Lebanese security forces have expressed dismay someone would attempt a kidnap mission not just at peak hour on one of the busiest streets in Beirut but in the district of Dahieh — the infamous stronghold of the Shiite Islamist Hezbollah."
Hezbollah, for it is they who rule the roost in Beirut, promptly arrested not only the child's Australian Mother, and Adam Whittington – but also the entire film crew of 60 minutes and threw the lot of them into jail. The Daily Telegraph despatched their ace reporter, Charles Miranda, to follow a 'what a hopeless lot 60 minutes are' story and Hezbollah promptly threw him in the clink as well – the better to carry out his interviews no doubt. 
Hezbollah have now released the journalists, allegedly on payment of £1,000,1000 – allegedly paid to the father of the children in return for not pressing charges against the crew. However the deal didn't include Adam for Hezbollah are hanging onto Mr Whittington and his hired cohorts. Bizarrely, those cohorts include Craig Marshall, father of young Crystal – who could not bear to be parted from her, so hired Whittington to snatch her from a Polish street…
The lawyer for Adam Whittington, the self-styled international "child recovery" operative caught up in the 60 Minutes saga, claims bank records show the Nine Network paid directly for the botched operation and has hit out at the media company's "unethical" decision to exclude those who carried out the plot from a deal that secured the television crew's freedom.
So £65,000 to Adam Whittington, and £1,000,000 to the father of the child they were attempting to snatch…it's been a expensive story for 60 minutes.
Does anybody care about the terrified children who are mere pawns in this ultra expensive game of 'pass the parcel'?
Major Bonkers


April 22, 2016 at 12:30 pm

The Jannie


April 23, 2016 at 10:30 pm

Major Bonkers


April 24, 2016 at 7:26 pm

Moor Larkin


April 22, 2016 at 12:48 pm

Don Cox


April 23, 2016 at 10:23 am

Fat Steve


April 23, 2016 at 12:53 pm

Hadleigh Fan


April 23, 2016 at 2:54 pm

Cascadian


April 24, 2016 at 6:52 am