I do not care what anybody says about blowing my own trumpet – ahm that reet proud o' meself!
But amusingly – in collecting the paperwork, I managed to kick off an entire 'Brexit/anti-EU' argument in the centre!
They only tried to palm me off with a 1500m certificate!
64 times 25 metres is 1600m….even my shaky maths knows that.
'I want the 'One mile certificate' I said. '1760 yards to be exact'.
'1760 what'? she said with a look of blank incredulity.
Well, that set the rest of the queue off – average age about 70! – 'youth of today', etc, etc, 'never heard of yards, probably doesn't know how many inches in a foot either', said someone else.
And before you knew it, we had a rousing ten way conversation going as to how we should never have gone into Europe, metrification had ruined the nation, everyone was diddled by decimalisation – and I should stick to my guns….
So I did. Managers were summoned and went scurrying back to their office, searched dusty cupboards – and found me their very last Imperial certificate. Recording every last one of my 64 lengths.
I even got a natty little badge to sew on my anorak……and before I get too big headed, it took me 2 hours and 5 minutes – without stopping! I am that slow.
Apparently the record is something like 34 minutes…
Now, how long is that English channel?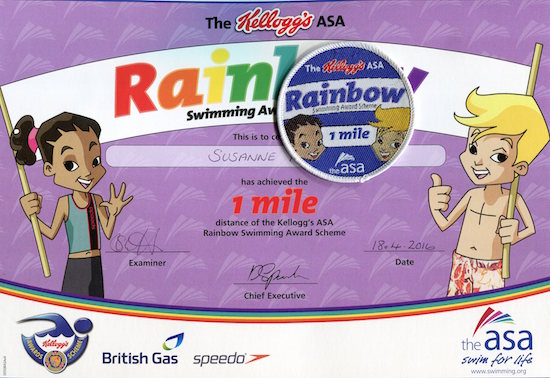 Old dogs can learn new tricks.
Anna Raccoon


April 21, 2016 at 4:55 pm

Stuart Fairney


April 21, 2016 at 5:08 pm

Anna Raccoon


April 21, 2016 at 5:11 pm

Major Bonkers


April 22, 2016 at 11:45 am

Moor Larkin


April 22, 2016 at 10:56 am

Mudplugger


April 21, 2016 at 5:29 pm

Anna Raccoon


April 21, 2016 at 4:57 pm

Joe Public


April 21, 2016 at 5:14 pm

Anna Raccoon


April 21, 2016 at 5:16 pm

Michael


April 21, 2016 at 7:51 pm

Ho Hum


April 22, 2016 at 2:51 pm

Anna Raccoon


April 21, 2016 at 7:22 pm

Anna Raccoon


April 21, 2016 at 11:55 pm