Slater & Gordon's annus horribilis.
Long ago, there was a country club with a golf course called 'Quindell'. A man called Rob Terry ran it, despite his previous company, Innovation Group, apparently vanishing up its own backside – leaving him some £12 million to build the country club. Nothing out of the ordinary, a reasonably successful businessman. Though reviews of club at the time said that: "greens really are awful, some of them fail to make the distinction between fairway and green" – later reviews of Mr Terry's business acumen claim that his accounts fail to make the distinction between profit and loss….
The Innovation Group, floated with a value of £240m in the early 2000s and soared after notching up deals at the rate of one acquisition a month. It was alleged to have 'overstated its own profits', and lost '90% of its value', amidst claims that the entire company was 'smoke and mirrors'; it's true share price not reflecting the fact that all the acquisitions had been made with 'Innovative' stock rather than cash. Mr Terry and another director, now also at Quindell, had managed to sell their shares and walkaway with a handsome payoff.
Between 2001 and 2008, Quindell's accounts claim that Mr Terry had invested 11.5 million into building that country club. By 2008, Quindell's accounts were claiming that Terry had 'personally' invested that same sum into building an 'insurance/software/technology' company. Nobody noticed the 'three card trick' at the time. Apparently no one remembered the reasons for the demise of 'Innovative' either. 
It was picked up  by the share analysis firm 'Gotham City'. 
In 2010/2011 Quindell started reporting stratospheric profit margins. It seems Mr Terry was dabbling in mobile phones as well as golf balls. Quindell was offering shares in the company via the AIM market as a 'highly profitable software consulting company' by selling itself to an AIM listed company 'Mission Capital'. (Pay attention at the back, its going to get a lot more complicated).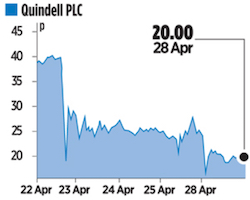 Once on the 'junior' stock market, Quindell started to aggressively buy up other companies. 30 or more. Quindell was positioning itself as a one-stop shop for claims management on behalf of motor insurers. In March 2014, it reported turnover of £380.1m, with a profit margin that would have been the envy of Microsoft. Venture capitalists and Fund managers fought each other to buy its stock. Then in April 2014, Gotham City published their hair raising report alleging that Quindell 'was a country club built on quicksand'.
The report detailed how Quindell's acquisitions had involved a complex web of loans and derivatives flowing between the two companies. It claimed that some companies had only been incorporated on the very day that Quindell 'snapped them up'. Amongst other 'peculiar' practices, it had been revealed that Quindell was in the habit of giving Quindell shares to companies it wished to buy – who were then able to sell the Quindell shares at a later date to get their hands on the cash value of their company. Quindell shares had inevitably gone up in value after the 'latest acquisition'.
In November of 2014, Mr Terry was forced to step down from the company, along with Quindell's financial director, and another director, after it was revealed they had taken part in a controversial share sale and repurchase that had been, shall we say, severely under-reported…
By this time, Quindell's business has become largely legal, heavily involved in settling claims – personal injury claims amongst others.
You might wonder who could possibly be interested in a company with such a sordid history, including the over valuing of 'work-in-hand personal injury claims', misrepresenting the value of acquisitions, less than candid dealings over share exchanges? All experience has a value, but unless you were interested in building a 'ponzi' company through acquisition and overvaluing work in hand – or had ambitions to run a golf club, it is hard to see the attraction of Quindell to a prospective purchaser.
Step forward the Australian legal firm of Slater & Gordon.  They bought Quindell for £637m.
They also had an 'interesting back story'. Bill Slater was a left wing politician, Hugh Gordon a barrister and Slater's brother-in-law when they went into partnership in 1935. They operated out of a back room of the Australian Railway Union's headquarters, from the outset focusing on the needs of unions and union members, particularly in the area of workers' compensation. 
By 1943 Hugh Gordon was dead, shot down in his Lancaster during WWII. Many of the later partners in the firm have had close connections to the Communist party. 
By the 1980s Slater & Gordon's over reliance on industrial accident cases was having a detrimental impact on the firm. In 1985, the Australian government reformed workers compensation laws, an act which was said to lose Slater & Gordon  about 30% of its annual income. They fought back from near bankruptcy with an aggressive policy of borrowing several million dollars to fund rapid expansion with new offices. They bought out several of their competitors. Over the next decade, Slater & Gordon grew exponentially helped by the introduction of the innovative and revolutionary 'No Win No Fee' in 1994.
By 2007 Slater & Gordon had become the world's first law firm to offer shares to the public – not without a fair few scandals along the way – notably Julia Gillard, first female Prime Minister of Australia, and a long time employee of Slater and Gordon, finding herself embroiled in a scandal when a 'legal structure' she had set up whilst at the firm for her boyfriend, Bruce Wilson, an AWU union official, turned out to have no official file in Slater & Gordon's offices and led to a political scandal that dragged on for years. Eventually culminating in a royal commission into trade union corruption that was a great embarrassment to both Ms Gillard and Slater & Gordon:
Former prime minister Julia Gillard did not commit a crime and was not aware of any criminality committed by union officials during her time as a lawyer for the Australian Workers Union, the trade union royal commission has found.

But Ms Gillard demonstrated a "lapse in professional judgment" in her work for the AWU and at times gave "evasive", "excessive" and "forced" evidence to the commission.
As though that wasn't enough, one of the firms that Slater & Gordon bought, Keddie's – taking on two of its solicitors as partners – blew up into a fantastical 70 claims-and-counter-claims law suit, that culminated in bankruptcy hearings and 'suspension from practice' that are a legal eco-system all of its own.
None of this made its way into the main stream media when Slater & Gordon entered the UK market, a bare 5 weeks after Jimmy Savile died, as the shinning knight of personal injury and negligence claims. The media was far more interested in regurgitating every last lurid allegation that could be levelled at Savile than looking at what was happening to the legal firms servicing those claimants. The stock market gave Slater & Gordon the money to buy up Russell Jones and Walker, Fentons, Goodmans Law, Taylor Vinters, John Pickering and Partners, Pannone, Leo Abse & Cohen and Walker Smith Way; they had become the Pac-man of the 'no win, no fee' market, not only hoovering up claimants or 'work-in-hand' as they are known in the trade, but also all the alternative firms – many respected High Street names – that those claimants might have gone to. They represented the Police Federation – the Union for those investigating the varied allegations.
Roll forward to April 2015 – and Slater and Gordon announced a mighty gulp –  they were to ask the market for more money in order to buy Quindell for £637m to include fixed assets and 'work-in-hand' – some 60,000  'potentially successful' claimants for work-related hearing loss formed part of the 'work-in-hand'. The £637m price paid for Quindell was four times larger than the sum of all Slater & Gordon's purchases since it went public in 2007. Allegedly, 70 Slater & Gordon lawyers had been involved in the due diligence on Quindell.
Nobody is owning up to finding it odd that they should be buying a company whose main worth appeared to be claims in hand that no one knew whether they would be successful or not.
Nor that this should be financed on the reputation of a company whose main claim to fame in Britain was hundreds of claims against the minuscule estate of one James Savile – and the BBC and NHS….
The main stream media remained consumed by tales of rings made of human eyeballs…. Three months later the autopsy commenced in quiet corners of the financial media.
Slater & Gordon's share price had collapsed. 'On the books', Slater's had accumulated more than $200 million of profits since going public in 2007, but had spent $160 million of that buying up other law firms whose own profits then bolstered Slater's 'book value'.
Just as well – for many of the firms, owned by long retired partners and senior solicitors who had spent a lifetime building their company, were paid in 'Slater & Gordon' shares, which they had to retain for a time before selling.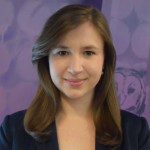 Then young Nadya Nilova (yes, she is young – and brave!) entered the picture. A junior analyst at Bank of America, she stuck her neck out and wrote a report questioning whether, if the Emperor was not entirely naked, did he not require some wardrobe advice – for Quindell had just sold to Slater a bundle of 20 acquisitions, bought over the previous 3 years for £265 million – for £637 million! Tempers grew so heated that some big fund managers threatened to boycott Bank of America if they didn't disown her.
June 2015 and Nadya was vindicated (and had a new job with a market trader who valued her courage at pointing out the obvious problems). The Australian Securities and Investment Commission had taken an interest in events at Slater & Gordon and begun investigating the firm and its auditors. The UK Serious Fraud Office has also announced an investigation into what went on at Quindell
Ken Fowlie, Slater's UK head, explained that the problems at Quindell was: 'that the Quindell PSD business 'industrialised' the personal injury claims process and was not made up of 'rock star partners'. I can't emphasise this enough Quindell is under new ownership and will play by our rules' 
Presumably in future Slater's would ensure that the 'industrialised' process would include 'rock star' defendants…
In the past few days, two major Australian law firms have announced that they are accepting registration for share holder class actions –  Ironically, one of the firms, Maurice Blackburn is where young Bill Slater started his career as an articled clerk back in 1920. The other company is ACA Lawyers.
Slater & Gordon shares have now lost a stunning 90% in value.
In the past few days, Wayne Brown, the finance director and 'company secretary' has stepped down and been  replaced by an Aussie Sheila, name of Moana Weir, who is also going to be in charge of legal counsel.
Bankers of the parent company in Oz have appointed 'investigative auditors' to scrutinise the books; in Britain the company have announced job losses and 'asset realisation' – otherwise known as selling Fenton's valuable High Street premises.
It is a tragedy for individuals who are losing their jobs – they at least have some faint hope of employment elsewhere; for those partners and seniors who gave up their interest in their firm in exchange for Slater and Gordon shares – they may now be too old to replace what should have been their pension. For the individuals who put money in pension funds that only looked at the apparent meteoric share price rise via computer screens and not at what lay behind it, or rather didn't lay behind it – it promises an impoverished old age.
It does, however, put into perspective Liz Dux's 'devastation' at hearing that the ancient draft copy of the Dame Janet Smith report was inclined towards the opinion that the BBC had no knowledge of offences claimed by her school of 'allegators' to have been committed by Savile on BBC premises. A major 'media' success in that direction could be just what the embattled Slater & Gordon needed to weather this storm.
Slater & Gordon's official position, pending all inquiries, is that they have been the victim of 'short selling hedge funders'.
Talking of hedge funders – have we any news of Jerome Booth, the hedge funder who has been putting millions into the ghastly Exaro site? I have no reason to suspect that he is long or short on Slater & Gordon…
Never crossed my mind Guv. Even though this could turn out to be a financial scandal to dwarf the collapse of Robert Maxwell's empire.
All in plain sight. Where the main stream media would never dream of looking.
Anna Raccoon


January 31, 2016 at 3:13 pm

Jon123


February 1, 2016 at 12:28 am

Anna Raccoon


January 31, 2016 at 7:16 pm

Mudplugger


January 31, 2016 at 8:44 pm

Don Cox


February 1, 2016 at 11:59 am

Fat Steve


February 1, 2016 at 9:55 am

Jamie Millard


February 1, 2016 at 11:23 am

Jamie Millard


February 5, 2016 at 3:42 pm

Jamie Millard


February 5, 2016 at 10:14 pm

Don Cox


February 1, 2016 at 12:06 pm

Fat Steve


February 1, 2016 at 12:37 pm

Major Bonkers


February 1, 2016 at 9:08 pm

Anna Raccoon


February 1, 2016 at 2:32 pm

Duncan Disorderly


February 3, 2016 at 10:00 am

Jamie Millard


February 7, 2016 at 6:05 pm

Peter Raite


February 2, 2016 at 11:20 am

Eric Hardcastle


February 7, 2016 at 3:20 am

Eric Hardcastle


February 7, 2016 at 3:16 am

Jamie Millard


February 5, 2016 at 10:19 pm