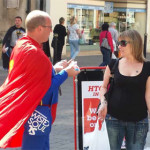 'Give a Smile UK' describes itself as a 'social enterprise'. In practice that means they take local people who have been 'affected by the recession' and unable to find full or even part-time employment and train them in the dark arts of chugging in communication skills, sales techniques, and send them out onto the local high street to persuade local people to part with their cash in order to provide other local people with a free holiday.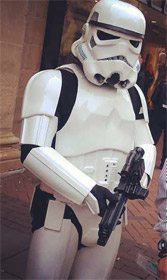 They dress them as Robocop, a mono chrome Batman or even a multi-coloured Batman. Judging by their web site, with dozens of grateful families thanking them for their holiday – they are highly successful. Whether they are paid or not is unclear.
What is clear is that they don't like competition from 'amateurs', especially not amateurs using physical force.
There was chugger Antonio Cortes dressed in his full multi-coloured Batman outfit, having his 2,99p breakfast in Weatherspoons (where else, dressed like that?) when a woman's screams were heard coming from the direction of the local cash point.
"I went up to give him his large English breakfast and he had gone.
"He just flew through the fire exit. It was quite a surprise."
Da da da da, da da da da……Batman!!!!
Antonio, 32, who is fundraising as Superman for the Give a Smile social enterprise for struggling families, said:

"I heard screaming and saw a woman in distress.

"A man had just tried to rob her and was strangling her at the cash point"
Antonio said the villain looked like a 'desperate guy' who had been drinking all morning, and was 'walking away really fast'.
The 'villain' – aged 54, drunk, and walking 'really fast' was arrested by police after Antonio sat on him.
"I feel like a real life superhero, but I just did what anyone else would have done.

"It feels good knowing that I have saved someone. It's scary to think that in broad daylight, someone can do that.

"It is nice to know that that man is no longer on the streets."
Such excitement in Weatherspoons at 11am!
It must be the 'Lottery effect' – everyone thinks they can be a chugger these days.
Hey! Let's be careful out there.
Anna Raccoon


January 29, 2016 at 8:15 am

Cloudberry


January 29, 2016 at 12:35 pm

Cloudberry


January 29, 2016 at 12:50 pm

Peter Raite


January 29, 2016 at 12:51 pm

Jimbob McGinty


February 1, 2016 at 12:51 am

Don Cox


January 29, 2016 at 2:38 pm

Peter Raite


January 29, 2016 at 2:49 pm

Mudplugger


January 29, 2016 at 8:29 pm

Peter Raite


February 1, 2016 at 3:51 pm

Hadleigh Fan


January 29, 2016 at 11:18 pm

Mudplugger


January 29, 2016 at 8:30 pm

Anna Raccoon


January 31, 2016 at 11:55 am