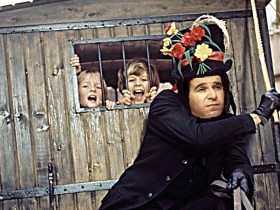 Back in the 1980s, I was an avid reader of the music press, and my favourite weekly was 'Melody Maker'. Within a few months of purchasing my first issue, I became familiar with the different writers on the paper and began to differentiate between them even before seeing their names at the end of a review; I had a mental image of those who composed the most barbed, bitchy and entertaining pieces, visualising them as rock 'n' roll desperadoes with great hair, far cooler than the bands they were writing about. My fanciful imaginings were cruelly crushed one year when the Christmas edition appeared and the top ten lists of the writers were published, along with their photographs. It was like going on a blind date expecting to meet someone resembling Kate Moss, and finding they were closer to Sterling Moss. Not necessarily a gallery of grotesques, but not quite the young Keith Richards figures I had seen in my head.
I was reminded of this when watching Tuesday evening's eagerly-anticipated 'Panorama' on the legendary VIP Paedophile Ring. Not that I had imagined any of the wannabe witchfinders would be dead ringers for Johnny Depp or anything, but the sight of serial rumourmonger Chris Fay looking like an extra from Tod Browning's notorious 1930s horror flick, 'Freaks' was nevertheless a welcome surprise. Presumably interviewed at home, the dark hovel he inhabited seemed perfectly apt if one's nest is a reflection of one's head. Hunched over his PC, the miniature Cape Canaveral from which he launches his bullshit-seeking missiles, he offered viewers a glimpse of the alleged clientele at Elm House, which looked more like a shopping list scrawled on a piece of that hard toilet paper school loos were stocked with in the 70s to dissuade children from spending too much time on the throne. In many respects, he confirmed every suspicion held by those who have been exposed to his rancid fantasies.
I felt I had to watch the programme, despite being somewhat worn down by 'Paedo Fatigue' over the past couple of years, and also sharing our landlady's desire for this blog not to be viewed as a one-trick pony. However, as her excellent post yesterday concentrated on Exaro's dubious role as ringmaster, I thought I may as well review the actual programme from a viewer's perspective, albeit one already well-versed in the Whitehall Farce this saga has become.
After about twenty minutes, with the various allegations aired anew, my eyes rolled as I quickly feared I was sitting through yet another shockumentary in the 'Exposure' mould. The presenting style of the reporter, Daniel Foggo (who had the look of a long-lost Mitchell brother poised to return to the fammerlee bosom), was beginning to remind me of ITV's once-favoured Private DICK, Mark Williams-Thomas, and the route the programme was taking gave a lift to all the tired sub-'Brass Eye' clichés hitch-hiking along the way – blurry, out-of-focus shots of the named locations, interviewees as silhouettes, archive film of Savile and Smith etc. When the talking heads not shot from behind as an actor recited the words included ex-Met Commander Peter Spindler justifying his #Ibelieveher tactics, the thought crossed my mind to switch over to 'Newsnight'; but I stuck with it.
I'm glad I did. For the first time on mainstream television, we received a fairly thorough critique of some of the more elaborate accusations that served to debunk them in a manner the police have decided is not conducive to their investigation; a statement from the Met the day after the programme was transmitted, claiming the flow of victims coming forward would be stemmed as a result of the BBC daring to question their validity, epitomised the police approach to the whole issue. Although I didn't really learn anything I didn't know beforehand, it was nevertheless refreshing to see the nation's premier broadcaster having the guts to do what numerous amateur detectives have been doing online for a long time. And I sincerely hope many people of my acquaintance who have accepted the media's version of events from day one were watching.
Of course, for the BBC to tackle this inflammatory topic was brave in the light of the slings and arrows the corporation has had to endure since 2012, but at the same time, this kind of difficult subject is precisely the sort that programmes such as 'Panorama' should be covering – just as ITV current affairs used to mean 'World in Action' rather than 'Exposure'. A more comprehensive dissection, encompassing the sinister presence of Slater & Gordon as well as holding up the Savile accusations to a closer examination, would require a time slot spanning more than sixty minutes; and even if the former didn't warrant a mention while the latter was only referenced in his born-again identity of 'Britain's Greatest Paedo', at least this week's programme shone an unflattering spotlight on the new Deputy Leader of the Labour Party and his questionable non-political preoccupations.
Rather than choose to confront the myth-makers with proof that none of their stories bore scrutiny, the programme instead gave them the opportunity to recycle them again before then exposing them for what they are. On one hand, this could be seen as a cop-out, but I thought the tactic worked quite well. After all, the guilty parties would only deny they were lying, so what would have been the point? Those viewers who had all their prejudices confirmed that everyone in power is 'up to something' when Chris Fay or 'Nick' spun their tenuous yarns were then forced to face facts as one-by-one, each yarn was meticulously unravelled. The tale of the schoolboy chum of 'Nick' deliberately mowed down to guarantee his silence in 1979 was one particular anecdote for which there was no evidence whatsoever. Foggo said the programme had studied the archives of the local paper and found no mention of such an incident, and as someone who has also exhaustively trawled through the back issues of Kingston's local paper, I applauded their efforts.
The programme took a close look at the Elm House and Dolphin Square chapters of the story and neither yielded anything to support the wilder claims surrounding them, whereas those who had suffered genuine abuse as children, and then had to relive the experience in the company of Knacker thanks to their names being dragged into the fantasy of a convicted fraudster, were given airtime to express their understandable grievances. This served as a canny reminder that, beneath the sensationalist conspiracy theories, there is a silent army of genuine survivors who have tried to avoid being defined by a traumatic experience that took place thirty or forty years ago. The obvious outcome, as always, in devoting so much coverage to narcissistic fantasists is that the actual casualties of abuse are ignored because their abuser doesn't fit the VIP agenda; and if they receive any attention, it is as promotional merchandise for an industry they didn't ask to be recruited by.
For anyone whose knowledge of this story had been wholly garnered from certain newspapers, exposure to revelations the rest of us have been familiar with for quite a while vindicates the decision of the BBC to make the programme, if nothing else. As an hour-long investigation into a contentious contemporary issue, I personally felt it did what it said on the tin.
Petunia Winegum