Mutter Angela and the Sorting Hat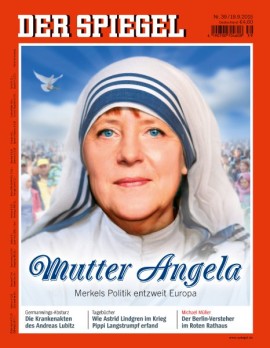 I read in my Sunday broadsheets that Angela Merkel is starting to get a bit of stick in Germany. For example "Mutter Angela" is featured on the front page of Der Spiegel in full Mother Theresa style. I also read – according to Eurostat, the statistic office of the EU – that of the asylum-seekers making applications for asylum in Europe between April and June of this year, 21% were from Syria; which means, according to my mathematics, that 79% were not.
I find this deeply troubling, since my observation of Sky News suggests that the overwhelming majority of migrants or asylum seekers are English-speaking nuclear families from Syria consisted of parents who are brain surgeons or internationally acclaimed concert pianists, with twin girls aged 8 who aspire to be teachers of children with special needs. Of course I am being facetious, but Sky does seem to home in on the "Syrian families issue" – with whom I do have great sympathy, by the way – and rather gloss over the very high levels of young men from many other countries who are on the march. There are a number of things that puzzle me about the present migration crisis. And I would like our esteemed readers and commentators to assist, because I am genuinely puzzled what the answer would be.
Let's leave aside the big question of why the whole bloody (and I use the word deliberately) shambles has been allowed to develop in the first place. In fact, I wrote a piece for this site a few years ago when Dish Faced Dave was bathing in the glory of having played a leading role in getting NATO to help in the overthrow of Gaddafi. The gist of the piece was: well, that's great, Dave; but beware the Law of Unintended Consequences. I must see if I still have it. I suppose I might give myself a little smug self-congratulatory pat on my own back (can you do actually do that?). But we are where we are.
The first question is: why is Hungary bothering to put up a bloody great razor-wire fence? You could argue that this is a perfectly rational thing to do, in as much as Hungary does not want large numbers of people from war-torn Africa and the Middle East and Afghanistan, about whom it knows absolutely nothing and who could be absolutely anybody – a refugee, a murderer on the run who fancies a new life, an ISIS fighter intent on causing as much slaughter and mayhem in Europe as possible – wandering about across its roads, and I suppose that statistics and common sense suggest that there will be all three present, and more.
But my question is: why bother? It's giving Hungary a "bad press" with some, although I always thought the first duty of a government was to defend and secure its borders. But the migrants, refugees, whatever, appear to have no interest whatsoever in staying in Hungary for any appreciable length of time. They appear to simply want to pass through to get to the Promised Land of Germany, or some other northern European country. I heard an interview with one chap who wanted to go to Finland. Who knows why? Perhaps he had read the "Moomin" books by Tove Jansson when he was a kid, and fancied a snow house in the forest. But overwhelmingly Germany seems to be the destination of choice, where they will be provided with the new house, the new car, and the well-paid job migrants believe they will get. Admittedly, Germany will have to curb its famous beer-drinking activities for fear of offending many of its new citizens, but that is surely a small price to pay for making sure that they feel at home. As I understand it, Germany has committed to take 800,000 such refugees or migrants. That is rather a lot. But, as we all know, the problem is bigger than that. This is the mass migration of peoples. If left unchecked, it is Exodus. The movement may move into millions, even many millions.
Again, as I understand it, Germany's solution to this is to call upon other EU nations to take a share of the refugee-migrant numbers, and even to threaten economic consequences for those who refuse to do so, whether out of xenophobia, racism or merely the view that they took a rational view, rightly or wrongly, that the sudden arrival of large numbers of people from radically different cultural backgrounds might cause social and economic tensions.
My problem with Germany's position is this. Which 800,000? Who does it choose? Is this to be like some colossal version of Whacky Races and an outright race to the finish line by any means? Will it be pin-ups Peter Perfect and Penelope Pitstop from Syria, or the rather less attractive Slag Brothers from Somalia? Perhaps the Ant Hill Mob from Eritrea will make it first. Or is some other process of choice to be engaged? If so, what? A lottery perhaps, with a colossal bag of tokens that the migrants must pass by and hope they get a winning token? Or a system like in Charlie and the Chocolate Factory based on Golden Tickets in chocolate bars. How about a Harry Potter style Sorting Hat? I can see that working; it could allocate the refugees a new country just like sending students being sent to their respective houses at Hogwarts. This one is…Portugal! So, Sorting Hat it is. But that's just where the problems start.
My next question is: what does Germany do if they don't want to leave? These people have just travelled right across Europe so that they can enjoy the delights of Germany's famously efficient public transport and watch Bayern Munich, and now the Sorting Hat is telling them they have to go to Greece or back to Hungary. What happens if they say "no"? So far, these people seem to have made their intention to reach Germany and Northern Europe reasonably plain. Are we to see Germany pack them onto trains by force and send them on their way? Germans have a bit of history there, so that might be a bit awkward…
But the problem doesn't end there. Suppose that the refugee or migrant is, for example, lured to his or her new home (as allocated by the Sorting Hat) by some sort of elaborate ruse: let's say by being sent to collect a pizza. He or she is now informed that he or she has to stay there. What is there to stop them coming back? I see Molesworth at the back there is shouting "border controls, sir!" But that's not very "Schengen", is it? And anyway, as we can see from our television pictures, it's not as though anything short of a razor-wire fence is going to stop them and even then they will tear it down if it's not "vigorously" policed. By which I mean manned by riot police who look like something out of every dystopian sci-fi thriller which features a Fascist police state.
I have written the above in slightly tongue in cheek style. I shall conclude not in that style at all. I am pleased if this country can offer refuge for 20,000 decent Syrian people genuinely fleeing war and persecution – genuine refugees; families, not migrant young men. I believe we can and should and can cope with that number, taken from the refugee camps, and thus not encourage the people traffickers and criminal gangs. I hope we help many more in the region. I regard Germany's stance as utterly crazy and irresponsible. On Germany's own head be it: it will produce civil strife and the rise of the "Far Right" once again.
Gildas The Monk