Chilcot's Ills – They're Multiplyin'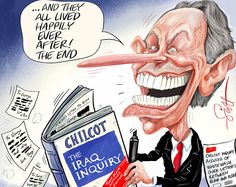 Chilcot's ills/they're multiplying/and he's losing control…
So sang John Travolta to Olivia Neutron-Bomb in "Greece", a satirical musical which celebrates the inanities of the Eurozone some 35 years ago now, just a couple of years after the start of the Chilcot Inquiry. Well, not really, but it feels like both matters have been going on for that long. I read in my Sunday Times last weekend that the Chilcot enquiry will not be able to report until June 2016 – at the earliest. The process appears to be reduced to a farce, but perhaps it was a farce from the off. The further delay appears to be for a number of reasons, but the most important one is that when the first draft of the Report was sent out senior figures in the military who had been criticised went berserk, because the report criticises them for decisions which were clearly the responsibility of the politicians. The article was based on research by author and investigative reporter Tom Bower, who has interviewed 180 senior figures from the armed forces, cabinet and civil service for a book on the Blair government.
To recap, the first report Blair was forced to commission was produced by former cabinet secretary Lord Butler ("the Butler Review") who was asked to discover why Britain's intelligence services had wrongly reported that Saddam Hussein had chemical weapons. To quote from Mr. Bower's article: "Butler's report was a model of impenetrable mumbo-jumbo requiring a diligent reader to disentangle the smokescreen contrived by Downing Street to protect Blair".
The Butler Review did not see off the increasing disquiet, and there was political pressure for a further report with (to use the God awful modern idiom) a more "transparent" process. According Bower, notwithstanding the latter point the original plan, decreed by the then incumbent cabinet secretary Gus "God" O'Donnell, was to hold an inquiry in secret and then produce another vast, anodyne porridge of a report, more or less unreadable and blaming no one, in a strategy to deny the media any headlines or heads on polls. That entirely accords with what I would have expected. But Chilcot, probably understandably, bowed to pressure from the Press and independent voices in Westminster to make the process more open, and agreed to hold the inquiry (for the most part) in public. The first strand of O'Donnell's "make smoke" strategy was thus, to extend the metaphor, blown away in that it allowed people to form a view on the rigour of the investigation, and that, Bower suggests, was not very intense. From what I saw, I tend to agree.
The problem was the nature of the panel appointed and the style of the inquiry. What lawyers tend to call "inconsistencies" (or lies, as the public call them), and "convenient lapses of memory" were never confronted by the polite, well-meaning but rather naive panelists. Chilcot had dispensed with lawyers in the alleged interests of speed and efficiency. Now, nobody likes lawyers. Even I think most lawyers are a bloody awful curse on God's beautiful creation, but like wasps or slugs or carrion crows or bacteria from time they do have a useful purposes, provided they are sufficiently managed – like huskies being whipped in when they get out of hand. The decision not to appoint counsel to conduct examination may have saved a lot of money but it appears to have backfired badly now because in the first draft of the report figures have apparently been criticised on the basis of evidence and documents which were not put to them, and about issues upon which they were not challenged.
Another criticism of the draft report is, apparently, that it fails to understand the relationship between the military and politicians. Interestingly, as I read Mr. Bower's article, the tone suggests that the first draft of the report focuses criticism on the military rather than politicians, and provoked the explosion above. Instinctively I suspect that this was always going to happen. We couldn't have ministers criticised, could we? Not unless one was being hung out to dry as a sacrificial lamb. That might be dangerous if he or she had some dirty laundry to put in the public domain in revenge. The military, having carried a job they never wanted or believed in with almost exemplary courage, have rightly gone apoplectic. Another problem with the draft report is that in parts it is, frankly, incomprehensible.
All in all, it seems a shambles. Perhaps that serves the Establishment well. The long grass is deep and wide at the moment. I suppose I feel a little bit sorry for Chilcot. The paper work must all be in a mess now, and after all, what was he supposed to do? Tell the truth? I don't suppose the prospect of ending up like Dr. David Kelly holds out much appeal. As I have opined before, it has always seemed to me unlikely that "the Establishment" could ever permit an official criticism of a still living British Prime Minister and find that country went to war on a false and illegal basis. Here is what I think happened…
The decision to go to war was taken in Washington shortly after the dreadful events of 9/11. Saddam was an obvious target for a kicking, possibly as Bush Jr wanted to express some Freudian desire to out-do his father. To my mind it was abundantly clear that there would be a war against Saddam's regime by mid-2002, and that Britain would play an active role in that war as America's chief ally. I quiet clearly recalling saying as much to a retired US Marine Colonel I met on holiday in the summer of that year, and he agreed. The mood music coming out via the press was clear: it was to get the public ready for war. That mood music emanated from only one place – No. 10 and its spin doctors. It was clear to me that barring a miracle such as the death of Saddam and the Second Coming of Jesus Christ, by early 2002 Tony Blair had in effect committed Britain to war with Iraq. Blair's greatest strength is the ability to think and believe anything, at any time. He appears to be one of those annoying but effective sociopaths that utterly believe anything that comes out of their mouth.
Why did the Intelligence Services find that there was credible evidence of weapons of mass destruction? Possibly because they had to, and possibly because they were incompetent – or a combination of both. Anyway, anything else would have been unthinkable. There had to be evidence to justify the war to which the country had been committed. And we all know who was behind that "dodgy dossier" – back to No 10 again. You may remember that in the immediate run up to war the then Attorney General (Lord Goldsmith) had to change his opinion about whether it was necessary to have a further UN Resolution to make war legal. Of course he had to; Her Majesty's government does not take the nation to war without legal justification, therefore he had to provide the necessary affirmative opinion.
Meanwhile, soldiers were denied vital equipment on the eve of the war because it was necessary for the government to play out the charade of there being no final decision. I believe it is called "plausible deniability" and is what happens when politicians value their reputations over the lives of soldiers (which are now the norm). And there was no proper plan for what happened afterwards. There appears to have been the assumption that the Iraqis would all join up with. And that, on the whole, is about all there is to it. The rest is detail.   There is one caveat and I am happy to be shot at, corrected, re-informed or whatever because I still think there is a case that the war was, in fact, justified. Note I said justified, not legal, because in terms of the broad principles of International Law (whatever that is, which is a big question) it was probably illegal without a second UN Resolution. The argument which had force was, as I understood it, as follows:
First, Saddam Hussein is a brutal nut-job with a grudge against the rest of the world, and the West in particular, after he was given a very firm slap and shoved back in his box back in '91. That was true. Second, he had chemical or biological weapons, and the capacity and will to use them, or pass them into the hands of terrorists who were intent on mass murder on as great a scale as possible. If these conditions had been true, as we were told at the time, then whatever the niceties of UN Resolutions, it was time to play "The Boys Are Back in Town" as loudly as possible and let slip the tanks and jets of war. But that was not true.
However, we now know that he did not possess the weapons of mass destruction. But to my mind there was always a third possibility, which was as follows. Saddam may not have had WMD, and knew full well that it would be crazy to possess them with a huge, technologically more advanced army parked on his doorstep, spoiling for a fight. But armies cannot be maintained in that state for long. If that army had been removed, it would have taken a huge logistical effort to re-assemble it again. It might even have been impossible to do that for some considerable time. What would Saddam have done if he had felt free of the threat of invasion? I think there is a fair case to be made that he was sufficient a psychopath to try to get away with anything he could at any time, and at the first chance he would have been churning out the WMD at the first chance he got, and did present a threat.
Over to you.
Later this week I hope to raise another question: Does the world in fact need a few more ruthless dictators like Saddam and Gaddafi?
       https://www.youtube.com/watch?v=7oKPYe53h78&list=RD7oKPYe53h78#t=7
Gildas the Monk
TRACK CAPTAIN RACCOON DAY 5: http://jst.org.uk/track-our-ships/