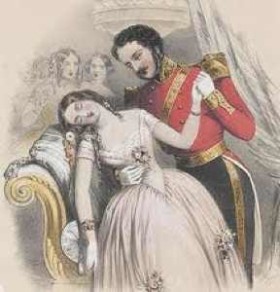 Rape and culture/rape and culture/go together like a…well, those two words don't really go together at all, do they? An oxymoron is, I believe, the correct term. Culture is described by the dictionary I prepared earlier as 'the skills, arts, etc of a given people in a given period; civilisation' as well as 'improvement of the mind, manners etc' – are these descriptions one would associate with an act as far removed from culture as rape? As far as I'm aware, there are no such terms as Murder Culture or GBH Culture.
A relatively recent term such as 'Rape Culture' seems to imply that rape itself is somehow a relatively recent innovation or that rape as it was defined before the suffix 'culture' was tagged onto it wasn't the same act as it is today. Rape Culture is somehow different to old-school rape; this is the new rape, rape for the twenty-first century. It's been pigeonholed like everything else, neatly packaged and put into a box, as though it were the latest musical subgenre. Pretty obscene, to reduce rape to a fad or a fashion. But it's not only the act itself that has been re-categorised; anyone subjected to it now also has to react to it in a specific manner. There are dos and don'ts that suggest every rape is identical and every person's reaction to their own experience of it should mirror another's. It's only a matter of time before a guidebook outlines the right and wrong way to react, I suppose. Actually, thinking about it, there probably is one already.
Just as it has become expected that grief has to be expressed by the bereaved in public – and if it isn't, the grief clearly isn't genuine – anyone who has suffered rape must now be permanently branded by it, even if the rape took place prior to the invention of Rape Culture. Their persona has to be defined by the crime committed upon them forevermore. This wasn't the case with men who endured horrific treatment in Japanese POW camps in the Second World War; they weren't called 'War Victims' for the rest of their days. Whatever demons tormented them when they slept, they got on with their civilian lives as best they could and refused to allow a past event to dictate their present and future. That's what a real 'survivor' does. They survive.
The predictably hysterical response to sections lifted from Chrissie Hynde's forthcoming autobiography that centred on an adolescent rape at the hands of a biker gang appeared to focus on the fact that the front-woman with The Pretenders had managed to build a highly successful career for herself after it happened – and not as a Professional Victim. How dare she, what with her being a weak and feeble woman? As if this wasn't a big enough insult to the rigid rules and regulations of Rape Culture, Hynde also had the nerve to suggest that a young woman off her tits on some ill-advised substance or other and dressed like a hooker perhaps couldn't have expected a biker gang to behave in any other way when she staggered into their orbit. Chrissie Hynde dared to veer from the script, and that is unforgivable.
Anyone wandering around off their tits on some ill-advised substance or other is vulnerable, male or female, for – believe it or not – there are some people out there who exploit and take advantage of weakness in others, and – guess what – there always have been. An inebriated (male) friend of mine was once mugged in Leeds city centre; accosted by a lady of the night, he was doing his best to politely spurn her advances when her pimp emerged from the shadows and promptly robbed him of the few valuables he had on him; in the same neighbourhood, a stoned female acquaintance of mine once had a knife pulled on her by a man. There are some city centres where you take your life and your liberty in your hands if you're on your own and not in full control of your faculties. It doesn't mean you're 'asking for it' or you deserve to be mugged, raped or murdered if you find yourself in that situation; it just means you're a naive idiot with a glaring absence of any street-wise (not say common) sense.
If uncontrollable lust was the instinctive male response to every young woman dressed 'provocatively' en route to a nightclub, she'd never get more than a few feet from her front door. Most men are actually capable of keeping their manhood zipped-up in public and can look without touching; indeed, many are decent enough to assist a damsel in distress, ordering her a taxi and keeping a close eye on her until it arrives. Good Samaritans don't all wear robes and live in the Holy Land. Just as more children are abused within the confines of the home than ensnared by ex-Radio 1 DJs loitering behind bushes, women who encounter sexual violence mostly do so in the same environment, usually at the hands of somebody known to them rather than products of a new 'culture' roaming the streets with incurable erections every Friday and Saturday night. Rapes that make headlines, unlike the ones that take place behind closed doors, then serve to propagate the belief that rape is exclusively an outdoor crime carried out by strangers driven to rabid despair by a pair of exposed legs or firmly-sculpted buttocks.
Of course there are nasty bastards who spike drinks and take advantage, and while it's not always possible to avoid their attentions, there are obvious precautions that can be taken. Today's messages are mixed, to say the least. A woman is expected to be both 'Geordie Shore' bruiser and shrinking Victorian violet, and a man may go to bed with one and wake up with the other, finding the consensual adventure of the night before has been reclassified as rape. A woman cannot expect to share a level playing field with a man in any social situation if she is too willing to revert to the swooning wallflower in a whalebone bodice. Feminism was supposed to do away with that; Mary Wollstonecraft tried over two-hundred years ago, let alone the boiler-suited and Dr Marten-booted ball-breakers of the 1980s.
To allow the actions of a rapist to remake and remodel his victim so that she can never be anything other than a rape victim is to concede he has won. It goes without saying that, in some cases, the experience can cast a shadow over the rest of the victim's life and can precipitate a downward spiral without help or support; but the eagerness to embrace Victimhood without even attempting to overcome it is a virus that has infected contemporary feminism in a way that would have its gutsy godmothers spinning in their graves, not to mention their whalebone bodices.
Petunia Winegum
TRACK CAPTAIN RACCOON DAY 4: http://jst.org.uk/track-our-ships/