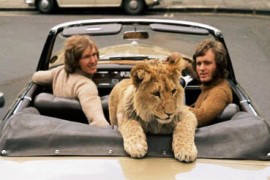 Wilf Batty isn't a name from the past that provokes instant recognition. Most probably have no idea who he was or what he did. Well, he was a farmer in the Mawbanna district of Tasmania, and what he did on 13 May 1930 made his name an unenviable footnote in this planet's natural history. Wilf Batty shot and killed the last known Tasmanian tiger living in the wild. Six years later, the final Tasmanian tiger in captivity, imprisoned at Hobart's Beaumaris Zoo, died neglected and forgotten. This distinctive marsupial was even captured on film prior to 7 September 1936, the day a species that had been around for an estimated 25 million years ceased to exist.
Native Aboriginal Australians seemed to have lived in relative harmony for centuries alongside the Tasmanian tiger, but the familiar tale of colonisation by Europeans gradually left the remote outpost of Tasmania as its remaining refuge. When that too began to be colonised, the farmers hoping to make a living from the land perceived this strange-looking creature that largely avoided contact with humans as a pest and threat to their livestock. Ignorance as to the habits of the tiger enabled opportunistic Bushmen to lobby the colonial government for compensation relating to damages the animal had allegedly inflicted on their livelihoods. The response was a bill passed in 1888 that awarded a £1-per-head state bounty on the tiger, a not-insufficient amount at the time and one that was naturally exploited. This arrangement remained in place for 31 years, during which the animal's population was utterly decimated, with more than 2,000 Tasmanian tigers slaughtered. The writing was on the wall for a special and unique animal that many in certain quarters of Australasia refuse to acknowledge has now been extinct for 80 years.
So-called 'primitive' native people of the lands incorporated into imperial European territories throughout the eighteenth and nineteenth centuries tended to view the wildlife surrounding them as Europeans once had – as a source of food, clothing and occasional pagan sacrifice. The notion of hunting a beast for sport was not one they recognised. The Native American Indian tribes in particular seem to have had an instinctive understanding of the ecosystem governing their surroundings, aware that they were merely one link in an extended chain and that a delicate equilibrium had to be maintained in order for life as they knew it to survive. They never foresaw the infiltration of 'civilisation' of the European mode being the catalyst that would spark the swift destruction of that life.
With a bloodthirsty appetite for inflicting extermination upon the natural world, Brits abroad exported their lengthy history of hunting for fun. The impact on India's tiger population during the age of the Raj is illustrated with graphic brutality in the images taken of tiger-hunts indulged in by the likes of George V as the royal party proudly display a pile of tiger corpses at their feet, no doubt poised to hack off a few heads to nail above the doorways of the stately homes of the mother country. But then, a man such as George V, belonging to a class raised on a diet of grouse-shooting and the hunting of foxes and stags, was hardly likely to extol the virtues of preservation. It would seem to be a particularly British quirk to mask any old excuse for a fancy-dress ceremonial occasion in the guise of pest control, but that's just us, isn't it.
A different mindset applies in America. There, it is primarily the working man who indulges in hunting, a lumberjack-shirted macho ritual often entered into by weekenders seeking to prove their virility. Unless the guys wielding the shotguns are dirt-poor hicks in dire need of a dentist, slaughtering an animal for food is not the motivation, and if a cull of a species is required because its numbers are in excess of the desired amount, there are more humane ways and means of undertaking this task that don't involve the employment of Budweiser-swilling rednecks. Therefore, what is the real motivation for this blue-collar tradition? A hundred or so years ago, there was a species of bird known as the passenger pigeon that provided North America with one of its very own natural wonders. In 1866, an estimated 3.5 million-strong flock flying over Ontario was reported as being a mile wide, 300 miles long and taking 14 hours to pass a single point. For many Americans, having such birds as target practice proved irresistible and the passenger pigeon was declared extinct in 1914, with the last recorded specimen dying in Cincinnati Zoo. Was it really so much fun to shoot down a passenger pigeon that it warranted wiping out an entire species?
There is a sequence in the film 'The Queen' that for me aptly sums up the senselessness and inexplicable appeal of obliterating natural beauty for no justifiable purpose. Helen Mirren as HM is stopped dead in her tracks whilst driving through the Balmoral estate by a magnificent stag, an absolutely stunning example of organic engineering that enters into a stare-out contest with the sovereign. The next time we see this awesome beast on screen, it is a decapitated cadaver strung-up by its feet. I found this as disturbing a sight as I've ever seen in a movie.
I recently watched an episode of 'Jason King' in which our moustachioed dandy hero killed a rhino merely so he could add it to his list of achievements. Whilst Mr Wyngarde's sartorial flamboyance has naturally dated, there is a kitsch charm to that aspect of his character, yet the manner in which the part he played casually slaughtered a rhino seemed more dated than anything he was wearing. The recent furore over the now-retired King Juan Carlos of Spain when he had a holiday that consisted of killing elephants reflected the change of opinion surrounding what used to be known as Big Game Hunting; no longer seen as the permissible pastime of the rich and stupid, any publicity now afforded the practice is universally negative.
Such was the case this week when an obscure American idiot name of Walter Palmer was revealed to have paid the best part of $55,000 to kill a famous lion called Cecil in Zimbabwe. He aimed a bow-and-arrow at the animal and fired. The wounded beast staggered away and stumbled around in agony for almost two days before Palmer and his party tracked it down again, shot it dead and then beheaded and skinned it. Is the natural response of being confronted by beauty to extinguish it? If a human being cannot feel empathy with the creatures he shares the planet with, what hope is there? Anyone with any genuine humanity looks at a lion with awe, and ending the life of such a proud and beautiful product of nature shouldn't even enter one's head. Where is the pleasure in that?
Growing awareness that the animal kingdom is not immortal has at least led to an about-turn in general opinion of Big Game Hunting, but whereas elephants and rhinos are rightly recognised as precious species that need our protection, what of the less attractive animals such as vultures? If ever a reminder were needed that no creature exists without a role to play in the bigger picture, the killing of vultures in some African countries has resulted in an abundance of animal carcasses clogging up the rivers, with the rotting matter polluting the water that is then drunk by humans. A vulture has a job to do and if it is made redundant, there is no other creature waiting to fill the gap. Whether one regards the tree of life as secular evolution or the handiwork of a deity, the fact remains that there is a purpose behind it and if humanity tampers with any branch on that tree, the ramifications can be disastrous for all. Recognising that we are elements of an interconnected framework that exists for a reason does not make one a tree-hugging, lentil-scoffing stereotype. It should be a given that it makes us bloody human.
Petunia Winegum