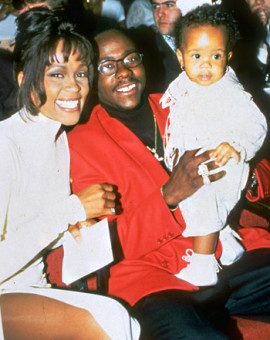 Parents can be a hard act to live up to. If they've been an immense success in their chosen field, their children entering the same field means they have to either surpass the particular parent's achievements or suffer pale comparisons. One thinks of Martin Amis on one hand and Julian Lennon on the other. Then again, if said parent's ambitions had been thwarted, there can be a tendency to have a second crack via vicarious means, pushing the child to do what the parent couldn't. Whichever way one looks at it, the outcome is rarely satisfactory for either parent or child.
Two days ago, Bobbi Kristina Brown, the 22-year-old daughter of Whitney Houston and Bobby Brown, died six months after being discovered face down in a bathtub, the same item of household furniture in which her mother passed away three years ago. Bathrooms are not unprecedented locations for musical entertainers to breathe their last, of course. Jim Morrison also died whilst enjoying a soak and Elvis Presley is alleged to have shuffled off this mortal coil whilst sitting on the lavatory. As rock 'n' roll deaths go, a bathroom doesn't have the drama of a car-crash or motorbike accident, but when the anticlimactic obituaries have been penned, the nearest and dearest of the deceased are left as bereft as the equivalents of all the non-famous folk who died the same day as the Lizard King, Elvis or Bobbi Kristina Brown.
In an age when it had become almost de rigueur for young musicians to prematurely meet their maker, singer-songwriter Tim Buckley joined the club in 1975. There was already an illustrious cast-list of predecessors behind him, including Brian Jones, Jimi Hendrix, Janis Joplin and the aforementioned Jim Morrison, though Buckley made it past the dreaded deadline of 27, dying of a heroin overdose aged 28. Buckley was very much a cult act at a time when competition for attention was abundant, starting out as an archetypal 60s folk troubadour before expanding his musical horizons in the manner that was both encouraged and expected in that culturally enriching era. However, despite the lack of commercial success, Buckley lived to the same manic extremes as some of his wealthier contemporaries, falling for the poetic myth of the romantic nihilist and embracing the heroin that eventually killed him.
As with many artists of this nature, Tim Buckley was not cut out to be a 'Hi, honey, I'm home' family man and his son Jeff, eight at the time of Buckley Senior's death, had only ever met his father once. Commercial recognition continued to elude Tim Buckley in the wake of his passing, but as the years went by critical appreciation grew considerably. By the time Jeff Buckley was poised to pick up a guitar and follow in his father's footsteps, he wisely shunned the spotlight and pursued a career as an LA session musician until his own unique talents emerged as a live act. Prior to the release of his debut album in 1994, Jeff Buckley was primarily known as 'son of…' Then everyone heard the album, 'Grace', and realised here was a remarkably gifted singer and songwriter worthy of being lauded in his own right, regardless of his parentage.
Moderate commercial success for the album was outweighed by overwhelming critical praise and Buckley promoted it around the world for the best part of eighteen months before beginning to record a follow-up. Aged 28 when 'Grace' was released, he had evidently done the right thing in biding his time before deciding to share his talents with the record-buying public and seemed on the verge of recognition as one of the 90s' great musical finds. He appeared destined to reap the rewards his father had been denied, yet in 1997 he also died long before his time, drowning in a tributary of the Mississippi when swimming fully clothed. He was 30.
Legendary martial-arts movie star Bruce Lee died two years before Jeff Buckley, though he had at least achieved massive commercial success at the end of his life. Throughout the Chinese-speaking world, he was already an iconic figure for the early 70s series of Hong Kong-produced, high-octane Kung Fu action movies he starred in after brief 60s success in US TV's 'The Green Hornet'. Although English-speaking audiences didn't watch them for the dialogue, when these films were memorably dubbed and released in the west, Lee became a huge cult figure and the mainstream beckoned. 1973's 'Enter the Dragon' was a slick, big-budget pseudo-Bond movie that would undoubtedly have propelled Bruce Lee to the Hollywood premier league had he not died aged 32 just six days before the film's release. The strange circumstances of Lee's death remain contentious, though it would seem it was due to the effects of what would now be called a 'performance-enhancing drug' on a body that was accustomed to being pushed to its very physical limits.
This shocking James Dean-like demise perhaps made 'Enter the Dragon' an even bigger box-office smash than it would have been had Lee lived to see its success. For a good couple of years thereafter, oriental martial-arts were part of the wallpaper of pop culture, leading to everything from the 'Kung Fu' TV series starring David Carradine to Carl Douglas's cash-in chart-topper, 'Kung Fu Fighting', to the ultimate tribute – a parody by The Goodies, in which the little-known Lancashire martial-art, Eki Thump, was profiled. Unlike Tim Buckley, Bruce Lee died having made an immense mark on his times, though like Buckley, Lee also sired a son who picked up the baton of the family business.
Brandon Lee was born in 1965, long before his father achieved stardom, and (like Jeff Buckley) was just eight when his father died. He broke into the movie business in his early 20s, appearing in numerous straight-to-video action flicks of a kind which Hollywood specialised in the 80s. In 1992, he landed his first major leading role in an adaptation of a comic book, 'The Crow'. He was still known primarily for the author of his earthly blood, but 'The Crow' appeared to offer Lee Jr the opportunity to step out of his father's shadow and to establish himself as a name in his own right. A bizarre on-set accident during filming tragically ensured this name would be posthumous. A scene in which Lee was supposed to be shot went wrong and he suffered fatal wounds as a consequence, dying on the operating table. He was 28.
Whitney Houston died aged 48 after a failed battle to recapture the phenomenal commercial success that had made her the world's number one female singer in the late 80s/early 90s. Increasingly relying on movies as her prime source of income, a tempestuous marriage to R&B star Bobby Brown led to an undesirable alteration in her 'Goody Two Shoes' public perception, and when she died in 2012 the cause of death was attributed to her cocaine use. Her daughter Bobbi had intended to become a recording artist, but the climate in which she came of age was that of the Reality Star, something that saw her role certified as that of a 'celebrity', famous because of who her parents were and the considerable wealth she inherited from her mother. Her death comes after six months in a medically induced coma following her eventful encounter with a bathtub.
It's easy to be cynical and dismissive when an heiress without any discernible artistic gifts passes away; Bobbi Kristina Brown was raised in an affluent environment and never wanted for material comforts. But the fact remains that a young woman has died at an outrageously young age – just as Jeff Buckley and Brandon Lee did. Parents can indeed be a hard act to live up to, particularly when their mistakes seem destined to be repeated.
Petunia Winegum