The 25 Hour News and the 45 Year Blues
---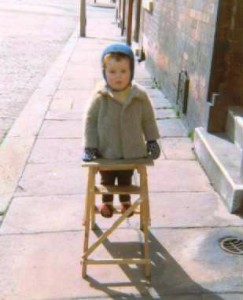 So, our journey back 25, 35 and 40 years arrives at my own personal terminus of 1970 – 45 years ago. This, for me, is the dawn of time or at least the dawn of coherent (albeit still murky) memory. I looked out onto a world in which the past and future formed the present, living in a 'Coronation Street' community of back-to-back, two-up/two-down, outside-loo terraces that hadn't changed since the turn-of-the century, yet simultaneously looking up at the moon and straining to see the astronauts who were steering a buggy over the bumpy lunar surface.
I suppose I belonged to one of the first television generations in that it was always there, even if everything was in monochrome; and watching with mother, 'Trumpton' served as an idyllic impression of somewhere over the rainbow, whilst the world inhabited by Mary, Mungo and Midge was a Ladybird landscape that also suggested a desirable design for life. I remember a holiday at Butlin's in Skegness that summer, with Mungo Jerry scoring the vacation, an odd and distinctive voice amongst many wafting from a MW radio; the strange, high-pitched squeal of Joni Mitchell was another.
It was a time that appears more unreal the further I travel from it – seeing a cow walk up the middle of the street in the middle of the night whilst staying at an auntie's was weird enough to remain intact as an early recollection thereafter; but my imagination worked overtime too, seeing Daleks in the park that weren't really there…or were they? If the past is another country, I am in permanent exile. How about you?
Petunia Winegum