Exclusive – Jeremy Apologises!
Wonders will never cease. Jeremy has apologised!
Ms Raccoon's obsession with truth rather than fantasy has paid off. It is but a small victory, but one that gives me great pleasure.
Back at the beginning of the month, reading Hansard as I am sad enough to do of a morning – so much more informative than a newspaper – I noticed that Jeremy Hunt, Secretary of State for the Department of Health had solemnly told parliament that there was £40 million available 'under management' in Savile's charities to pay compensation to his 'victims'.
There isn't. There never was. Even if there had been, the Charity Commission would never have allowed donated funds to be used in this way. I promptly rang the Charity Trustees and asked what was going on? They knew nothing of this statement, nor could they understand where Jeremy Hunt could have got this bizarre idea from. I said I would take advice as to how to go about correcting this.
First port of call was Guido at order-order – no-one knows parliamentary procedure better than he. 'You need an MP to raise a point of order' he said.
Helpful, but with an election so close, and not having any compliant MPs on speed dial, I didn't fancy my chances of getting anyone to oblige. Gallingly, I thought it better to give the story away to someone who could do something effective, rather than run with it myself. I turned to the Mail on Sunday instead. David Rose, their investigative reporter, managed to get an admission from the Secretary of State that he would be issuing a correction. They ran with the story on the following Sunday.
That correction – otherwise known as an apology for misleading parliament was issued this morning.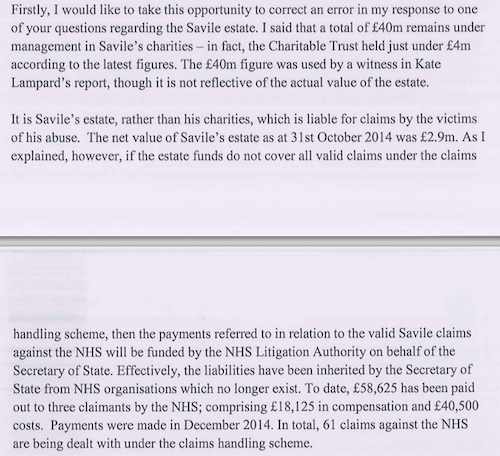 What is especially interesting, is where Jeremy Hunt got his incorrect information from…
The £40 million figure was used by a witness in Kate Lampard's report, though it is not reflective of the actual value of the estate. 
A triple whammy. Reliable evidence that false allegations reside within Kate Lampard's report, that the Secretary of State has been misled into believing them, and that it is the cash starved NHS which will be paying compensation – not Savile's estate, that is earmarked for the lawyers.
My cup runneth over.
The Blocked Dwarf


March 20, 2015 at 8:43 am

Kennetator


March 21, 2015 at 9:55 am

Kennetator


March 21, 2015 at 11:19 am

Mudplugger


March 20, 2015 at 9:58 am

The Blocked Dwarf


March 20, 2015 at 10:03 am

Mudplugger


March 20, 2015 at 10:19 am

The Blocked Dwarf


March 20, 2015 at 10:25 am

Petunia Winegum


March 20, 2015 at 1:38 pm

Bandini


March 20, 2015 at 10:02 am

Anna Raccoon


March 20, 2015 at 10:21 am

The Blocked Dwarf


March 20, 2015 at 10:26 am

Anna Raccoon


March 20, 2015 at 10:33 am

Anna Raccoon


March 20, 2015 at 10:44 am

Hubert Rawlinson


March 20, 2015 at 3:20 pm

Peter Raite


March 20, 2015 at 3:48 pm

Hubert Rawlinson


March 20, 2015 at 9:35 pm

cornish lark


March 20, 2015 at 2:35 pm

Mr Wray


March 20, 2015 at 12:00 pm

Lewis Deane


March 20, 2015 at 8:25 pm

Lewis Deane


March 20, 2015 at 8:26 pm

Lewis Deane


March 20, 2015 at 8:41 pm

Anna Raccoon


March 21, 2015 at 7:05 am

General Mayhem


March 21, 2015 at 10:57 am

Petunia Winegum


March 21, 2015 at 10:20 am

The Vatman Cometh


March 21, 2015 at 11:37 am