We had a naked man, before a blue cock rose to the occasion, then a pregnant woman…now we honour the barely dressed architect of the decline of the Lancashire cotton industry and the end of the Empire.
We used to honour the saviours of our nation. As children, we knew the urban myth/code of the statue – did the horse have all four feet on the ground or not? We were at least sure that all those honoured had done something of value for our country.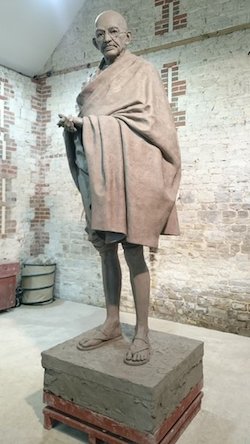 What exactly does the latest statue to grace London mean? That Lakshmi Mittal, Rahul Bajaj, Naryana Murthy and a host of fellow Indian businessmen with strong economic ties to England can afford a million quid to turn Gandi from a figure with feet of clay into a bronze statue that will withstand the London weather?
Perhaps other countries with wealthy expatriates will start demanding they be allowed to put up statues in London? Would the Russians appreciate honouring the Bolsheviks who murdered Prince Phillip's cousins? Outside Buckingham Palace? Why not? Lots of Russians in London, and they're not short of money.
Perhaps exiled Libyans could work up the interest to erect a statue of Gaddafi, with the Blair Faith Foundation coordinating donations.  I don't see why not, we've obviously abandoned the tradition of choosing as a nation who we so honour.
Curiously, they are not so fond of Gandhi in India – where he was seen as 'too pro-Muslim'. The MP Sakshi Maharaj is something of a thorn in the side of the present Indian government, led by Narendra Modi's BJP party – a party committed to establishing India as a Hindu nation.
In recent months, Maharaj has created uproar by describing Mahatma Gandhi's Hindu nationalist assassin as a patriot, saying Hindu women should give birth to four children to ensure the religion survives and by calling for Hindus who convert to Islam and Christianity to be given the death penalty.
Whose idea was it to position this statue right opposite that of Churchill?
"It is alarming and also nauseating to see Mr. Gandhi, a seditious middle temple lawyer, now posing as a fakir of a type well known in the east, striding half-naked up the steps of the viceregal palace, while he is still organising and conducting a defiant campaign of civil disobedience, to parley on equal terms with the representative of the king-emperor."

– Winston Churchill, 1930
Prime Minister David Cameron said "This statue is a magnificent tribute to one of the most towering figures in the history of world politics".
Needless to say, Cameron was talking about the statue of Gandhi – not Churchill.
Your thoughts? Suggestions for the next statue?
The Blocked Dwarf


March 15, 2015 at 11:07 am

BritInMontreal


March 15, 2015 at 2:17 pm

nofixedaddress


March 17, 2015 at 2:04 pm

The Blocked Dwarf


March 15, 2015 at 11:25 am

Major Bonkers


March 15, 2015 at 3:21 pm

GildasTheMonk


March 15, 2015 at 4:10 pm

The Blocked Dwarf


March 15, 2015 at 4:15 pm

AdrianS


March 15, 2015 at 11:54 am

Petunia Winegum


March 15, 2015 at 2:03 pm

hugh fowler


March 15, 2015 at 2:30 pm

Petunia Winegum


March 15, 2015 at 2:42 pm

hugh fowler


March 15, 2015 at 2:52 pm

GildasTheMonk


March 15, 2015 at 4:11 pm

The Blocked Dwarf


March 15, 2015 at 2:27 pm

hugh fowler


March 15, 2015 at 2:44 pm

Mudplugger


March 15, 2015 at 3:20 pm

The Blocked Dwarf


March 15, 2015 at 4:11 pm

GildasTheMonk


March 15, 2015 at 4:12 pm

Anna Raccoon


March 15, 2015 at 6:52 pm

The Blocked Dwarf


March 15, 2015 at 6:16 pm