The 25 Hour News and the 40 Year Blues
---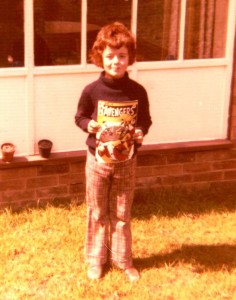 Our previous Raccoon 'golden hour' outings took us back 25 years to 1990 and then 35 years to 1980. This time round, in order that I the author can actually continue to contribute, we're going back just five further years to 1975 – the year of 'Bohemian Rhapsody', Rollermania, the EEC Referendum and the US Army's final humiliating withdrawal from Vietnam.
I was seven-going on-eight and had just moved to my third home, the first brand-new house I'd lived in. The estate was less than half-finished when we arrived (only our side of the street had been built) and the overall effect was like living on a building site, which was a gift for a seven-year-old once the builders had gone home for the night. I remember busting my lip leaping onto a sandpit from some first-floor scaffolding and nicking floorboards with my dad from some of the half-built houses lower down the estate (playing dead when the night watchman strolled past); the floorboards were then used as shelves in the wardrobe my dad built in my bedroom, perfect wood for the weight of the comics I was collecting. As the portrait of the snazzy dresser on the left shows, I was spending my pocket-money at the newsagent's.
Playing out, reading comics (and making my own), watching 'Dr Who', 'The Tomorrow People', 'The Goodies' and 'Blue Peter', and actually at a school that wasn't too bad, low on bullies and possessing some decent teachers – not a pattern destined to last. Anyway, that was my '75; how about you?
Petunia Winegum
---