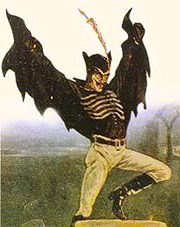 One doesn't have to scratch too far beneath the sophisticated surface of modern man to come into contact with a primitive, deep-rooted desire for the complex matrix of life to be reduced to a Ladybird language understood by all. In an age before science, supernatural myth and magic offered explanations that eventually evolved into organised religion; but the need for certain elements of the human condition to be defined in the most basic terms remains strong, even in secular societies – and none more so when it comes to Good and Evil.
Annoyingly ubiquitous words that should really be relegated to a redundant lexicon – such as 'awesome' – tend to be passing fads of linguistic fashion; but there are other words that have been relentlessly used for so many centuries that they cease to lose all sense of their original meaning and instead become a kind of lazy shorthand. 'Evil' is a broad brushstroke of a word that can nevertheless be utilised to summarise individuals or groups, and in some cases an entire race of people; their deeds are evil, therefore they are evil, as though it is not the act itself that is evil, but the act's perpetrator(s). I doubt any single person can be definitively classed as 100% 'evil', for that would imply they embody evil at the expense of all the other facets that constitute a human being, and therefore cannot be a human being at all. They would have to be evil twenty-four-seven in everything they do.
They would get out of bed in an evil manner, having woken up from an evil dream; they would wash their face and brush their teeth in an evil fashion, eat an especially evil brand of corn flakes for breakfast and then drink evil coffee before going for an evil shit whilst thinking evil thoughts. Evil is not a job description, and even if it was, the all-encompassing nature of the word as it is misused would imply an evil person is never anything but an evil person; yet a postman does not spend every waking moment of his life delivering letters. As we have seen via grainy home movies, Adolf and Eva loved their Alsatian.
Indeed, were a Tardis on hand for us to be present at the birth of Mr and Mrs Hitler's fourth child in 1889, could we smother that infant on the basis of what he would become? Could that bawling babe really be described as evil? Well, if we apply the logic of evil as it is used in common parlance and (especially) in the mass media, then yes.
It fits the child-like notion of Goodies and Baddies that the western world's population have been schooled in to say that Vladimir Putin is evil, ISIS is evil, Al-Qaeda are evil, and a certain deceased DJ-cum-charity fundraiser was evil – an abstract concept such as evil embodied in one person or organisation. That's simple enough for any idiot to understand, isn't it? All are playing the Bogeyman, that ageless individual whose ability to change his face to fit the mood of the moment is remarkably versatile. In the early nineteenth century, he was Bonaparte as portrayed in the caricatures of the time, a malevolent midget with salacious designs on Britannia; later, he was Spring-heeled Jack, the mischievous phantom of the Victorian imagination. Since then, he has taken on numerous (often simultaneous) identities, from Jack the Ripper to the Yorkshire Ripper, from Hitler to Hindley, from Bin Laden to his latest incarnation, Jihadi John.
Highwaymen were ten-a-penny in the eighteenth century, a regular road hazard far more prevalent than, say, car-jackers are today; Dick Turpin was one of many highwaymen who would have been forgotten within a generation had not the pamphleteers and balladeers of the era immortalised him and transformed him into an anti-hero whose legend outlived the man. The aforementioned Spring-heeled Jack was similarly celebrated and essentially created by the Penny Dreadfuls, his audacious and increasingly exaggerated adventures lapped-up by a public eager for a simple pantomime villain without any off-putting complexities, just a straightforward personification of evil.
Two-hundred years on, the construction of Jihadi John has been a partnership between his own corny grasp of 'baddie' imagery and a media in search of a new bogeyman, a process as contrived and cynical as the manufacturing of another money-spinning boy-band. The technological advances in global communications mean that any Public Enemy Number One can now achieve his desired notoriety overnight and enable it to be a worldwide phenomenon rather than localised – but only when the media enters into a contract with him. Even posting his pathetic gestures online would be no more than an act of preaching to the converted if news outlets weren't so insistent on publicising them to the wider world. ISIS promo videos, with armed masked-men mincing about whilst soundtracked by the Ali Hendrix Experience, are hilarious, resembling trailers for straight-to-video 80s action movies; but they are presented to the west with the subliminal tag – 'Be afraid; be very afraid'.
If the media was genuinely against the promotion of Jihadi John as a sword-wielding super-villain and didn't want to be viewed as a willing co-conspirator in his pathetic shot at evil immortality, then they should take the piss out of him, not endorse his glamorous infamy. They should drop the name straight away because that enhances his exotic outlaw credentials; before Peter Sutcliffe was exposed as a mass-murderer, the moniker the press had given him made him sound like some otherworldly apparition, not a mentally ill bloke from Bradford. Just as every rapper adopts a pseudonym to lift them out of the ordinary, Jihadi John needs a name that bestows 'cool' upon him, and the media has done him a huge favour. Well, drop that name. Call him Jihadi Jessie. He'd love that. Or the Bearded Bender. Why be complicit in his self-mythology? Every time the news screens a clip of him making a pre-execution speech, cut back to Huw Edwards clasping a handbag to his chest and emitting a camp 'Oooh!'
Naturally, this won't happen. Unlike Chaplin parodying Hitler, nobody will parody this conceited prick because in the current climate ridiculing him would be viewed as an insult to the memory of those he beheaded. We have to adopt the most solemn tone when uttering his name, despite the fact that ridicule is one way we could belittle him. Give the guy endless publicity and his legend will merely grow; give the guy the po-faced reverence he requires and he will transcend his actual mediocrity, transforming into the Spring-heeled Jack of our time rather than being laughed out-of-town. Airstrikes or boots-on-the ground won't end his reign of terror; they will only supply the martyrdom he desires, and will probably eventually end up making him the star of an iconic T-shirt that disaffected British teens will embrace with verve. Portray him as a joke and his menace is substantially diffused.
But Jihadi John is here because Jihadi John is needed. He represents a handy example of 'evil' for politicians to point to and remind the electorate that their elected representatives might have their hands in the till or profit from promoting the interests of lobby-groups and companies at the expense of public service, but at least they're not so bad that they behead hostages. He puts a face (or half-a-face) on an anonymous organisation and therefore makes it easier to understand. His presence justifies the war crimes of the free world. His omnipotence across all modern mediums satisfies both the remit of the media to treat their audience like children and for that infantile audience to receive their dose of current affairs in 'Newsround'-like primary colours. Putin finances rebellion against a democratically elected government in Ukraine and he is evil; Obama waves off drones before they blitz villages and townships in Syria, but he remains one of the good guys. Both acts are despicable, but in order to maintain the balance of power, one is condemned whilst the other is excused.
Jumpin' Jihadi John will only vanish from the front pages when he is superseded by the next media construct to send us to bed with one eye open. But remember, don't have nightmares. No, actually – do have nightmares. That's the aim, after all.
Petunia Winegum