Ofgem Go 'Victim Blaming'.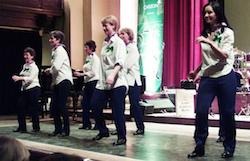 The Division Belles – Caroline and Hazel Blears demonstrate energy wasting to MPs.
Some three weeks ago, Ofgem decided to follow the lead of Shadow Energy and Climate Change Secretary, Caroline Flint MP, and save you money.
So far so good.
Ms Flint went down this road back last September when she was busy telling the Labour Party conference in her trademark 'I shall be asking questions later, children' style the promises she would be making (if elected, naturally) to stop your expensive heating from escaping your house. It's what we minions call 'insulation'. Politicians can make the concept expand to several paragraphs.
They all amount to saving money.
It is not hard to visualise the wide eyed young chap in Ofgem thinking 'we could help here' – and coming up with some money saving tips. What could go wrong?
Ofgem aren't politicians – they don't understand the difference between keywords. You see Ms Flint was 'saving energy', and the dimmest (a crowded field admittedly) Labour Conference delegate knows that saving energy is a good thing, part of the fight against global warming in these snow shrouded shores.
Whereas 'saving money' is to imply that the poor are somehow responsible for their plight; nay it is 'victim blaming', implying that those who can't pay their lecky bill are somehow responsible for their inability to pay, and suggesting that they take sandwiches to work instead of paying 'Pret a Calorie' to make them is demeaning…
Labour's MP Caroline Flint was critical of the new Ofgem advice, telling the Daily Mirror: "This is patronising rubbish. People don't need lecturing on taking a packed lunch to work, jogging or getting a second-hand mobile.
The three week old sandwich of 'offensive money saving tips' was dug out of the box today because Ofgem has failed to roundly condemn the energy companies for not passing on the full (allegedly) 20% cut in wholesale oil prices.
Could that be anything to do with Ms Flint's other previous announcement? The one where she said that under a Labour government energy companies wouldn't be allowed to pass on increases in price, only cuts?
"The next Labour government is committed to making big changes in our energy market: freezing energy prices until 2017 so that bills can fall but not rise, and giving the regulator the power to force energy companies to cut their prices when wholesale costs fall to all of their customers."
Thus insuring that any responsible energy company held back part of any cut in price as a bolster against future increases in price that they would be forbidden to pass on?
After Andrew Neil's last devastating demolition of Ms Flint, I look forward to him tackling her on this one..
Mudplugger


February 3, 2015 at 11:33 am

The Blocked Dwarf


February 3, 2015 at 1:15 pm

Peter Raite


February 3, 2015 at 3:34 pm

Mudplugger


February 3, 2015 at 4:01 pm

windsock


February 3, 2015 at 12:04 pm

Not Long Now


February 3, 2015 at 11:47 am

Petunia Winegum


February 3, 2015 at 1:31 pm

AdrianS


February 3, 2015 at 1:38 pm

The Blocked Dwarf


February 3, 2015 at 3:37 pm

Petunia Winegum


February 3, 2015 at 4:28 pm

The Jannie


February 3, 2015 at 4:42 pm

Moor Larkin


February 3, 2015 at 12:17 pm

Not Long Now


February 3, 2015 at 12:28 pm

Moor Larkin


February 3, 2015 at 12:37 pm

AdrianS


February 3, 2015 at 1:45 pm

Moor Larkin


February 3, 2015 at 2:30 pm

The Blocked Dwarf


February 3, 2015 at 3:33 pm

Mudplugger


February 3, 2015 at 3:55 pm

Not Long Now


February 3, 2015 at 12:21 pm

Not Long Now


February 3, 2015 at 2:15 pm

Mudplugger


February 3, 2015 at 4:06 pm

Cascadian


February 3, 2015 at 5:12 pm

Not Long Now


February 3, 2015 at 5:30 pm

Cascadian


February 3, 2015 at 8:28 pm

Not Long Now


February 4, 2015 at 10:01 am

Moor Larkin


February 3, 2015 at 4:53 pm

Joe Public


February 4, 2015 at 11:06 pm

Mudplugger


February 3, 2015 at 8:12 pm

The Jannie


February 4, 2015 at 1:47 pm

Anna Raccoon


February 3, 2015 at 5:41 pm

Not Long Now


February 3, 2015 at 5:44 pm