Victoria's Daughters and the Fine Line of Time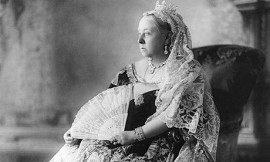 Many might think the complete and definitive history of the Victorian age has already been written; after all, there have been plenty of books and television documentaries filling the shelves and schedules since the old Queen died exactly 114 years ago today. Well, it can be written now, for last week the final person in Britain born during that age shuffled off this mortal coil. Despite the fact that Philip Larkin playfully declared the last Hanoverian on the British throne died in 1963, it's official in 2015; finally, the reign of Queen Victoria passes out of living memory and into the same timeless realm as the Tudor era or any other past phase of these islands' long and winding road to where we are now.
It's probably doubtful that the name of Ethel Lang will rank alongside that of Charles Dickens, Charles Darwin, Oscar Wilde, Isambard Kingdom Brunel, Gladstone, Disraeli or any of the other eminent Great Victorians; but it should at least be a significant footnote, if only by virtue of the fact that Ethel Lang was the last of Victoria's daughters, born in May 1900, died in January 2015. To anyone born in the middle of the twentieth century (or thereabouts), this fact is a sobering thought on the passage of time. My great-grandmother, who died when I was about eighteen, was a Victorian and my memories of her are still very vivid; I grew up watching characters on 'Coronation Street' such as Ena Sharples, Minnie Caldwell and Albert Tatlock, who could all be classified as Victorians; I remember 'Dixon of Dock Green' in the early 1970s, with old Jack Warner still pounding the beat, despite being born in 1895. In fact, the first twentieth century Prime Minister not to have been born during the reign of Queen Victoria was Sir Alec Douglas-Home, who didn't acquire the keys to No.10 until as late as 1963. Whether we were aware of it or not, those of us who arrived in the immediate post-war decades were born into a country in which vast swathes of the population still had one foot in the previous century.
I recall watching a documentary about Queen Victoria's 1897 Diamond Jubilee back in the late 1990s; my mother gave me a coin as a child, one that marked the event and one that her own grandmother had saved in 1897 and passed on to her. On this documentary, there were quite a few eye-witnesses to the celebrations of the time interviewed on the programme, all gone now, of course. Then I have to check myself and remember this programme aired almost twenty years ago, and that any teenager I pass on the street today was probably just a twinkle in the plumber's eye when I watched it. Time is a bugger for moving the goalposts of perception.
Harriette Wilson was one of the leading Regency Courtesans who fell on hard times and decided to write her memoirs when strapped for cash; she contacted all the prominent beaus who had enjoyed her services during her heyday and offered to blank their names if they paid her a sufficient fee; the Duke of Wellington refused and uttered his famous riposte – 'Publish and be damned!' She did publish, yet outside of the fascinating anecdotes contained within Wilson's recollections, for me one of the most intriguing aspects of my own copy is the introduction, penned when the book was republished in 1957. In it, the editor Lesley Branch (whose age in 1957 is not specified) mentions an old lady she'd known as a child in Brighton, one who remembered meeting one of the Prince Regent's mistresses when she herself had been a child. It brought to mind Stephen Fry's story of when he shook the hand of the legendary broadcaster Alistair Cooke and the 'Letter from America' presenter explained Fry had just shaken the hand that had itself shaken the hand of Bertrand Russell, and Bertrand Russell's aunt had danced with Napoleon.
Russell himself is a good example of someone who bridged different eras of history. Born in 1872, just two years after the death of Dickens, he died in 1970, aged 97, the same year The Beatles split-up. I watched an archive interview with him from the 1960s around twenty-five years ago, and in it Russell spoke of his clear memories of his aged grandfather, who had been born in the eighteenth century. So, we have a man speaking via the mass medium of the late twentieth century who had spent time in the company of a man who had lived during the age of the French Revolution. Winston Churchill, who died just under a year short of his 90th birthday in 1965, also bestrode two vastly contrasting periods – participating in the last cavalry charge of the British Army (the Sudan in 1898) and overseeing the British development of the atomic bomb. Thus, Churchill – himself a devoted scholar of history – played a part in a military manoeuvre connecting him to the likes of Agincourt, and also witnessed the birth of the era we all reside in now. He didn't finally resign as Prime Minister until 1955, the year James Dean died.
More recently, around five years ago, I watched a programme about Thomas Hardy, in which the presenter spoke to an old lady who had met Hardy as a child when acting in a stage production of one of his nineteenth century novels; Hardy died in 1928. It might sound like I spend most of my time watching television, which I actually don't; but any living link to the past never ceases to capture my imagination, possibly because I'm closer to fifty than forty and the nights are drawing-in. I once thought that if my eight-year-old niece lives to be 100, she'll have memories of my now-deceased grandfather, who fought in the Second World War which, by then, will have taken place over 160 years previously; that's like me living to 100 and having memories of meeting someone who'd fought in the Boer War; I may well have done, for all I know.
I used to do the shopping for a housebound old lady (now sadly no longer with us) and she would regale me with tales of running to air-raid shelters as a schoolgirl and how her older brother had been present at the Nuremberg Trials; but perhaps her most chilling childhood recollection was remembering hearing the sound of a tolling bell emanating from a nearby prison when a hanging was scheduled to take place, echoing across the vicinity like a sonic Tardis straight from nineteenth century Newgate. She passed this on to me in the best oral tradition and you are free to pass it on to someone else, as I have no one to pass it on to. It will remain 'present tense' as a consequence.
If anyone says history is irrelevant and has no bearing on today, they may as well be a goldfish. John Lydon once said the past is as relevant as the future because both happen in the present – an obvious observation, but a truism many a politician would be wise to take heed of. Time is a continuum we are all woven into as much as our ancestors and those who will come after us, something that makes every age within touching distance; dividing time into days, weeks, months, years, decades and centuries could be regarded as a convenience that enables us to put time in some sort of manageable order, no more than placing the receipts from paying our respective energy and telecommunication suppliers in separate folders. At the time of writing, I am now approximately an hour older than I was when I began penning this post, and at the point at which you are reading it, I am approximately four days older.
Is that the theme from 'The Twilight Zone' I hear?
Petunia Winegum