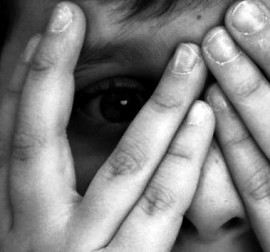 Mothers and daughters, fathers and sons; if there happens to be any long-term tension within the family unit, more often than not the tension arises from strained relations between two males or two females. It becomes especially prevalent during adolescence, when paranoid parents can view their same-sex offspring as competition, whether consciously or no. The mother feels insecure as she ages and sees her teenage daughter as the reincarnation of her younger, prettier self, the self she can never be again; the father feels insecure, suddenly concerned that his previously unchallenged 'head of the house' role is under threat from the son who is beginning to mature into a man – a perceived rival with the potential to stand up to and usurp him. Whether or not there are genuine Oedipal or Elektra issues present, such factors are more likely to figure in the imagination of the parent than the child.
Craig Wilson was a father whose feelings towards his son maybe had some bearing on his violent behaviour, but from all accounts he had been a 'Jekyll and Hyde' character throughout the boy's life, with alcohol the key to unlocking the chest Mr Hyde resided in. The boy, 22-year-old Ben, had been exposed to his father's brutal eruptions long before he reached his twenties. When Ben was seventeen, his father served two years behind bars for strangling Ben's mother with such force that she passed out and blood seeped from her eyes; this assault was followed by an attempted suicide on the part of the assailant, one intercepted by police before it reached its intended aim. This was the one occasion in which Ben's father's persistent campaign of terrorising his family was acknowledged by the law, but who knows how many more horrible incidents went unreported and unpunished in the years leading up to it?
Last year, Mr Hyde made another appearance during a family party at the Wilson home in Stockton, Teesside; Ben's father had apparently threatened to 'chop everybody up' earlier in the evening before Ben heard shouting, screaming and smashing in his parents' bedroom when his parents had retreated up there. After years and untold hours of exposure to his father's violent temper, something in Ben snapped; his father had already once tried to kill his mother. Would Ben not think it feasible his father might have another crack at it? Ben grabbed a hammer, charged into the bedroom and battered his father around the head with the impromptu weapon, leaving Craig Wilson with serious head injuries and brain damage. Shaken by what his father had reduced him to, Ben immediately left the house and handed himself in at the local police station. Last week, he was jailed for six years. Ben Wilson may or may not have interrupted one more violent assault on his mother by his father at the time of the incident that landed him a prison sentence, but there is only so much someone so young can take.
Growing up in a household dominated by a domineering and physically intimidating male presence can do lifelong psychological damage; it can affect the way one interacts with other people; it can cause one to revert back to a terrified infantile state when confronted with an outburst of anger in others; it can make one timid, shy and self-conscious; and it can leave one with pitifully low self-esteem that the unscrupulous can capitalise on forevermore. Formative years spent walking on eggshells might be good training for a ballet dancer, but few hard working-class towns are renowned for producing the next Nureyev. If, as the defence claimed during his trial, Ben Wilson had never known a time without his ogre of a father ruling the Wilson household with the persistent promise of inflicting the kind of barbaric attack he'd inflicted on his wife in 2007, it's to be expected that Ben would eventually reach breaking point.
During my own formative years, my father ruled our household in a similarly unsettling manner; he never used physical violence with the exception of the kind of chastisement of his children that would now lead to the involvement of social services, but was perfectly acceptable in the 1970s. His explosive temper would tend to be directed at inanimate objects, though that can be scary enough itself for a toddler witnessing a man built like a cross between a Rugby League player and the Incredible Hulk smashing up his son's favourite toy in an orgy of unprovoked fury – my earliest memory. He shouted a lot and could go off at random, akin to one of those old plastic frogs on a spring that you'd stick down and then sit back to wait for it to suddenly leap up. Being in his company for any prolonged period would increase the prospect of being exposed to this temper, so it was handy that he was at work all day and in the pub most evenings. It's one reason why I cannot recall family holidays with any nostalgic affection; he ruined them all and there was no escaping him. His way of coping with a stressful situation was to erupt, covering his family in lava; at times his behaviour could be as absurd as it was frightening. I've often compared him to a disturbing hybrid of Basil Fawlty and Yosser Hughes.
Of course, now he is a wizened shrunken old man plagued with pensioners' ailments and is no threat to me at all; but I cannot forgive, and neither can I forget. He was a bully, pure and simple, one who would torment in private and would derive perverse pleasure from causing humiliation when in company. Whenever I somehow summoned the confidence to stand up to him once I reached my late teens, my mother and brother never backed me up; they never supported me, even though they felt exactly the same about him as I did; they'd only express these feelings when he was absent. Once he was back, lips were sealed and tongues were bitten and my woeful rebellion was crushed as effectively as the Duke of Monmouth taking on James II. This is an accurate measure of just how successfully he had managed to suppress their courage and impose his will on them absolutely.
I never physically assaulted my father, but I have dreamt of murdering him on several occasions. In my dreams, I have drowned him, pushed him down the stairs and – just a couple of weeks ago – I have reduced his skull to fragments with a baseball bat; and this is my unconscious response to someone who specialised in mere mental abuse. Had I been in Ben Wilson's position, the chances are I would have reached the same breaking point as he did, so whilst I cannot necessarily condone what he did, I utterly understand why he did it.
I appreciate his case and the campaign to quash his six-year sentence is the kind of cause that comes as a gift for the tabloid press and the Twitterati, but I felt compelled to comment on it because nobody with any basic humanity is provoked into that kind of uncharacteristic violence unless they have been raised in an environment that has normalised it. Therefore, if you'd like to sign the petition demanding an end to Ben Wilson's time behind bars, here it is…
https://www.change.org/p/prefeitura-de-s%C3%A3o-paulo-benjamin-wilson-free-ben-wilson?recruiter=41572150&utm_source=share_petition&utm_medium=twitter&utm_campaign=share_twitter_responsive
Petunia Winegum