The historic abuse of Kalakala.
Kalakala was beautiful, she might have been invented with the sole purpose in mind of pleasing a man's eye.
That she has ended her life tired, careworn, exhausted, and scarred is entirely the fault of misuse at the hands of men. Men who boasted of their association with her in her prime, abused her, and then discarded her when  she was no longer able to service their needs.
Now she is to be stripped of the finery with which they once adorned her, and left to meet her end in ignominy.
She had a proud ancestry. Distinguished members of the Peabody family; noted philanthropists, who founded Yale and Harvard universities, established a foundation to aid the poor world wide. It was Alexander Peabody who was responsible for Kalakala's arrival in our world on June 3rd, 1935. She would have been 79 this year. No great age for such a fine lady.
From 1935 to 1967, Kalakala worked the shores of the Puget Sound giving working men a fine send off to the day; by night, they danced, they drank, they sang in her company. In return they gave her a meagre few coppers.
She had had a previous life – she was born as 'Peralta' seven years earlier, but an unfortunate incident in San Franciso's Bay area saw her catch fire. Alexander Peabody rescued her. He paid to rebuild her fine body and fashionable appearance and helped ease her into her new career as 'Kalakala' – the pride of Seattle.
By 1967, she was no longer a profitable lady, and she was sold on – or should that be 'trafficked' – to Dutch Harbour where she became a 'crabber'. Eventually that new career too, became unprofitable – and she was run out of town, only to set up shop in Kodak, where she became a a fish canner.
Finally, broken, rusty, mud splattered, she was abandoned.
In 1998, a Seattle artist harboured romantic notions of saving her and brought her back to Seattle, setting her up in a prominent position, and encouraging admirers to give her money. Insufficient money, sadly, and once more she was run out of town.
Capt. S. J Ferguson of the Coast Guard wrote, "For seven years, Mr. Rodrigues has not been able to raise sufficient money or employ the resources necessary to even minimally maintain the vessel, and instead has allowed the M/V Kalakala to rapidly deteriorate."
The moorage site, Ferguson wrote, "is regularly frequented by trespassers, metal thieves and homeless persons." At low tide, the boat regularly went aground. The condition of the ship's steel "is highly wasted, brittle and corroded."
All of which led Ferguson to conclude "that a flooding and sinking incident is imminent."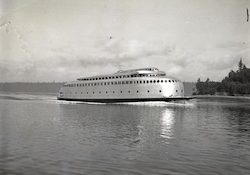 Her present owner, Karl Anderson
,  plans to allow this grand old lady to float free on the high tide of January 22nd, and die a dignified death at sea.
"I see a sad remnant of a lady way past her prime and ready to die," he said.
She was a magnificent figure in her prime. Even though a lot of her trouble stemmed from the fact that it was near impossible for the Captain to see where she was going from the wheelhouse….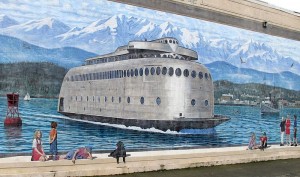 She will remain immortalised in the mural at Port Angeles. Just beautiful.
Engineer


January 15, 2015 at 2:22 pm

Anna Raccoon


January 15, 2015 at 8:02 pm