That Joke Isn't Funny Anymore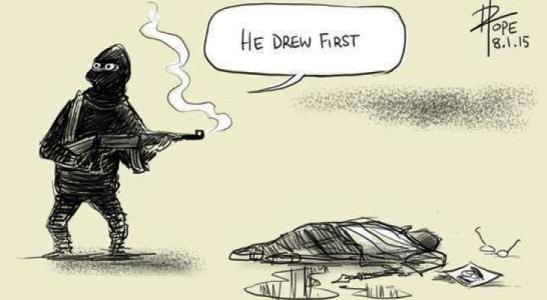 A couple of weeks ago I read a piece in the Times by the regular Saturday columnist Matthew Parris. Perhaps I didn't pay very close attention, but the theme of the piece seemed to be this: look at the number of people who die on roads or in all kinds of accidents each year and compare it to the number of people (in the West) who have been killed by Islamic jihadis over the past years, including the 9/11 attacks on the Twin Towers, and you will see that it is statistically irrelevant. A few nutters going mad is not a big deal. Shit happens. So, get over it and don't get into a tizzy about it and throw the baby out with the bath tub when it comes to concerns about civil liberty. I hope I haven't misrepresented Mr. Parris, for whom I have great respect as a man, and a thinker and writer, but that is how it read to me.
If so, it is an utter misconception.
First, we are all subject to the vicissitudes of life – and death. I accept that I may have a heart attack, or walk under a bus, or be diagnosed with terminal cancer, or even murdered by a mugger tomorrow. It is how it is, and it can be random and even murdered in a robbery. That is life, and it can be horribly unjust. But I know that I will die some day, and whilst I would be sad if any of these events happened, I am going to die someday.
What I do not expect is to be forced to jump whilst on fire from the 100th floor of a New York skyscraper, plunging for long seconds to my death as my friends and colleagues burn alive, or to be blown to pieces whilst riding to work on the underground, because some religious psychopath has a grudge about a cartoon. I suggest that the statistically irrelevant observation will be of little comfort to the family who miss the late policeman, wounded, putting his hands up in surrender, and shot in the head at point-blank range. It will be one of the images of 2015, sadly, and it breaks my heart. It, and all the other murders, were evil acts. Evil as opposed to calamitous, or random.
Second, it is naïve. One of the problems surrounding terrorism is that it works. It is highly effective. I can't remember the exact provenance of the quote, but "kill one, frighten a thousand/million" comes to mind. This is true. Everything is context. This is an attack on satire and free speech. That right to free speech is the product of more than 2,000 years of history, countless atrocities and a fumbling towards democracy. It is not possible to have democracy and freedom of thought without satire. Satire offends. That is the point, really. And it works. I am looking forward to Frankie Boyle's routine "the prophet Mohammed" and Islam. I won't hold my breath.
By the way, please feel free to mock my "religion" – Christianity – if you will. It's OK. I may take offence, but on the whole I won't care, really. I might even agree with you. If I don't, I won't kill you. You are entitled to your view and I might change my mind. In fact, it is pretty open, and if a "religion" (I f*****g hate that word) can't cope with mockery, what does it say? It says: it is crap.
Third, this is just one of the straws in the wind. It won't stop here. It will get more frequent. There are already parts of the UK that appear to be self-governing Caliphates in which anyone who deviates from Sharia Law is unsafe. At the same time, these areas appear to be extraordinarily corrupt. Tower Hamlets appears to be part of 7th Century Saudi Arabia, for example. By the way, Saudi Arabia has one of the highest rates of downloading porn, particularly "gay" porn in the world.
I invite a perusal of what the excellent the excellent Cranmer has to say.
http://archbishopcranmer.com/archbishop-of-mosul-your-liberal-and-democratic-principles-are-worth-nothing-here/
Sigillum