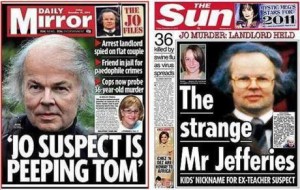 POSH! – 'Loved culture, poetry'
CREEPY! – 'Loner with blue rinse hair'
WEIRD! – 'Strange talk, strange walk'
I was reminded of these devastating descriptions of the attributes that constitute a killer whilst watching the recent ITV dramatisation of the grilling Christopher Jefferies underwent when the tabloid finger of suspicion pointed in his direction. As far as I am aware, however, none of these attributes have yet to be recognised in law as criminal offences.
'Strange talk, strange walk' – okay, this presupposes there is a talk or a walk that isn't strange; but where is the body busily setting the criteria that draws a distinction between acceptable talk and walk and unacceptable talk and walk? Christopher Jefferies' loquaciousness is delivered in a florid fashion in which his tongue caresses each word to roll off it; then again, so does Giles Brandrith – the kind of person for whom the English language is far more than a basic tool of communication a notch above simian grunts, and is instead a strain of melodious rhythmic poetry. Today, this is an antiquated manner of speaking that has long been on the endangered list, but at one time every learned man in a position of power within the arts spoke in such a way – just watch archive film of John Osborne or Francis Bacon; neither emanated from the English aristocracy, but they followed what was then a well-established path of adopting a borderline RP accent and merely embellished it with flamboyant flourishes that complimented their creative personas.
What of the strange walk? This curious accusation that how Christopher Jefferies placed one leg in front of the other was somehow unnervingly at odds with the way in which the majority of the population does so implies he worked for the Ministry of Silly Walks. How one walks can depend on a variety of factors – social, occupational, biological; an eighteen-stone HGV driver will probably have a different walk to an eight-stone model, for example. Neither is the right way or the wrong way, and one would hardly expect a man of Christopher Jefferies' age, upbringing and interests to plod along the street like a constipated Liam Gallagher looking for a fight.
Blue rinse hair! If this is creepy, then so are millions of old ladies up and down the country who indulge in a bit of follicle colouring once a month. Christopher Jefferies remained loyal to the traditional solution facing men of a certain age when their hair thins out – he kept it long at the sides and swept it across the barren crown in an act of delicate sculpture held in check by hairspray. The comb-over has now become a no-go area for any balding chap under forty, but was Christopher Jefferies supposed to shave his head as though he'd been drafted? Such a dramatic gesture would have been as inconceivable to him as it would have been to the likes of Cliff Michelmore, Frank Bough, Harry Carpenter, Robert Robinson, Richard Dimbleby or David Coleman, mainstay TV authority figures of the same era Christopher Jefferies sprang from. He saw nothing unusual in his individual coiffure until a source of mild amusement to the outside world was interpreted as the mark of a WEIRDO.
But the biggest crime of all in the eyes of the media was that Christopher Jefferies dared to be a posh man who loved culture and poetry. Dear me; does that mean he wasn't up to speed on the latest text-speak slang or he didn't care for Xboxes, iPhones, 'Big Brother', beer, tits and Enger-land? When Albert Steptoe attempted to curb Harold's pretensions to improve his intellect, he dismissed ballet as 'poof's football'. After all, ballet, opera and the theatre in general is for them, not us – middle-class, elite, erudite, airy-fairy; a luxury pursuit for the pampered. It matters not that the founding fathers of the staunchly working-class cities of Britain channelled the increasing wealth of their industries into erecting civic stimulants for the masses – art galleries, museums and theatres; that was when thinking outside the limited box one was born into was encouraged; it was all part of bettering oneself, of seeking artistic enlightenment for malnourished minds and showing there was more to life than work, rest and play. Christopher Jefferies may be a man out of time, but he is being true to the extinct society that spawned him. He is impervious to the tidal wave of trivia and the here today/gone tomorrow anti-cultural narcotic that has been injected into the nation's consciousness so that anything more demanding than a camera crew following Peter Andre to the toilet is deemed to be boring, where a yearning for substance is mocked, not only by one's peers, but by a political consensus that places hard work and material gain above the fripperies of culture, where a house is not a home but an investment, and a university education is not a means of expanding the intellect but an extortionate shortcut to the supermarket shelf. Once the powers-that-be realised the public had twigged onto the truism that knowledge is power, they ensured the knowledge the public could access was utterly worthless.
At the time he was hurled from obscurity onto the front pages of everyone's lives, Christopher Jefferies embodied the fear and mistrust the general public has been taught to harbour for anyone who has opted out of buying into the sedative of this century. He looked weird, he sounded weird, he had weird interests – that was enough to condemn him as guilty in the court of public opinion, that imaginary judicial institution so beloved of vote-chasers and tabloid editors. That this is a dangerous state of affairs to engineer is beyond doubt; to have the public marching to the rigid beat of one drum is a step away from fascism – and this extends from political legislation devised to silence opposing voices all the way down to neighbourhood gossip surrounding a resident who doesn't fit in.
In a society where people of the same sex can marry each other and discrimination against the colour of skin, the choice of sexual preference and the disability of the physical is legislated against, a rather smug sense of triumphing over past prejudices prevails. But this doesn't take into account the increasing isolation and pariah status of those who have either the conscious nerve or the oblivious instinct to follow their own unconventional path in looks, thoughts and interests. The Great British Eccentric, once celebrated and tolerated in equal measure, is an endangered species, not because the quirky nature of our islands no longer produces such characters, but because the egalitarian import of American cultural colonialism, whereby being one of the crowd is the desired place in society (not to mention the far-reaching influence of a certain media magnate who has imposed his similarly narrow views on the country for 40 years) has homogenised the opinions of the masses so that anybody who appears to be a square peg is a Weirdo at best and a Paedo at worst.
These are tough times for the odd men out. They no longer have a positive profile within the media – akin to the one, say, the late Patrick Moore had; the only profile they have is now that of the suspect outsider, the first candidate on the hit-list when a child goes missing. Many of the dead or elderly accused or imprisoned of sexual abuse over the past couple of years – Jimmy Savile, Stuart Hall, Rolf Harris, Cyril Smith, Edward Heath – could be said to be 'weird' by today's standards. Is that enough to put them behind bars or piss on their graves? So it would seem.
Petunia Winegum