Fierce Pearce and the Fake Sheikh.
Hell hath no fury like an electorate that gets what it said it wanted.
His Honour Magistrate Darryl John Pearce is the Australian magistrate accorded second billing in the New South Wales annual review as a mark of his long service. He has a fiery reputation, and is known on the legal circuit as 'Fierce Pearce'. In June 2010, the District Court released 13 prisoners that he had jailed, a decision they disagreed with – and at that time there were still another 16 cases waiting to be heard on appeal!
Amongst the many articles detailing his alleged heavy handedness, are ones complaining that he was jailing people (Ian Klum) who were patently mentally ill for minor offences – Klum was subsequently fatally beaten up and died in the tough Grafton jail. Although he was supported by the Attorney-General, John Hatzistergos, who reiterated that Government policy was in favour of reducing the incidences of crime by deterring people and incapacitating people from committing offences, he was again roundly criticised by the Chief Judge of the District Court, Reg Blanch, to 'rethink excessive imprisonment rates' because a booming jail budget had not increased public safety.
The media were appalled when Darryl went on to jail people for drink driving, or stealing from their Mother's purse. So the message went out to Pearce and his fellow magistrates – 'don't be too quick to jail people'.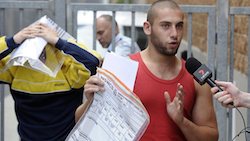 Earlier this year, his court room was the scene of an extraordinary riot, when he was asked to adjudicate in the matter of the Mehanna family. The Mehannas are Arabic Muslims who now live in the Bankstown area of Sidney – a district which these days bears a close resemblance to Rotherham for those who don't know it. Sometimes referred to as a ghetto.
Back in 2013, the Mehannas were enjoying what passes for a Boxing Day celebration in these circles by bashing the living daylights out of each other. It is unfair to judge anyone on appearance, but I think we can get a flavour of the family from this picture of Hussain Mehanna emerging form court proudly clutching his lengthy charge sheet as a record of 'New Year 2013'.
Magistrate John McIntosh duly ignored the fact that in the course of the Mehanna celebrations three police officers had been hospitalised and a further four had required medical treatment after they arrived to quell the happy family gathering. After the first officer arrived and was promptly punched in the head and knocked out, a further 13 turned up.
The Mehanna family were outraged, memorably shouting to the police:
"F— off you dogs. We don't need youse. Get the f— off our property".
So it was that they remained on bail, only to appear before 'Fierce Pearce' in the fullness of time to answer the original charges. The courtroom at the Downing Centre was 'ringed by police' – no doubt keen to see what punishment would be handed out to this family that had laid waste to seven of their colleagues. It was also ringed by liberal leaning journalists keen to find common ground with those who believe that all Muslims are peace loving fellows sadly provoked by racist bigots.
Thus it was that the first punch thrown (yeah! in the courtroom!) was briefly mentioned as being by 'one of the Mehanna brothers who had been provoked' by the 'presence' of a police officer – inside the court room. He must have been further provoked when another 30 officers piled in to support their colleague. Outside the court room, another Mehanna brother was happily telling the assembled media:
"There was no need for more police. Officers were in court dealing with the situation. It was police brutality all over."
This time only one police officer was hospitalised. The Mehannas were bailed again, except for Adel Mehanna who was judged to have thrown the first punch. Adel Mehanna started screaming from the dock: "I'm going to f—ing kill you."
How should 'Fierce Pearce' sentence this charming crew? Mustn't jail the mentally ill, don't provoke Arabic Muslims, it's a dilemma. He solved it in true liberal (the retraining in room 101 obviously worked) fashion by declaring that Mr and Mrs Mehanna and 'most' of the little Mehannas had merely been acting in 'defence of the family' when they emerged from their annual punch up to find an officer outside their house holding a gun.
Not a word of criticism against His Honour Darryl Pearce for these decisions from the main stream media. Darryl henceforth confined himself to jailing men who suffocated puppies, a much safer bet with the media.
Next up before the Darryl Pearce, was an Iranian travel agent, Manteghi Bourjerdi. He had absconded from Tehran with $200,000 of his employer's takings and arrived in Australia to claim asylum. As an asylum seeker he couldn't be deported back to nasty old Iran to stand trial for this 'politically inspired' alleged theft. As with generations of immigrants, he changed his name to help the local inhabitants grapple with the strange phonetics. He became Haron Monis.
He joined in with Australian life with gusto; quickly mastering the art of writing poison pen letters to recently bereaved families accusing their departed loved ones of being paedophiles. He was taken to court back in 2009 over some of these letters, where he was described as a 'peace activist'.
On 10 November 2009, Haron appeared in court and claimed through his lawyers to be a peace activist. He later chained himself to the courthouse in protest over the charges. Haron was subsequently barred by the courts from expanding his protest to include letters to UK soldiers' families.

In December 2011, Haron appeared before the Court of Criminal Appeal in Sydney arguing that the charges against him were invalid because they infringed on his implied constitutional freedom of political communication, but the three-judge panel unanimously dismissed his case.

Upon further appeal to the High Court of Australia, the six-judge panel split 3–3 over the issue. Although the High Court of Australia normally comprises seven judges, one seat was vacant and as yet unfilled at the time Haron's case appeared before the court. Failing to achieve a majority vote in Haron's favour, the lower court's unanimous decision was left to stand.
The liberal media were outraged that a man, an asylum seeker, a muslim, might have come so close to losing the right to 'free speech'. 
Haron started phoney 'retreats' where gullible people could be relieved of their life savings in return for magical 'healing'. Just a regular all Australian boy really. He managed to clock up 47 charges of sexual offences against women – there was nothing to indicate that he might not turn out to be another example of successful immigration. 
Except. Haron was arrested again. Charged along with his current 'squeeze' Amirzh Droudis, with conspiracy to murder his wife, Noleen Hayson Pal, who was found stabbed and set on fire in the stairwell of the former happy matrimonial home.
Haron, no stranger to Australian court rooms, came before His Honour Darryl Pearce, yet again.
'I want to plead guilty' he yelled up from the holding cells below.
'What did your client say?' said Darryl Pearce.
'Oh, he doesn't mean guilty to the murder charge, he means guilty to the charge of stealing an extra breakfast in the jailhouse'.
'But he hasn't been charged with that' said 'Fierce Pearce'.
'Quite' said Haron's lawyer, Manny Conditsis.
Manny Conditis went on to tell the court that at the exact time of the murder, Haron had taken the precaution, as you do, of filming himself standing in front of a clock many miles away, and had then staged a car crash outside Penrith Police station and demanded to be taken to hospital with a suspected heart attack, as you do. It was quite 'obvious' to all that any charge of murdering his ex-wife had to be politically motivated, and nothing whatsoever to do with their bitter custody case…..
What was Darryl Pearce supposed to do with a man so obviously mentally ill, and an asylum seeking Muslim to boot – well, he let him go home on bail of course. The magistrate famed as 'Fierce Pearce' by the liberal media and roundly castigated for being right-wing, old fashioned, and jailing people just for committing crimes, had finally been tamed.
By last week, Haron Monis had reinvented himself yet again, as part of his unceasing quest to find someone who would jail him for something, anything.
He had become Sheikh Haron, had converted to Sunni-Islam, pledging allegiance to the ISIS leader Abu Bakr al-Baghdadi. According to his now defunct web-site, that was exactly a week ago (Sorry, it was there yesterday!) In which case he learnt how to become an ISIS terrorist almost as fast as he learnt how to become an Australian. He held up the cafe Lindt in Sydney. Two people lie dead in addition to the fake Sheikh.
This morning the Australian liberal media are hunting in a pack, utterly outraged. How could that lily-livered left wing woofter of a magistrate Darryl Pearce have possibly given bail to a man charged with 47 sexual offences and the murder of his ex-wife, who was obviously mentally ill and a dangerous immigrant with terrorist leanings, and left him out on the streets to harm innocent Australians?
They could try looking in the mirror for the answer.
Now that Haron Monis is dead, I have a feeling that Darryl Pearce will be tried by the court of popular opinion, aka the Media, in his stead. Poor man.
Anna Raccoon


December 16, 2014 at 3:59 pm

Fat Steve


December 16, 2014 at 11:46 am

Anna Raccoon


December 16, 2014 at 3:58 pm

Petunia Winegum


December 16, 2014 at 4:47 pm

Fat Steve


December 17, 2014 at 9:07 am

Fat Steve


December 16, 2014 at 1:19 pm

Moor Larkin


December 16, 2014 at 3:37 pm

Fat Steve


December 16, 2014 at 4:36 pm

neverironic


December 16, 2014 at 10:47 pm

Anna Raccoon


December 16, 2014 at 3:55 pm

Carol42


December 16, 2014 at 6:19 pm

Mudplugger


December 16, 2014 at 3:57 pm

Moor Larkin


December 16, 2014 at 4:10 pm

Petunia Winegum


December 16, 2014 at 4:43 pm

The Blocked Dwarf


December 16, 2014 at 5:06 pm

Moor Larkin


December 16, 2014 at 5:41 pm

eric hardcastle


December 17, 2014 at 1:44 pm

Moor Larkin


December 17, 2014 at 2:56 pm

Moor Larkin


December 17, 2014 at 9:09 am

Ted Treen


December 17, 2014 at 12:12 pm

Ancient+Tattered Airman


December 17, 2014 at 6:46 pm

Cascadian


December 16, 2014 at 11:00 pm

Moor Larkin


December 17, 2014 at 9:16 am

IlovetheBBC


December 17, 2014 at 10:14 am

eric hardcastle


December 17, 2014 at 1:46 pm

Fat Steve


December 17, 2014 at 9:23 am

Moor Larkin


December 17, 2014 at 9:37 am

Ted Treen


December 17, 2014 at 12:21 pm

Petunia Winegum


December 17, 2014 at 9:34 am

Moor Larkin


December 17, 2014 at 9:41 am

Duncan Disorderly


December 17, 2014 at 12:08 pm

Moor Larkin


December 17, 2014 at 12:23 pm

Duncan Disorderly


December 17, 2014 at 12:56 pm

Moor Larkin


December 17, 2014 at 3:42 pm