Alison Paula Ewing: A Life Backwards .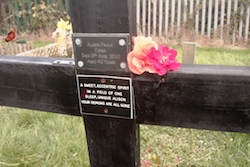 Almost three months ago, a piece of mine appeared on here titled 'My Aim is True'; it told the story of my relationship with a kindred spirit called Alison and the fact that losing touch with her meant I didn't hear of her death in 2010 until March this year.
It received a warm response from Raccoon Arms regulars and when I posted the link on Facebook it was shared by several friends on their own walls, provoking a reaction that took me aback, to say the least. My own intensely personal story appeared to have touched an emotional nerve so that many who have never met me and never knew Alison reacted as though we were all intimate associates. Making strangers cry may seem like a perverse indication of achievement, but to writers of words or music it is a sure fire sign that you're doing something right. Yet this article was only a tiny fraction of a story that needed to be told, and in order to tell it I have had to take on a persona somewhere between private detective and investigative journalist.
Right from the moment I was told of Alison's death, there were far more questions than answers, and I quickly discerned the barriers the law throws up in the face of friendship. Family, whether achieving that lofty position by blood or marriage, are the recipients of an assumption in the eyes of the law that implies they care. I myself feel far more affinity and what could be viewed as familial kinship with close friends than I do with actual family, but the latter would still take legal precedence over the former in the event of my death. Alison was estranged from her own family both mentally and geographically; as far as I know, none of them attended her funeral and the state her grave was in when I first laid eyes upon it spoke volumes as to their opinion of their wayward black sheep. But they remain the custodians of a legacy reduced to dust by ambivalent mismanagement. In order to simply discover the location of Alison's grave I had to adopt the guise of an 'ex' – no ring on the third finger of the left hand, but in a less formal age re relationships, the absence of this or a shared surname still opens a few doors if people believe you were sleeping with the deceased before their departure. I have continued to play this part to acquire stray pieces of a beguiling jigsaw – her birth certificate, death certificate and the pathologist's post-mortem report, not to mention discs of regional news bulletins from the BBC and ITV that reported on her death.
The reason for my forensic approach during a period of intense grief has been to tell Alison's story. As a writer, this may have seemed a natural coping mechanism, but I have so far only been able to write 80 pages that chronicle the eight year period in which Alison and I were acquainted. What came before that is known only in scraps, either ones she herself dropped my way or ones I have subsequently picked-up. A return visit to her home to chat with a couple of neighbours who remembered her, enquiries directed at both the West Yorkshire Police (to determine what would have become of her possessions) and the RAF (to request her father's service record to learn where he was posted during her childhood – denied me) have all formed part of the process, but there are still vast, gaping chasms in Alison's life that remain a mystery to me. I set up a website, 'Looking for Alison', to try and make contact with people who might have known her before I did, who may be able to fill-in so many of the blanks that have caused the writing of the book to hit a brick wall. Telling Alison's story is undoubtedly a challenge, but I cannot give up. There is an overwhelming degree of retrospective guilt that I didn't do enough to help someone who came to me for it on a regular basis; I feel I owe her. But what made Alison such a perplexing character, one who has inspired such an exhausting and time-consuming mission?
I discussed Alison's eccentricities in the original article, yet she didn't simply appear out of the blue as a fully-formed, heavy-drinking eccentric, a well-spoken and dazzlingly unpredictable breath of invigorating air wandering the streets of Headingley with the figure of a ballerina, the accent of a Dowager Duchess and the thirst of Dylan Thomas. She was born into the middle-class environs of West Sussex, surrounded by the South Downs; and her father's RAF career apparently saw her spend her formative years in numerous exotic outposts of the diminishing Empire (she was born in 1960). Then what? Her schooling and working life are both a mystery; I know she married around 1980 because (as she once told me) she was pregnant with the first of two sons. At the time, she was residing in Portsmouth. This marriage spanned a decade, but by the early 90s she was on the same course as Jarvis Cocker at Central St Martin's in London. Then what? Our paths first crossed in Leeds ten years later. How she set up home so far from Hampshire or London is also a mystery. Was her alcoholism the cause of her marriage breakup or a consequence of it? And was this why she had no contact with her children who, by the time she and I were acquainted, would have been in their 20s? Your guess is as good as mine.
The manner of Alison's death – home alone, suffering a cardiac arrest from an inherited heart condition that caused a candle to be knocked over and start a fire as she lay dying – is horrible enough to contemplate; but the fact that a 49-year-old woman could end her days living on her own, addicted to the bottle, scrabbling around for spare change from anyone prepared to lend her it, residing in a poky rented flat with few friends and no family for support, is a damning indictment on 21st century community. Had the fire not broken out, necessitating the intervention of the fire-brigade and police force, one wonders how long Alison's body would have lain there undiscovered. How long before anyone would have even noticed she was missing? I myself, a one-time neighbour who had relocated a mile up the road, assumed I hadn't seen her for a while because she'd moved somewhere else. It never entered my thoughts that she might have died. I'd severed regular contact with her because I'd been going through a bad personal spell that only a change of location could resolve; and when I relocate, I clear the decks. My relationship with Alison was a casualty of my Year Zero approach to moving on and now, of course, I bitterly regret this. Alison didn't deserve to be cast off like a pair of last year's shoes. So, I am making amends by becoming her biographer as well as the curator of her resting place.
It pains me to think of the invisible lives lived in this country. Not everybody belongs to a gang or a club or a couple; not everybody hosts (or is invited to) dinner-parties; not everybody indulges in the social whirl; not everybody can call on siblings or grownup children in their hour of need. For all the talk of Big Brother and state surveillance, of tabs being kept on everyone's movements and digital footprints tracked from cradle to grave, some still slip through the cracks, some still fall off the radar, and some still vanish into a vortex of neighbourly neglect. Alison and I shared addresses on the periphery of the social society, dwellers of the fringes, outside looking-in; that we never joined forces in the manner that my recent fake ID suggests is a shame. When you reject the smooth path of conventional progress so many are content to travel, you have to carve out your own niche and, unless you're lucky, this is a task generally undertaken alone.
Even posing as an 'ex' that never was has its limits, and there is now no more documentation I can acquire, nothing else available to a non-family member who has dedicated the past six months to endless phone-calls, letters, emails and the ringing of doorbells. The website is my sole salvation, yet it requires media coverage and a wider audience if I am to reach out to other lives touched by a remarkably unique individual. But there is a story to tell and I've been chosen to tell it. Unlike the woman whose ghost is so often evoked when I think of Alison, she will not be buried along with her name.
Petunia Winegum.
Edited by Anna to add: Did you know Alison Paula Ewing? Do you know anyone who might have done? You could help by retweeting this piece to anyone you think might be able to assist Petunia.
You can read more about Alison Paula Ewing HERE.