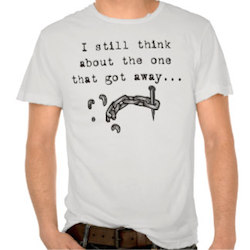 As regular visitors to this blog will know I am, of course, a fool. This foolishness is manifested in various ways, and on the whole I put up with myself and make light of my idiotic tendencies, which I suspect are often caused by what my friend Dr. F pointed out not so long ago – a mild spectrum autism. Sometimes, though, I do not.
I was doing a job in Court this Friday.  A relatively straightforward job, listed before a Circuit Judge, one of half a dozen administrative cases the judge had to hear that morning; procedural matters, applications for permission to so appeal and so forth. This "list" of cases kicks off about half past ten, and it always involves a lot of waiting about while the shortest cases are dealt with first.
So, there I was at ten o'clock, suited and booted, on the eighth floor in the shiny and rather soulless court building with rather grand views across the city, waiting, when a couple walked by and appeared to be booking themselves in with the usher; a young man casually dressed with a pony-tail hair-do, and a rather attractive young woman. Of course, it was her I noticed. I do not consider it sexist to say that I do notice attractive women; it is called "life", and I was not always a monk. From time to time I have been fortunate enough to enjoy the company of some beautiful women, and I hope they have felt the same about me.
There was something about this young lady. She was of medium build, with longish white blond hair tied back rather severely so that it ran down her back. She was wearing a smart but casual coat, jeans, and medium length boots with a couple of inches on the heel and carrying a smart bag. There was something about the way she moved that was very arresting and graceful, and rather reminded me of the ballerinas that used to attend the local ballet school, but she had a fuller, athletic figure. However, I went back to checking my papers, making sure I was ready for the hearing ahead.
There was not a lot to prepare and I had time to kill. The young man and woman were sitting rather placidly outside the courtroom, clearly litigants in person. Courts can be very intimidating places, and I didn't mind checking if they were OK – of course I had ulterior motives too, but genuinely I didn't mind.
It turned out they were both foreign – I wasn't sure of the country or countries of origin at that stage, and the young woman had come along to help translate if necessary, and for a bit of moral support. The young man had got into a spot of bother with a finance company. I was happy to re-assure them about the procedure, and made sure they were OK and he knew how to approach the case. A little later their case was called on, and to my surprise the young man went into court on his own, leaving the woman alone outside. I sensed no harm in striking up a conversation. 
I made a guess, and asked her if she was from Poland. Finland was the reply. 
She was very, but not impossibly, beautiful, with the most flawless pale skin, exotic high cheek bones and startlingly blue eyes. As far as I could tell she wore no make up. She had the most perfect smile. More than that, she had a very gentle, unassuming manner that was really charming. Her voice was soft and lyrical. She was about 25. We talked about her course (economics, business and languages). We talked about the panoramic view, and I was able to point out some landmarks. We talked about how we relaxed in "down time", about wine and theatre. She told me about her favourite restaurant in a pleasant suburb (was that a sort of invitation?) and I told her about my favourite café near the court, where I confidently assured her I would be by 1.00 pm when court was finished or adjourned. I learned something of the forests of Finland, and she learned about the art in the beautiful church nearby known as "the Hidden Gem". Her friend's case took some time and we did talk quite a lot, in that sort of embarrassed "dare I ask you some more way," at least from my perspective. We talked about doing yoga and how too much exercise can be bad for you, and her father's knee injury. We talked about the northern lights and ice hotels.
We talked for maybe 20 or 30 minutes. I wasn't sure what to do, because I didn't want to be thought of as The Raccoon Arms' very own version of Lord Rennard, and I have always been quite shy. I didn't ask her name and I didn't ask to see her again, even though I was well and truly smitten. I didn't want to make her feel awkward. 
And then her friend's case was over and he came out. It was time for her to go and me to get my show on the road. We said our goodbyes, and she walked away down the long and soulless corridor. I watched her go, and then she turned and gave me that lovely smile. I waved and she waved back. Then it was back to reality.
It was no more than half past eleven, and I had no doubt that my case would or should have not taken long. However, I drew the short straw. I got a long-winded and largely incompetent but very obdurate and long-winded opponent and a judge who was charming, gentlemanly, old school and resolutely determined to be indecisive and not to make the swift and final order that the case merited. On and on we went, with lost documents being produced and blind alleys being investigated with minute and polite judicial care. One o'clock loomed. Surely we would break for lunch, as is invariably the case? No. The case spilled over and staggered on like a zombie until about 1.30 with the inevitable unsatisfactory result.
I walked as quickly as possible to the café. It was nearly a quarter to two when I got there. Was there any chance she might have taken up my implied invitation, and then waited? If she had taken it up, I shall never know. I drank my coffee alone, and the rain came. It seems likely that I shall never see her again.
Truly it is said by many, that it is what we don't do, and what we don't say, that become the greatest regrets in life.      
Fool.
     Gildas the Monk