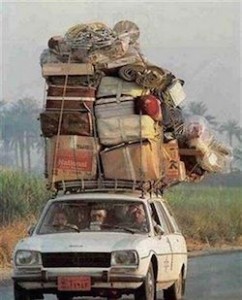 You got up far too late today to catch sight of the Raccoon – she was up and away, on her travels again, before you even put the kettle on…
Once the good Doctors of Bordeaux had finished rebuilding me, and I am now duly undersealed, bored out, valves reseated, and have passed my MOT – we decided to embark on a new phase of our life.
Last year, just three weeks before the blasted cancer came back, we bought a wreck of a house in England, partly as an investment and partly as a project to keep Mr G busy. We haven't been able to touch it since, so it has sat getting damp and disorderly in forlorn grandeur while all the attention was on the restoration of Ms Raccoon.  We also have an apartment small box broom cupboard in France that we let out, but will be taking possession of again shortly.
'For God's sake, we don't need all this' the cry would go up regularly, as we (that's the royal 'we' of course) battled with planning applications, rental agreements, tax returns in two countries, and daily trips to Bordeaux. And the blog, too. To say nothing of Ms Raccoon's regular whining that she just wanted to be free to go to Morocco again or maybe that nice Portuguese beach with the German adonis in situ…then there was Poland, and Bulgaria, and, and…
So, a couple of months ago, we put the Mill on the market, and after a hiccup with a total tosser, (English, naturally) it is now sold to a couple that we are very happy about. Connoisseurs of past posts such as 'The Man Cave' will be relieved to see that I did get a kitchen eventually.
Consequently, we must spend the next two months moving all our worldly possessions in two entirely different directions. We started this morning with Mr Gs workshop heading for the Chanel Tunnel on a huge trailer behind our camper van. Having dealt with the important stuff, I think minor details like my toothbrush and my knickers should head in the opposite direction the following week.
I can guarantee that whatever I need over the next few months will permanently be 'in the other place'. The little Fiat that I bought in England a few weeks ago, already is, and now has to gamely battle its way back again, complete with dog, computer, bank statements and all the other things I wouldn't dream of leaving in Mr Gs care and control. I have to get water, electric, broadband, telephone connected in both places and chase up the builder who should have taken a wall out six months ago – as he has now got wind of our imminent arrival, he has decided to start today; Ms Raccoon will be sleeping on a mattress on the floor with no water and no electric for four days – we can now add 'surrounded by swirling brick dust'.
D'you know what? I can't wait! The worst part of being ill is that everyone cossets and cares for you constantly – it is lovely of them, but it gets on your nerves eventually; you just want to be the person you used to be.  Our new adventure started this morning – there will be none of the 'shall I stop for a bit, I don't want to tire you out' – we will be going hell for leather to catch our booked slot. If I ask to stop to use the loo, eyeballs will roll and I'll be told to be quick, just like the old days. Wonderful.
A week later, Mr G will return with another load and collect me – meanwhile I shall have had a peaceful time giving the builders Hell – and catching wi-fi in the local pub on my iPad. I shan't be trying to write tapping out with that stupid dib, dib, dib thingy on the virtual keyboard.
Anybody know whether you can use a wireless keyboard and mouse with an iPad? Maybe I should buy a Macbook Air instead? I intend to take off for Poland as soon as everything is safely stashed – suggestions for mobile Raccoontage welcome.
So I've put up some of the most popular archive posts that are missing from the site (thanks for the memory stick Gildas) to keep you amused in my absence – and see you back here in a couple of weeks.
Gloria Smudd


September 4, 2014 at 8:48 pm

Cascadian


September 1, 2014 at 8:08 pm

Anna Raccoon


September 2, 2014 at 9:10 am

Cascadian


September 2, 2014 at 6:49 pm

Anna Raccoon


September 2, 2014 at 10:08 am

Cascadian


September 2, 2014 at 6:55 pm