Sunday Bloody Sunday and the Lost Art of Boredom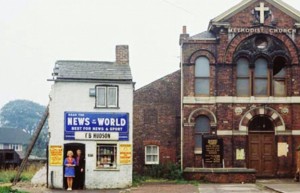 'Sunday Bloody Sunday really encapsulates the frustration of a Sunday. You wake up in the morning, you've got to read all the Sunday papers, the kids are running round, you've got to mow the lawn, wash the car, and you think – Sunday Bloody Sunday!'
Alan Partridge's characteristic misinterpretation of the U2 song inspired by  the 1972 Bloody Sunday massacre in Derry inadvertently highlights how the so-called 'Day of Rest' traditionally had a unique identity of its own, the genuine oddity in the seven-day calendar; but does it retain its uniqueness in an age when many shops are open all week round and a generation has come of age without an awareness or experience of what Sundays used to represent to the majority? Well, perhaps in our minds more than in reality.
It's only natural that we associate certain days of the week with our first exposure to them; what's interesting is how these initial associations can colour our view of them for good, and what they once represented proves to be surprisingly durable. Monday, for example, was always the day of dread that meant returning to the school grindstone, and Monday continues to be a day of dread for the following half-century after school where most are concerned; Friday was eagerly anticipated, the anti-Monday that heralded momentary freedom, and unlike its miserable mirror image at the other end of the week, one that still evokes transient euphoria for many. Saturday was arguably the best day of the week – Swap Shop/Tiswas/dragged around C&A and M&S by mum with the promise of a visit to the city centre toy-shop/football results/Doctor Who/Match of the Day etc. – and Saturday's magic hasn't waned. Maybe it's no surprise, then, that when it comes to Sunday, our image of it remains to an extent frozen in childhood amber, or at least when Sunday is imminent. More often than not, the prospect of it coming round tends to produce a weary sigh. In retrospect, that one more precious day free from school – something that should have made it as exciting as a Saturday to wake-up to – seemed to be shrouded in such an incurably drab torpor is curious; maybe Sunday was Saturday's perennially poor relation because we knew we'd be back at school the following day, and so much of it seemed to be preparing us for that inevitability because it was so bizarrely boring.
Unless one were a farmer, clergyman, foreign language student or devotee of creaky monochrome movies about the war, television was usually best avoided; even that ordinarily reliable provider of entertainment appeared impotent on Sunday and was only generally switched-on in the middle of the afternoon so dad could watch ITV's regional football show. The radio grabbed the spotlight from the telly as a consequence: Ed Stewpot and his set-in-stone set-list of prehistoric nursery ditties – 'The Laughing Policeman', 'The Teddy Bear's Picnic', 'Nellie the Elephant', 'The Ugly Duckling' et al – sound-tracked the Sunday morning experience for more than one generation; Jimmy Savile's 'Old Record Club' enlivened the early afternoon with its top ten replays from the 60s, sparking nostalgia in parents and introducing kids to classics that contrasted with the more familiar contemporary chart sounds; and as for the top 40, that would dominate tea-time listening, even if the fact that the new chart had already been covered three days before on TOTP robbed it of any drama. Still, knowing which position one's favourite records were at made recording them onto audiotape easier (a practice that may have 'killed music', but came in handy when pocket-money only stretched to one single from Woolie's per fortnight).
But such aural distractions couldn't wrench Sunday away from the strangely soporific rituals that really made it so distinctive from every other day. This usually began with a couple of newspapers popping through the letterbox – thicker and more expensive than the weekday dailies; many households had a healthy schizophrenia when it came to Sunday reading habits. One paper would usually be the trashy titillation of the News of the World/Sunday Mirror/Sunday People brand, the kind I remember being full of call-girl confessions, Rod Stewart's latest blonde and Princess Margaret's latest beau; the other would tend to be the more sombre Sunday Times/Observer type, with one balancing out the other and establishing an odd equilibrium as mum and dad chose their weapons whilst defiantly remaining in bed. Of course, for those raised in a religious household, the church still played a major part in the Sunday routine – either the morning service, evensong, or the insidious institution of Sunday School, seemingly established so that mum and dad could engineer the arrival of a little brother or sister.
As far as secular upbringings went, however, Sunday was a day in which the whole family realised the advantages of spending the rest of the week leading their own lives; everyone appeared to resent the presence of everyone else. In the case of mum and dad, both eagerly embraced their designated roles; for him, this meant washing the car or attending to DIY; for her, this meant ironing or sticking a roast in the oven, where it would cook on a low light for what seemed like about six months, its aroma sweeping through the house with the creeping stealth of mustard gas and seeping into the bricks and mortar like Oxo-flavoured napalm. Occasionally, there would be variations to the routine, but even these couldn't provoke any emotion other than shoulder-shrugging resignation. Most of these centred around a 'ride out' in the car, a depressing excursion through a desolate landscape that bordered on post-apocalyptic, a journey that either led to a local beauty spot rendered ugly by rotten weather, a minor stately home, the stultifying tedium of the garden centre – and the fact that this emporium of inertia was the only shop open for business somehow intensified Sunday's terminal dullness – or grandma's house, where sometimes cousins would call and there would at least be an opportunity to indulge in much-needed play.
Play! Ah, yes – the one saving grace of Sunday. The generations starved of mass-marketed virtual-stimulation turned to their imaginations and transformed their uninspiring surroundings with little in the way of corporate assistance. At the time when 'The Professionals' was every kid's favourite programme aimed at grownups, my brother and me would sometimes recreate CI5 with our cousin Robin, though we all wanted to play Bodie. Therefore, we invented our own spinoff titled 'The Three Bodie's'. Lewis Collins in triplicate! You'd need CGI for that these days. Such activities could alleviate boredom until boredom intervened again via a bath and supper in the company of Esther Rantzen and Doc Cox. With school to look forward to in the morning, Sunday had felt like a lacklustre prologue to the resumption of the norm, a bridge between the compassionate leave of Saturday and the re-imprisonment of Monday.
It's cruelly ironic that John Major, a man who romanticised the mythical Albion image of a Sunday, was the Prime Minister who delivered the killer blow to it. The passing of the Sunday Trading law in 1994 enabled high-street chain-stores to open their doors and facilitated the rise of out-of-town retail parks, finally making Sundays resemble every other day, at least in terms of the consumer society. There isn't time for boredom on a Sunday anymore, and whilst many would regard that as cause for celebration, others might argue that the loss of the archaic eccentricities that once made Sunday such a unique day are worthy of mourning – even if they were bloody boring.